YA Debuts 2016
1

Rebel of the Sands (Rebel of the Sands, #1)




by




2

Ever the Hunted (Clash of Kingdoms, #1)




by




3

Blackhearts (Blackhearts, #1)




by




4

The Girl from Everywhere (The Girl from Everywhere, #1)




by




5

Ivory and Bone (Ivory and Bone, #1)




by




6

The Crown's Game (The Crown's Game, #1)




by




7

The Star-Touched Queen (The Star-Touched Queen, #1)




by




8

This Is Where It Ends




by




9

A Study in Charlotte (Charlotte Holmes, #1)




by




10

The Reader (Sea of Ink and Gold, #1)




by




11

Into the Dim (Into the Dim, #1)




by




12

The Love That Split the World




by




13

Burning Glass (Burning Glass, #1)




by




14

These Vicious Masks (These Vicious Masks, #1)




by




15

Firsts




by




16

Sword and Verse (Sword and Verse, #1)




by




17

Consider (Holo, #1)




by




18

If I Was Your Girl




by




19

Fear the Drowning Deep




by




20

Jerkbait




by




21

Assassin's Heart (Assassin's Heart, #1)




by




22

Timekeeper (Timekeeper, #1)




by




23

A Shadow Bright and Burning (Kingdom on Fire, #1)




by




24

Revenge and the Wild




by




25

Symptoms of Being Human




by




26

Of Fire and Stars (Of Fire and Stars, #1)




by




27

The Girl Who Fell




by




28

The Way I Used to Be




by




29

Underwater




by




30

Don't Get Caught




by




31

Beyond the Red (Beyond The Red, #1)




by




32

Shallow Graves




by




33

The Serpent King




by




34

Dreamology




by




35

Enter Title Here




by




36

Bookishly Ever After (Ever After, #1)




by




37

After the Woods




by




38

Summer of Sloane




by




39

Stalking Jack the Ripper (Stalking Jack the Ripper, #1)




by




40

The Abyss Surrounds Us (The Abyss Surrounds Us, #1)




by




41

Resonance (The Fray Theory, #1)




by




42

Girl in Pieces




by




43

Kill the Boy Band




by




44

Cure for the Common Universe




by




45

Scarlett Epstein Hates It Here




by




46

The Year We Fell Apart




by




47

Emerge (Mer Chronicles #1)




by




48

Unblemished (Unblemished #1)




by




49

The Heir and the Spare




by




50

Suffer Love




by




51

Future Shock (Future Shock, #1)




by




52

The Mystery of Hollow Places




by




53

The Lamentations of a Sombre Sky




by




54

Flower




by




54

Unicorn Tracks




by




56

The Smell of Other People's Houses




by




57

The May Queen Murders




by




58

How to Hang a Witch (How to Hang a Witch, #1)




by




59

Everland (Everland, #1)




by




60

The Way to Game the Walk of Shame




by




61

How It Ends




by




62

Even if the Sky Falls




by




63

Stone Field




by




64

Love & Gelato (Love & Gelato, #1)




by




65

Tell Me Three Things




by




66

The Square Root of Summer




by




67

The First Time She Drowned




by




68

Never Ever (Never Ever, #1)




by




69

The Loose Ends List




by




70

Summer of Supernovas




by




71

Flawed (Flawed, #1)




by




72

Beautiful Broken Things (Beautiful Broken Things, #1)




by




73

If I Wake




by




74

Love, Lies and Spies




by




75

Bound by Blood and Sand (Bound by Blood and Sand #1)




by




76

Beast




by




77

Liars and Losers Like Us




by




78

Flashfall (Flashfall, #1)




by




79

Please Don't Tell




by




80

Alterations




by




81

A Fierce and Subtle Poison




by




82

Arrows




by




83

Gemini




by




84

Black Bird of the Gallows (Black Birds of the Gallows, #1)




by




85

Risuko: A Kunoichi Tale (Seasons of the Sword #1)




by




86

Teach Me to Forget




by




87

The Unmoving Sky




by




88

Seven Ways We Lie




by




89

Where Futures End




by




90

The Museum of Heartbreak




by




91

It's All Fun and Games




by




92

Phantom Limbs




by




93

South of Sunshine




by




94

Save Me, Kurt Cobain




by




95

Everyone We've Been




by




96

The Way Back to You




by




97

Into White




by




98

A Bond Of Venom and Magic (The Goddess and the Guardians #1)




by




99

Zero Day




by




100

Dig Too Deep




by



256 books · 1,427 voters · list created May 15th, 2014 by deleted user.
Showing 1-11 of 11
(11 new)
date
newest »
back to top
Related News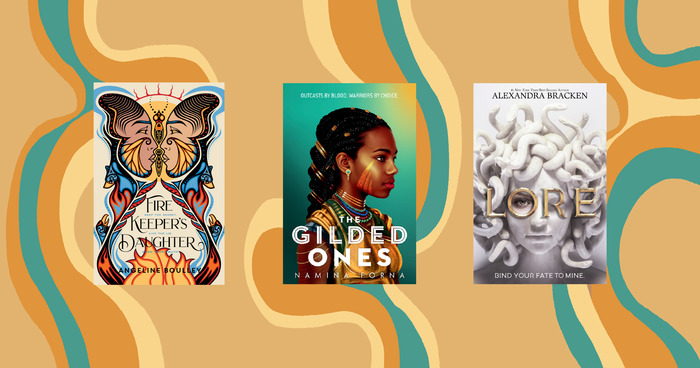 Oh hey, we're nearly halfway through 2021! We can't really believe it either... Traditionally, this is the time when the Goodreads editorial...
Anyone can add books to this list.