Jenna Evans Welch
Goodreads Author
Born
in Salt Lake City, The United States
Website
Genre
Member Since
October 2020
Related News
As dedicated readers already know, some of the best and most innovative stories on the shelves come from the constantly evolving realm of...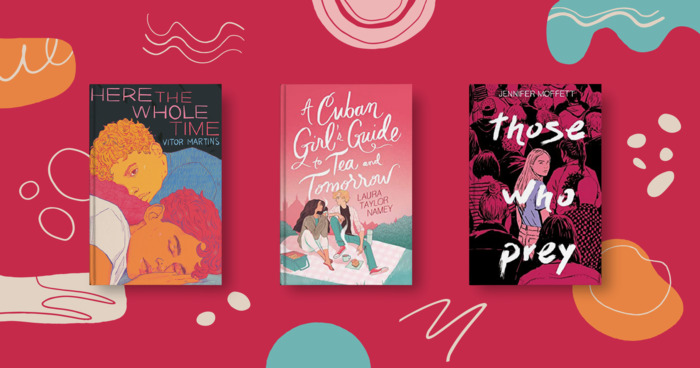 Polls
Vote For One Book For June 2018
The Identicals
by
Elin Hilderbrand
From New York Times bestselling author Elin Hilderbrand, a summertime story about identical twins who couldn't be any less alike.
Nantucket is only two and a half hours away from Martha's Vineyard by ferry. But the two islands might as well be worlds apart for a set of identical twin sisters who have been at odds for years. When a family crisis forces them to band together — or at least appear to — the twins slowly come to realize that the special bond that they share is more important than the sibling rivalry that's driven them apart for the better part of their lives. A touching depiction of all the pleasures and annoyances of the sibling relationship, Elin Hilderbrand's next New York Times bestseller, THE IDENTICALS proves once and for all that just because twins look exactly the same doesn't mean they're anything alike.
Digging In
by
Loretta Nyhan
In author Loretta Nyhan's warm, witty, and wonderful novel, a widow discovers an unexpected chance to start over—right in her own backyard.
Paige Moresco found her true love in eighth grade—and lost him two years ago. Since his death, she's been sleepwalking through life, barely holding on for the sake of her teenage son. Her house is a wreck, the grass is overrun with weeds, and she's at risk of losing her job. As Paige stares at her neglected lawn, she knows she's hit rock bottom. So she does something entirely unexpected: she begins to dig.
The Secret Life of Violet Grant
by
Beatriz Williams
Passion, redemption, and a battered suitcase full of secrets: the New York Times-bestselling author of A Hundred Summers returns with another engrossing tale.
Love & Gelato
by
Jenna Evans Welch
Lina is spending the summer in Tuscany, but she isn't in the mood for Italy's famous sunshine and fairy-tale landscape. She's only there because it was her mother's dying wish that she get to know her father. But what kind of father isn't around for sixteen years? All Lina wants to do is get back home.
The Wife
by
Alafair Burke
His scandal. Her secret.
When Angela met Jason Powell while catering a dinner party in East Hampton, she assumed their romance would be a short-lived fling, like so many relationships between locals and summer visitors. To her surprise, Jason, a brilliant economics professor at NYU, had other plans, and they married the following summer. For Angela, the marriage turned out to be a chance to reboot her life. She and her son were finally able to move out of her mother's home to Manhattan, where no one knew about her tragic past.
The Perfect Couple
by
Elin Hilderbrand
From New York Times bestselling author Elin Hilderbrand, comes a novel about the many ways family can fill our lives with love...if they don't kill us first.
It's wedding season on Nantucket. The beautiful island is overrun with summer people--an annual source of aggravation for year-round residents. And that's not the only tension brewing offshore. When one lavish wedding ends in disaster before it can even begin--with the bride-to-be discovered dead in Nantucket Harbor just hours before the ceremony--everyone in the wedding party is suddenly a suspect. As Chief of Police Ed Kapenash digs into the best man, the maid of honor, the groom's famous mystery novelist mother, and even a member of his own family, the chief discovers that every wedding is a minefield--and no couple is perfect.
9 total votes
More...
Topics Mentioning This Author
No comments have been added yet.