Telepathic Bonds
Books with bonds between humans and animals, humans and humans, humans and otherworldly beings
1

Arrows of the Queen (Heralds of Valdemar, #1)




by




2

Dragonflight (Dragonriders of Pern, #1)




by




3

Assassin's Apprentice (Farseer Trilogy, #1)




by




4

Arrow's Flight (Heralds of Valdemar, #2)




by




5

The Rowan (The Tower and the Hive, #1)




by




6

Wild Magic (Immortals, #1)




by




7

The White Dragon (Dragonriders of Pern, #3)




by




8

The Golden Compass (His Dark Materials, #1)




by




9

Daughter of the Forest (Sevenwaters, #1)




by




10

The Dolphins of Pern (Pern, #12)




by




11

Daja's Book (Circle of Magic, #3)




by




12

Briar's Book (Circle of Magic, #4)




by




13

Tris's Book (Circle of Magic, #2)




by




14

Sandry's Book (Circle of Magic, #1)




by




15

Shapechangers (Chronicles of the Cheysuli #1)




by




16

Magic's Pawn (The Last Herald-Mage #1)




by




17

Daughter of the Lion (Chronicles of the Cheysuli, #6)




by




18

Damia (The Tower and the Hive, #2)




by




19

The Girl Who Heard Dragons (Pern Publication Order #8.5)




by




20

The Skies of Pern (Pern, #15)




by




21

Moreta: Dragonlady of Pern (Pern, #7)




by




22

Unspoken (The Lynburn Legacy, #1)




by




23

Beautiful Creatures (Caster Chronicles, #1)




by




23

Son of the Shadows (Sevenwaters, #2)




by




25

The Pirate's Wish (The Assassin's Curse, #2)




by




26

Eon: Dragoneye Reborn (Eon, #1)




by




26

Shadowland (The Mediator, #1)




by




28

The Masterharper of Pern (Pern, #14)




by




29

In the Hand of the Goddess




by




30

Dragondrums (Harper Hall, #3)




by




31

Dragon Haven (Rain Wild Chronicles, #2)




by




32

Arrow's Fall (Heralds of Valdemar, #3)




by




32

Brightly Burning




by




34

The Song of Homana (Chronicles of the Cheysuli #2)




by




35

The Mountain's Call (White Magic, #1)




by




36

Legacy of the Sword (Chronicles of the Cheysuli #3)




by




37

All the Weyrs of Pern (Pern, #11)




by




38

Gabriel's Ghost (Dock Five Universe, #1)




by




39

The Missing (The FBI Psychics, #1)




by




40

Royal Assassin (Farseer Trilogy, #2)




by




41

Assassin's Quest (Farseer Trilogy, #3)




by




42

Vampire Academy (Vampire Academy, #1)




by




42

Dragonsong (Harper Hall, #1)




by




44

Dragonsinger (Harper Hall, #2)




by




45

Dragonsdawn (Pern, #9)




by




46

The Renegades of Pern (Pern, #10)




by




47

Shadow Touch (Dirk & Steele, #2)




by




47

A Memory of Light (The Wheel of Time, #14)




by




49

Dragon's Kin (Pern, #16)




by




49

Green Rider (Green Rider, #1)




by




51

Alpha and Omega (Alpha & Omega, #0.5)




by




52

Damia's Children (The Tower and the Hive, #3)




by




53

Take a Thief (Valdemar #25)




by




53

Turning Point (Sholan Alliance, #1)




by




53

Poison Study (Study, #1)




by




56

A Sending of Dragons




by




57

Jhereg (Vlad Taltos, #1)




by




58

Nerilka's Story (Pern, #8)




by




58

Finders-Seekers (Ghatti's Tale, #1)




by




60

Foundation (Valdemar: Collegium Chronicles, #1)




by




61

The Dragonriders of Pern (Dragonriders of Pern, #1-3)




by




62

Track of the White Wolf (Chronicles of the Cheysuli, #4)




by




63

A Tapestry of Lions (Chronicles of the Cheysuli #8)




by




64

Deep Wizardry (Young Wizards #2)




by




65

Dragonquest (Dragonriders of Pern, #2)




by




66

A Pride of Princes (Chronicles of the Cheysuli #5)




by




66

Storm Breaking (Mage Storms, #3)




by




68

Storm Rising (Mage Storms, #2)




by




69

Exile's Honor (Alberich's Tale, #1)




by




70

Storm Warning (Mage Storms #1)




by




71

Winds of Fate (Mage Winds #1)




by




72

Magic's Promise (The Last Herald-Mage #2)




by




73

Magic's Price (The Last Herald-Mage #3)




by




74

The Chronicles of Pern: First Fall (Pern #12)




by




75

Wolfwalker (Wolfwalker, #1)




by




76

Dog Dance of Snikia




by




76

The Betrayal (Blood of the Kindred, #1)




by




76

Hunter (The Hunter Saga, #1)




by




76

Seraphina (Seraphina, #1)




by




80

Sinnabar




by




80

Dragonseye (Pern, #13)




by




80

The Maze Runner (The Maze Runner, #1)




by




83

First Lord's Fury (Codex Alera, #6)




by




83

Taste of Darkness (Avry of Kazan #3)




by




83

Wil Deft




by




83

The Book of Jhereg (Vlad Taltos, #1-3)




by




83

The Scorch Trials (The Maze Runner, #2)




by




83

Middlegame (Alchemical Journeys, #1)




by




89

Princeps' Fury (Codex Alera, #5)




by




89

Finding Sky (Benedicts, #1)




by




91

Captain's Fury (Codex Alera, #4)




by




91

The Fires of Heaven (The Wheel of Time, #5)




by




93

Cursor's Fury (Codex Alera, #3)




by




93

Furies of Calderon (Codex Alera, #1)




by




93

Touch the Dark (Cassandra Palmer, #1)




by




93

A Beautiful Friendship (Honorverse: Stephanie Harrington, #1)




by




97

Changelings (The Twins of Petaybee, #1)




by




98

Heart's Blood (The Pit Dragon Chronicles, #2)




by




98

Lord of the Fading Lands (Tairen Soul, #1)




by




100

Priceless (Rylee Adamson, #1)




by



163 books · 31 voters · list created June 28th, 2011 by deleted user.
No comments have been added yet.
Related News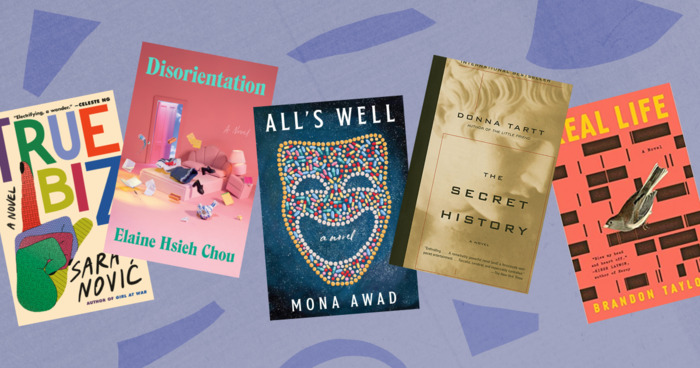 The college campus has been a popular setting for books since the days of ancient Greece. In fact, Aristotle once wrote a dark academic...
Anyone can add books to this list.