Red Hot Covers
These covers have red covers
1

Cinder (The Lunar Chronicles, #1)




by




2

Scarlet (The Lunar Chronicles, #2)




by




3

Sasha's Story: How to Find a Mate the Hard Way




by




4

Sisters Red (Fairytale Retellings, #1)




by




5

Sweet Evil (Sweet, #1)




by




6

Pearls of Passion




by




7

Twilight (The Twilight Saga, #1)




by




8

Forever (The Wolves of Mercy Falls, #3)




by




9

Catching Fire (The Hunger Games, #2)




by




10

Wuthering Heights




by




11

Dracula




by




12

The Girl in the Steel Corset (Steampunk Chronicles, #1)




by




13

Pearls of Pleasure




by




14

Illuminate (Gilded Wings, #1)




by




15

The Battle of the Labyrinth (Percy Jackson and the Olympians, #4)




by




16

Reached (Matched, #3)




by




17

The Elite (The Selection, #2)




by




18

Bloodfever (Fever, #2)




by




19

Darkfever (Fever, #1)




by




20

The Short Life of Sparrows




by




21

Fahrenheit 451




by




21

Kill Me Softly (Beau Rivage, #1)




by




23

Die for Me (Revenants, #1)




by




24

Rumors (Luxe, #2)




by




25

The Savage Grace (The Dark Divine, #3)




by




25

Red Riding Hood




by




27

The Historian




by




28

New Moon (The Twilight Saga, #2)




by




28

Pride & Prejudice




by




30

Dark Lover (Black Dagger Brotherhood, #1)




by




31

Taken at Dusk (Shadow Falls, #3)




by




32

Evernight (Evernight, #1)




by




33

Shadowland (The Immortals, #3)




by




34

My Soul to Take (Soul Screamers, #1)




by




35

Calm Before The Storm




by




35

Just Like Animals (Werelock Evolution #5)




by




37

Holiday in Cambodia




by




38

The Joy of Cooking




by




39

Touched (Sense Thieves, #1)




by




40

I Am Number Four (Lorien Legacies, #1)




by




41

Masque of the Red Death (Masque of the Red Death, #1)




by




41

Hidden (Firelight, #3)




by




43

Drink, Slay, Love




by




44

The Curious Incident of the Dog in the Night-Time




by




44

Paper Towns




by




46

Juliet Immortal (Juliet Immortal, #1)




by




47

Vampire Academy (Vampire Academy, #1)




by




48

Spark (Elemental, #2)




by




49

Emblaze (The Violet Eden Chapters, #3)




by




50

Everblue (Mer Tales, #1)




by




51

Fantastic Beasts and Where to Find Them




by




52

Eclipse (The Twilight Saga, #3)




by




53

Love Simon: Simon Vs The Homo Sapiens Agenda




by




54

Spells (Wings, #2)




by




55

Fair Game (Alpha & Omega, #3)




by




56

Dreamfever (Fever, #4)




by




57

Dream Dark (Caster Chronicles, #2.5)




by




58

Shadowfever (Fever, #5)




by




59

False Impressions (Megan Scott/Michael Elliott Mystery, #1)




by




59

The Seduction of Gretchen (Anam Céile Chronicles, #2.75)




by




61

Drowning Ophelia (Drowning Ophelia, #1)




by




62

Neeri's Need: How to Crash a Party




by




62

Mary, Everything (The Flapper Covenant, #1)




by




64

Cupid's Mistake




by




65

The Blood Maker and the Witch's Curse




by




66

Forgiven (Faithful, #2)




by




66

Mojado (Navajo Nation Mystery #4)




by




66

Resurrection Men




by




69

Fire (Graceling Realm, #2)




by




70

Battle Royale




by




71

Casey at the Bat: A Ballad of the Republic Sung in the Year 1888




by




72

Fateful




by




72

The Best Christmas Pageant Ever (The Herdmans #1)




by




74

An Artist of the Floating World




by




75

Tiger Lily




by




75

Diary of a Wimpy Kid (Diary of a Wimpy Kid, #1)




by




77

Tsarina




by




78

Ruin and Rising (The Shadow and Bone Trilogy, #3)




by




78

Queen of Shadows (Throne of Glass, #4)




by




80

Sunshine




by




80

A Christmas Memory




by




82

Cloaked




by




83

Kingdom of the Blazing Phoenix (Rise of the Empress, #2)




by




84

Beastly: Lindy's Diary (Beastly, #1.5; Kendra Chronicles, #1.5)




by




85

Almost Final Curtain (Vampire Princess of St. Paul, #2)




by




85

Blood Magic (The Blood Journals, #1)




by




87

Jane Eyre's Husband - The Life of Edward Rochester




by




88

Crave (The Clann, #1)




by




89

Sirensong (Faeriewalker, #3)




by




89

Dearly, Departed (Gone With the Respiration, #1)




by




89

Paper Valentine




by




92

The Faerie Ring (The Faerie Ring, #1)




by




93

Invincible (Chronicles of Nick, #2)




by




94

The Essence (The Pledge, #2)




by




95

Jessica's Guide to Dating on the Dark Side (Jessica, #1)




by




96

Eldest (The Inheritance Cycle, #2)




by




97

The Shadow Throne (Ascendance, #3)




by




98

The Wedding Date




by




99

Deadly Little Lies (Touch, #2)




by




100

Blameless (Parasol Protectorate, #3)




by



367 books · 120 voters · list created March 4th, 2012 by deleted user.
No comments have been added yet.
Related News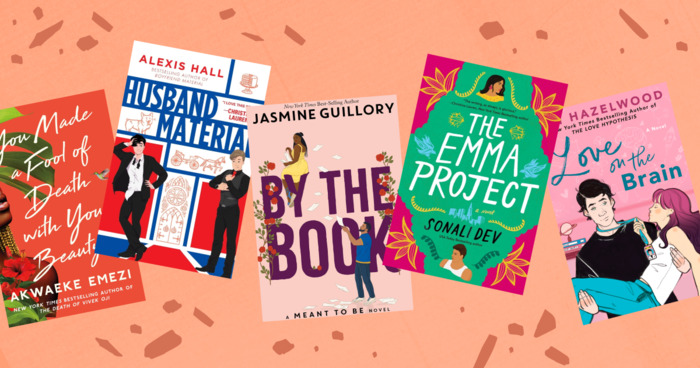 Shall I compare thee to a summer's day? Thou art more lovely and more temperate: Rough winds do shake the darling buds of May, And summer's...
Anyone can add books to this list.