Books Every Teen Should Read
a list of books that young adults should read
1

The Hunger Games (The Hunger Games, #1)




by




2

Harry Potter and the Sorcerer's Stone (Harry Potter, #1)




by




3

The Perks of Being a Wallflower




by




4

Harry Potter and the Deathly Hallows (Harry Potter, #7)




by




5

The Outsiders




by




6

The Chronicles of Narnia (Chronicles of Narnia, #1-7)




by




7

Romeo and Juliet




by




8

Speak




by




9

Catching Fire (The Hunger Games, #2)




by




10

The Book Thief




by




11

Dating Mr. Mogul (Mogul, #2)




by




12

The Giver (The Giver, #1)




by




13

The Fault in Our Stars




by




14

Mockingjay (The Hunger Games, #3)




by




15

Harry Potter and the Prisoner of Azkaban (Harry Potter, #3)




by




16

Harry Potter Series Box Set (Harry Potter, #1-7)




by




17

Looking for Alaska




by




18

The Diary of a Young Girl




by




19

Harry Potter and the Goblet of Fire (Harry Potter, #4)




by




20

Harry Potter and the Half-Blood Prince (Harry Potter, #6)




by




21

Harry Potter and the Chamber of Secrets (Harry Potter, #2)




by




22

The Catcher in the Rye




by




23

Harry Potter and the Order of the Phoenix (Harry Potter, #5)




by




24

Twilight (Twilight, #1)




by




25

Lord of the Flies




by




26

Paper Towns




by




27

Truly, Madly, Deeply




by




28

Matched (Matched, #1)




by




29

It's Kind of a Funny Story




by




30

The Alchemist




by




31

The Hobbit, or There and Back Again




by




32

Divergent (Divergent, #1)




by




33

Vampire Academy (Vampire Academy, #1)




by




34

Wonder (Wonder, #1)




by




35

Alice in Wonderland




by




36

City of Bones (The Mortal Instruments, #1)




by




37

Clockwork Angel (The Infernal Devices, #1)




by




38

Pride and Prejudice




by




39

Emma




by




40

Of Mice and Men




by




41

City of Glass (The Mortal Instruments, #3)




by




42

Life of Pi




by




43

Graceling (Graceling Realm, #1)




by




44

Peter Pan




by




45

Wuthering Heights




by




46

Financial Basics: A Money Management Guide for Students




by




47

Uglies (Uglies, #1)




by




48

I Am the Messenger




by




49

The Hiding Place: The Triumphant True Story of Corrie Ten Boom




by




50

The Adventures of Tom Sawyer




by




51

Fallen (Fallen, #1)




by




52

Beautiful Creatures (Caster Chronicles, #1)




by




53

The Lord of the Rings




by




53

Jane Eyre




by




55

The Truth About Forever




by




56

City of Ashes (The Mortal Instruments, #2)




by




56

The Lion, the Witch and the Wardrobe (Chronicles of Narnia, #1)




by




58

Holes (Holes, #1)




by




59

Animal Farm




by




60

The Secret Garden




by




61

I Am Malala: The Story of the Girl Who Stood Up for Education and Was Shot by the Taliban




by




62

The Knife of Never Letting Go (Chaos Walking, #1)




by




63

The Angel Experiment (Maximum Ride, #1)




by




64

The Kite Runner




by




65

The Girl with the Dragon Tattoo (Millennium, #1)




by




66

The Princess Bride




by




67

The Adventures of Sherlock Holmes




by




68

Gulliver's Travels / A Modest Proposal




by




69

Realm of the Goddess




by




70

The Omnivore's Dilemma: A Natural History of Four Meals




by




71

Out of the Silent Planet (The Space Trilogy, #1)




by




72

Rape Girl




by




73

Faking Normal (Faking Normal, #1)




by




74

Forgive Me, Leonard Peacock




by




75

The Last Lecture




by




76

The Golden Compass (His Dark Materials, #1)




by




77

Tuck Everlasting




by




78

Great Expectations




by




79

The Help




by




79

Go Set a Watchman




by




81

To Kill a Mockingbird




by




82

A Study in Scarlet (Sherlock Holmes, #1)




by




83

The Neverending Story




by




84

Marked (House of Night, #1)




by




85

Perfect Chemistry (Perfect Chemistry, #1)




by




86

Impulse (Impulse, #1)




by




87

Artemis Fowl (Artemis Fowl, #1)




by




88

The Complete Sherlock Holmes




by




89

The Witch of Blackbird Pond




by




90

Stargirl (Stargirl, #1)




by




91

Anne of Green Gables (Anne of Green Gables, #1)




by




92

Fahrenheit 451




by




93

The Historian




by




94

Boy Meets Boy




by




94

The Consequences of Forever




by




94

The Skinwalker's Apprentice




by




97

Rainbow Boys (Rainbow Trilogy, #1)




by




97

The Sword of Sighs (The Age of the Flame, #1)




by




97

The Heart of a Girl




by




97

Five Simple Questions To Reclaim Your Happiness!: and create amazing relationships for life (Words of Wisdom for TeensTM Book 1)




by



335 books · 247 voters · list created August 8th, 2010 by deleted user.
date
newest »
back to top
Related News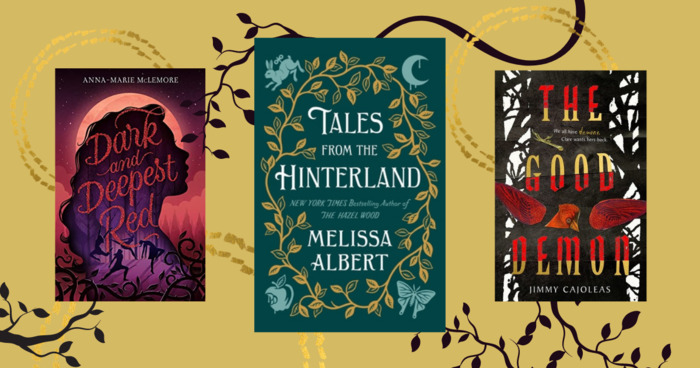 Melissa Albert burst onto the YA scene (and catapulted into readers' hearts) with her 2018 debut The Hazel Wood. This darkly fantastical...
Anyone can add books to this list.