Christian Fantasy
Tales of other worlds that exhibit a Christian worldview
1

The Chronicles of Narnia (Chronicles of Narnia, #1-7)




by




2

The Lord of the Rings




by




3

The Hobbit, or There and Back Again




by




4

The Lion, the Witch and the Wardrobe (Chronicles of Narnia, #1)




by




5

The Screwtape Letters




by




6

The Horse and His Boy (Chronicles of Narnia, #5)




by




7

Space Trilogy: Out of the Silent Planet / Perelandra / That Hideous Strength




by




8

The Pilgrim's Progress




by




9

The Magician's Nephew (Chronicles of Narnia, #6)




by




10

The Silmarillion




by




11

Prince Caspian (Chronicles of Narnia, #2)




by




12

The Silver Chair (Chronicles of Narnia, #4)




by




13

The Voyage of the Dawn Treader (Chronicles of Narnia, #3)




by




14

The Last Battle (Chronicles of Narnia, #7)




by




15

Black: The Birth of Evil (The Circle, #1)




by




16

DragonSpell (DragonKeeper Chronicles, #1)




by




17

DragonQuest (DragonKeeper Chronicles, #2)




by




18

White: The Great Pursuit (The Circle, #3)




by




19

Raising Dragons (Dragons in Our Midst, #1)




by




20

This Present Darkness (Darkness, #1)




by




21

DragonKnight (DragonKeeper Chronicles, #3)




by




22

By Darkness Hid (Blood of Kings, #1)




by




23

The Great Divorce




by




24

Prophet (Books of the Infinite, #1)




by




25

The Children of Húrin




by




26

The Carnelian Legacy (Carnelian, #1)




by




27

Showdown (Paradise, #1)




by




28

DragonFire (DragonKeeper Chronicles, #4)




by




29

Till We Have Faces




by




30

The Light of Eidon (Legends of the Guardian-King, #1)




by




31

DragonLight (DragonKeeper Chronicles, #5)




by




32

Tears of a Dragon (Dragons in Our Midst, #4)




by




33

Waterfall (River of Time, #1)




by




34

Resistance (Ilyon Chronicles, #1)




by




35

The Door Within (The Door Within, #1)




by




36

The Paradise War (The Song of Albion, #1)




by




37

The Candlestone (Dragons in Our Midst, #2)




by




38

On the Edge of the Dark Sea of Darkness (The Wingfeather Saga, #1)




by




39

From Darkness Won (Blood of Kings, #3)




by




40

Piercing the Darkness (Darkness, #2)




by




41

Circles of Seven (Dragons in Our Midst, #3)




by




42

Shadow Over Kiriath (Legends of the Guardian-King, #3)




by




43

Perelandra (The Space Trilogy, #2)




by




44

Last of the Nephilim (Oracles of Fire, #3)




by




45

Judge (Books of the Infinite, #2)




by




46

Cascade (River of Time, #2)




by




47

To Darkness Fled (Blood of Kings, #2)




by




48

Beyond the Reflection's Edge (Echoes from the Edge, #1)




by




49

Return of the Guardian-King (Legends of the Guardian-King, #4)




by




50

North! or Be Eaten (The Wingfeather Saga, #2)




by




51

The Monster in the Hollows (The Wingfeather Saga, #3)




by




52

Firebird Trilogy (#1 - 3)




by




53

The Shadow Within (Legends of the Guardian-King, #2)




by




54

Daughter of Light (Follower of the Word, #1)




by




55

Eye of the Oracle (Oracles of Fire, #1)




by




56

Smith of Wootton Major & Farmer Giles of Ham




by




57

Chosen (The Lost Books, #1)




by




58

Kingdom's Dawn (Kingdom, #1)




by




58

End of the Beginning




by




60

Isle of Swords (Isle of Swords, #1)




by




60

Blood Tithe (Blood Tithe #1)




by




62

DawnSinger (Tales of Faeraven, #1)




by




63

The Bones of Makaidos (Oracles of Fire, #4)




by




64

Torrent (River of Time, #3)




by




65

The Restorer (The Sword of Lyric #1)




by




66

The Final Storm (The Door Within, #3)




by




67

Green: The Beginning and the End (The Circle, #0)




by




68

House




by




69

The Oath




by




70

The Rise of the Wyrm Lord (The Door Within, #2)




by




71

Son of Ereubus (Guardians of Legend, #1)




by




72

Dominion (Life After #3)




by




73

The Merchant and the Menace (The Seraphinium, #1)




by




74

The Vanishing Sculptor (Valley of the Dragons, #1)




by




75

The Warden and the Wolf King (The Wingfeather Saga #4)




by




76

The Word Changers




by




77

Arena




by




78

Bringer of Storms (Binding of the Blade #2)




by




79

The Restorer's Son (The Sword of Lyric #2)




by




80

Beyond the Summerland (Binding of the Blade #1)




by




81

Renegade (The Lost Books, #3)




by




82

Merlin (The Pendragon Cycle, #2)




by




83

Elyon (The Lost Books, #6)




by




84

Lunatic (The Lost Books, #5)




by




85

Infidel (The Lost Books, #2)




by




86

The Tower of Geburah (Archives of Anthropos, #3)




by




87

The Yeti




by




87

Legend of the Storm Sneezer (The Stormwatch Diaries, #1)




by




89

Prophecy of the Heir (Chronicles of Time #1)




by




89

A Time to Die (Out of Time, #1)




by




91

The Case of the Wayward Fae (The Chronicles of Mister Marmee, #2)




by




92

Champion in the Darkness (The Champion Trilogy #1)




by




93

Taliesin (The Pendragon Cycle #1)




by




94

Holy Bible: King James Version




by




95

The Last Day (Sons of the King, #8)




by




96

Wayfarer (Tales of Faeraven, #2)




by




97

The Restorer's Journey (The Sword of Lyric #3)




by




98

Giver of Roses (Guardians of Gadiel, #1)




by




99

Starlighter (Dragons of Starlight, #1)




by




99

The Hand That Bears the Sword (Trophy Chase Trilogy, #2)




by



452 books · 626 voters · list created June 21st, 2008 by deleted user.
Showing 1-29 of 29
(29 new)
date
newest »
back to top
Related News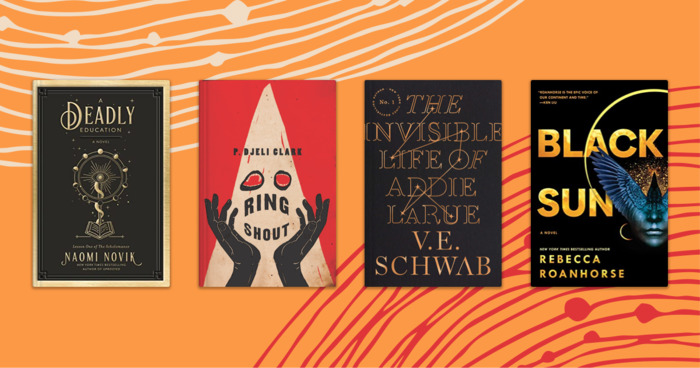 If you love the fantasy genre, this is the season for you! Some of the biggest books out this fall promise to be epics full of magic, adventure,...
Anyone can add books to this list.