Best YA Chicklit
1

The Truth About Forever




by




2

Just Listen




by




3

The Sisterhood of the Traveling Pants (Sisterhood, #1)




by




4

Anna and the French Kiss (Anna and the French Kiss, #1)




by




5

Lock and Key




by




6

Along for the Ride




by




7

The Princess Diaries (The Princess Diaries, #1)




by




8

The Summer I Turned Pretty (Summer, #1)




by




9

This Lullaby




by




10

The Second Summer of the Sisterhood (Sisterhood, #2)




by




11

Keeping the Moon




by




12

Angus, Thongs and Full-Frontal Snogging (Confessions of Georgia Nicolson, #1)




by




13

Girls in Pants: The Third Summer of the Sisterhood (Sisterhood, #3)




by




14

Pretty Little Liars (Pretty Little Liars, #1)




by




15

Perfect Chemistry (Perfect Chemistry, #1)




by




16

Megan Meade's Guide to the McGowan Boys




by




17

13 Little Blue Envelopes (Little Blue Envelope, #1)




by




18

The Boyfriend List: 15 Guys, 11 Shrink Appointments, 4 Ceramic Frogs and Me, Ruby Oliver (Ruby Oliver, #1)




by




19

Forever in Blue: The Fourth Summer of the Sisterhood (Sisterhood, #4)




by




20

Dreamland




by




21

Two-Way Street




by




22

Someone Like You




by




23

The Last Song




by




24

When It Happens




by




25

If I Stay (If I Stay, #1)




by




26

Twilight (Twilight, #1)




by




27

Hush, Hush (Hush, Hush, #1)




by




28

Sloppy Firsts (Jessica Darling, #1)




by




29

What Happened to Goodbye




by




30

The DUFF: Designated Ugly Fat Friend (Hamilton High, #1)




by




31

Confessions of a Shopaholic (Shopaholic, #1)




by




32

A Walk to Remember




by




33

All-American Girl (All-American Girl, #1)




by




34

Matched (Matched, #1)




by




35

The Lonely Hearts Club (The Lonely Hearts Club, #1)




by




36

New Moon (Twilight, #2)




by




37

Where She Went (If I Stay, #2)




by




38

Dash & Lily's Book of Dares (Dash & Lily, #1)




by




39

The Boy Book: A Study of Habits and Behaviors, Plus Techniques for Taming Them (Ruby Oliver, #2)




by




40

Forever . . .




by




41

The Notebook (The Notebook, #1)




by




42

Going Too Far




by




43

The Disreputable History of Frankie Landau-Banks




by




44

The Clique (The Clique, #1)




by




45

Teen Idol




by




46

Lola and the Boy Next Door (Anna and the French Kiss, #2)




by




47

Second Helpings (Jessica Darling, #2)




by




48

Peaches (Peaches, #1)




by




49

Jinx




by




50

The Host




by




51

Little Women




by




52

Stargirl/Love, Stargirl Boxed Set




by




53

Waiting for You




by




54

The Earth, My Butt, and Other Big Round Things (Virginia Shreves, #1)




by




55

The Devil Wears Prada (The Devil Wears Prada, #1)




by




56

Midnight Sun [2008 Draft]




by




57

Oh. My. Gods. (Oh. My. Gods., #1)




by




58

How to Ruin a Summer Vacation (How to Ruin, #1)




by




59

Milk, Turkey, and Neurosis: or, How Mother (Almost) Ruined My Life




by




60

Memoirs of a Teenage Amnesiac




by




61

Avalon High




by




62

The Vincent Boys (The Vincent Boys, #1)




by




63

Prom & Prejudice




by




64

Fallen (Fallen, #1)




by




65

Bloom




by




66

Knocked Out by My Nunga-Nungas (Confessions of Georgia Nicolson, #3)




by




67

It's OK, I'm Wearing Really Big Knickers (Confessions of Georgia Nicolson, #2)




by




68

Just Ella (The Palace Chronicles, #1)




by




69

Can You Keep a Secret?




by




70

That Summer




by




71

Pants on Fire




by




72

The Lipstick Laws




by




73

Torment (Fallen, #2)




by




74

Dancing in My Nuddy-Pants! (Confessions of Georgia Nicolson, #4)




by




75

Dark Visions (Dark Visions, #1-3)




by




76

Vegan, Virgin, Valentine (V Valentine, #1)




by




77

How to Be Popular: When You're a Social Reject Like Me, Steph L.!




by




78

The Ex Games




by




79

Wings (Wings, #1)




by




80

Goddess Boot Camp (Oh. My. Gods., #2)




by




81

Private (Private, #1)




by




82

Honey, Baby, Sweetheart




by




83

The Secret Life of Prince Charming




by




84

I Was a Non-Blonde Cheerleader (Cheerleader Trilogy, #1)




by




84

Pride and Prejudice




by




86

A Non-Blonde Cheerleader in Love (Cheerleader Trilogy, #3)




by




87

Love Is a Many Trousered Thing (Confessions of Georgia Nicolson, #8)




by




88

Girl, 15, Charming but Insane (Jess Jordan, #1)




by




89

The Boys Next Door (The Boys Next Door, #1)




by




90

The Best Girl




by




91

It's Not Summer Without You (Summer, #2)




by




92

Endless Summer (The Boys Next Door, #1-2)




by




93

Gingerbread (Cyd Charisse, #1)




by




94

The Nature of Jade




by




95

Love and Other Four-Letter Words




by




96

We'll Always Have Summer (Summer, #3)




by




97

Charmed Thirds (Jessica Darling, #3)




by




98

The Treasure Map of Boys: Noel, Jackson, Finn, Hutch, Gideon—and me, Ruby Oliver (Ruby Oliver, #3)




by




99

Pretty Face




by




100

Amy & Roger's Epic Detour




by



569 books · 1,203 voters · list created August 16th, 2008 by deleted user.
Showing 1-12 of 12
(12 new)
date
newest »
back to top
Related News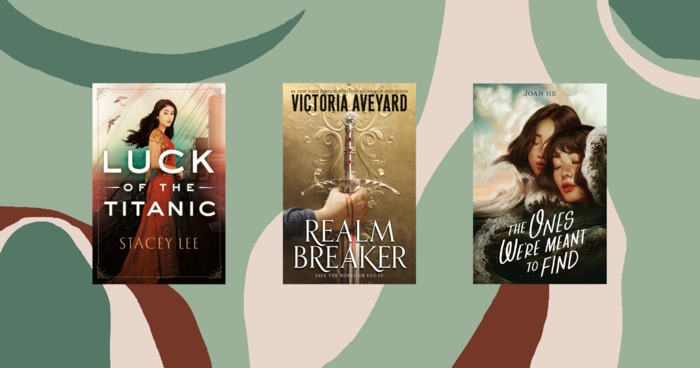 As dedicated readers already know, some of the best and most innovative stories on the shelves come from the constantly evolving realm of...
Anyone can add books to this list.