Animals Published in Decade: 2010s
1

The Soul of an Octopus




by




2

The Genius of Birds




by




3

Mama's Last Hug: Animal Emotions and What They Tell Us about Ourselves




by




4

Our Symphony with Animals: On Health, Empathy, and Our Shared Destinies




by




5

Are We Smart Enough to Know How Smart Animals Are?




by




6

How To Be A Good Creature: A Memoir in Thirteen Animals




by




7

The Rise and Fall of the Dinosaurs: A New History of a Lost World




by




8

A Street Cat Named Bob: How One Man and His Cat Found Hope on the Streets




by




8

H is for Hawk




by




10

Smoky the Brave: How a Feisty Yorkshire Terrier Mascot Became a Comrade-in-Arms during World War II




by




11

No Beast So Fierce: The Terrifying True Story of the Champawat Tiger, the Deadliest Man-Eater in History




by




12

The Eighty-Dollar Champion: Snowman, the Horse That Inspired a Nation




by




13

Judy: A Dog In A Million




by




14

Rin Tin Tin: The Life and the Legend




by




15

Running with Sherman




by




16

The World According to Bob: The Further Adventures of One Man and His Street-wise Cat




by




17

Monty: The Courageous Survival of a Rescue Dog




by




18

The One and Only Ivan




by




19

A Sick Day for Amos McGee




by




19

I Want My Hat Back




by




21

Finding Gobi: The True Story Of A Little Dog And An Incredible Journey




by




21

The Tiger: A True Story of Vengeance and Survival




by




23

Spying on Whales: The Past, Present, and Future of Earth's Most Awesome Creatures




by




24

The Lion in the Living Room: How House Cats Tamed Us and Took Over the World




by




25

The Sound of a Wild Snail Eating




by




26

Cleo and Cornelius: A Tale of Two Cities and Two Kitties




by




27

Saving Baby




by




28

Trooper: The Bobcat Who Came in from the Wild




by




29

Cats: A Very Peculiar History




by




30

Incredible Dog Journeys




by




31

Mythic Creatures: And the Impossibly Real Animals Who Inspired Them




by




31

Lily and the Octopus




by




33

Making Rounds with Oscar: The Extraordinary Gift of an Ordinary Cat




by




34

Fly With Me: A Celebration of Birds through Pictures, Poems, and Stories




by




34

Saving Simon: How a Rescue Donkey Taught Me the Meaning of Compassion




by




34

The Possibility Dogs: What a Handful of "Unadoptables" Taught Me About Service, Hope, and Healing




by




37

War Dog




by




38

Comet's Tale: How the Dog I Rescued Saved My Life




by




39

Dogs with Jobs: Inspirational Tales of the World's Hardest Working Dogs




by




40

Oliver: The Cat Who Saved Christmas




by




41

Elephant Company: The Inspiring Story of an Unlikely Hero and the Animals Who Helped Him Save Lives in World War II




by




42

A Dog's Purpose (A Dog's Purpose, #1)




by




42

The Elephant Whisperer




by




44

Wesley the Owl: The Remarkable Love Story of an Owl and His Girl




by




45

Sharks: Nature's Perfect Hunter




by




46

The Railway Dog: The True Story of an Australian Outback Dog




by




47

MUTTS Shelter Stories




by




48

The Thing with Feathers: The Surprising Lives of Birds and What They Reveal About Being Human




by




49

The Inner Life of Animals: Love, Grief, and Compassion -- Surprising Observations of a Hidden World




by




50

The Animal Lover's Guide to Changing the World: Practical Advice and Everyday Actions for a More Sustainable, Humane, and Compassionate Planet




by




51

Spineless: The Science of Jellyfish and the Art of Growing a Backbone




by




52

The Secret Life of Cows




by




52

Unlikely Friendships : 47 Remarkable Stories from the Animal Kingdom




by




54

Pit Bull: The Battle over an American Icon




by




55

American Wolf: A True Story of Survival and Obsession in the West




by




56

Kaibyō: The Supernatural Cats of Japan




by




57

Underbug: An Obsessive Tale of Termites and Technology




by




57

The Evolution of Beauty: How Darwin's Forgotten Theory of Mate Choice Shapes the Animal World - and Us




by




57

Chasing Cheetahs: The Race to Save Africa's Fastest Cat (Scientists in the Field Series)




by




60

Wilding: The Return of Nature to a British Farm




by




61

I'm a Good Dog: Pit Bulls, America's Most Beautiful (and Misunderstood) Pet




by




61

Pax (Pax #1)




by




61

What a Fish Knows: The Inner Lives of Our Underwater Cousins




by




61

Other Minds: The Octopus, the Sea, and the Deep Origins of Consciousness




by




61

Neighborhood Sharks: Hunting with the Great Whites of California's Farallon Islands




by




66

Acoustic Rooster and His Barnyard Band




by




66

Horse Crazy: Girls and the Lives of Horses




by




68

The Wall of Birds: One Planet, 243 Families, 375 Million Years




by




68

Pasta for Nightingales: A 17th-Century Handbook of Bird-Care and Folklore




by




68

The Dogs that Made Australia: The fascinating untold story of the dog's role in building a nation from the Whitely Award winning author of The F




by




68

Kakapo Rescue: Saving the World's Strangest Parrot




by




72

Animal Wise: The Thoughts and Emotions of Our Fellow Creatures




by




72

Bob Langrish's World of Horses: A Master Photographer's Lifelong Quest to Capture the Most Magnificent Horses in the World




by




72

How to Tame a Fox (and Build a Dog): Visionary Scientists and a Siberian Tale of Jump-Started Evolution




by




72

The Horse: The Epic History of Our Noble Companion




by




72

Giant Squid




by




77

An Inconvenient Herd




by




77

The Friend




by




79

My Boyfriend Is a Bear




by




79

Beyond the Call of Duty: Heart-warming stories of canine devotion and bravery




by




81

Wallace: The Underdog Who Conquered a Sport, Saved a Marriage, and Championed Pit Bulls-- One Flying Disc at a Time




by




81

Canine Confidential: Why Dogs Do What They Do




by




81

The Zookeepers' War: An Incredible True Story from the Cold War




by




84

The Second-Chance Dog: A Love Story




by




84

Flora & Ulysses: The Illuminated Adventures




by




84

The Year of the Dogs




by




87

Second-Chance Dogs: True Stories of the Dogs We Rescue and the Dogs Who Rescue Us




by




87

The Monarch: Saving Our Most-Loved Butterfly




by




87

How to Clone a Mammoth: The Science of De-Extinction




by




87

Lives of Wolves, Coyotes and Foxes




by




87

Autobiography of Horse: A Poem




by




92

Arthur and Friends: The incredible story of a rescue dog, and how our dogs rescue us




by




92

Life Everlasting: The Animal Way of Death




by




92

Horse Heroes (Magic Tree House Fact Tracker, #27)




by




92

A Year in the Life of the Yorkshire Shepherdess




by




96

A Dog's Journey (A Dog's Purpose, #2)




by




96

Cannibalism: A Perfectly Natural History




by




96

Pandas and Other Endangered Species (Magic Tree House Fact Tracker, #26)




by




96

Salamander Rescue




by




100

The Scorpio Races




by



323 books · 23 voters · list created October 31st, 2018 by deleted user.
Like
Lists are re-scored approximately every 5 minutes.
No comments have been added yet.
Related News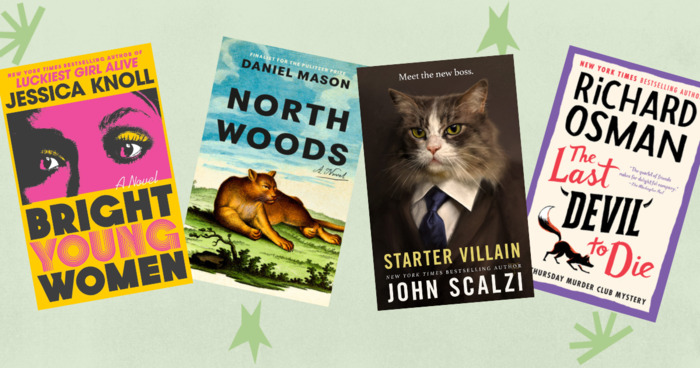 Need another excuse to treat yourself to a new book this week? We've got you covered with the buzziest new releases of the day, according to early...
Anyone can add books to this list.