Steven Rowley
Goodreads Author
Born
The United States
Website
Twitter
Genre
Member Since
February 2016
* Note: these are all the books on Goodreads for this author. To add more,
click here
.
Related News
Need another excuse to treat yourself to a new book this week? We've got you covered with the buzziest new releases of the day. To create our...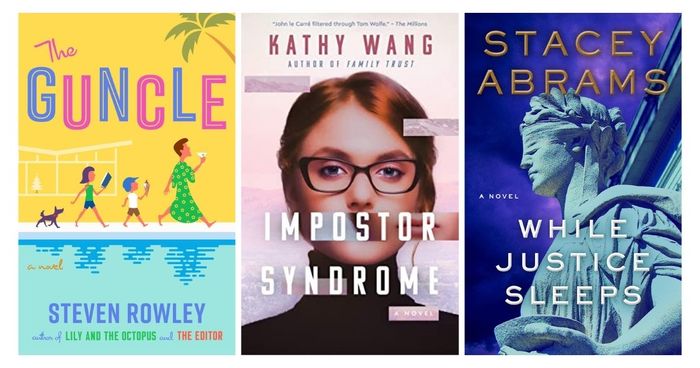 Polls
October Standalone Group Read
The Night Circus
by
Erin Morgenstern
The circus arrives without warning. No announcements precede it, no paper notices plastered on lampposts and billboards. It is simply there, when yesterday it was not.
Within these nocturnal black-and-white striped tents awaits an utterly unique, a feast for the senses, where one can get lost in a maze of clouds, meander through a lush garden made of ice, stare in wonderment as the tattooed contortionist folds herself into a small glass box, and become deliciously tipsy from the scents of caramel and cinnamon that waft through the air.
Welcome to Le Cirque des Rêves.
Beyond the smoke and mirrors, however, a fierce competition is under way--a contest between two young illusionists, Celia and Marco, who have been trained since childhood to compete in a "game" to which they have been irrevocably bound by their mercurial masters. Unbeknownst to the players, this is a game in which only one can be left standing, and the circus is but the stage for a remarkable battle of imagination and will.
As the circus travels around the world, the feats of magic gain fantastical new heights with every stop. The game is well under way and the lives of all those involved--the eccentric circus owner, the elusive contortionist, the mystical fortune-teller, and a pair of red-headed twins born backstage among them--are swept up in a wake of spells and charms.
But when Celia discovers that Marco is her adversary, they begin to think of the game not as a competition but as a wonderful collaboration. With no knowledge of how the game must end, they innocently tumble headfirst into love. A deep, passionate, and magical love that makes the lights flicker and the room grow warm whenever they so much as brush hands.
Their masters still pull the strings, however, and this unforeseen occurrence forces them to intervene with dangerous consequences, leaving the lives of everyone from the performers to the patrons hanging in the balance.
This Is Where It Ends
by
Marieke Nijkamp
10:00 a.m. The principal of Opportunity High School finishes her speech, welcoming the entire student body to a new semester and encouraging them to excel and achieve.
10:02 a.m. The students get up to leave the auditorium for their next class.
10:03 a.m. The auditorium doors won't open.
10:05 a.m. Someone starts shooting.
Told from four different perspectives over the span of fifty-four harrowing minutes, terror reigns as one student's calculated revenge turns into the ultimate game of survival.
Return Once More
by
Trisha Leigh
If you could learn the identity of your one true love—even though you will never meet— would you?
Years have passed since refugees from a ruined earth took to space, eventually settling a new system of planets. Science has not only made the leaps necessary to allow time travel, but the process engineered a strange side effect—predicting your one true love.
If you could save your one true love from an untimely death, would you be able to resist?
Sixteen-year-old Kaia Vespasian is an apprentice to the Historians—a group charged with using time travel to document the triumphs and failures of the past—and she can't resist a peek at her long-dead soul mate in Ancient Egypt. Before she knows it, she's broken every rule in the book, and the consequences of getting caught could destroy more than just her new romance.
Or would you have the strength to watch him die?
But when Kaia notices a fellow classmate snooping around in a time where he doesn't belong, she suspects he has a secret of his own—and the conspiracy she uncovers could threaten the entire universe. If her experience has taught her anything, to changing history means facing the consequences. The Historians trained her to observe and record the past, but Kaia never guessed she might have to protect it— in a race across time to save her only chance at a future.
Ligeia
by
Edgar Allan Poe
Ligeia is a short story written by Edgar Allan Poe and first published in 1838. Ligeia is widely considered to be one of the top 100 greatest books of all time. This great novel will surely attract a whole new generation of readers. For many, Ligeia is required reading for various courses and curriculum's. And for others who simply enjoy reading timeless pieces of classic literature, this gem by Edgar Allan Poe is highly recommended.
Lily and the Octopus
by
Steven Rowley
Combining the emotional depth of The Art of Racing in the Rain with the magical spirit of The Life of Pi, Lily and the Octopus is an epic adventure of the heart.
When you sit down with Lily and the Octopus, you will be taken on an unforgettable ride.
The magic of this novel is in the read, and we don't want to spoil it by giving away too many details. We can tell you that this is a story about that special someone: the one you trust, the one you can't live without.
For Ted Flask, that someone special is his aging companion Lily, who happens to be a dog. Lily and the Octopus reminds us how it feels to love fiercely, how difficult it can be to let go, and how the fight for those we love is the greatest fight of all.
Let the Right One In
by
John Ajvide Lindqvist
It is autumn 1981 when the inconceivable comes to Blackeberg, a suburb in Sweden. The body of a teenage boy is found, emptied of blood, the murder rumored to be part of a ritual killing. Twelve-year-old Oskar is personally hoping that revenge has come at long last—revenge for the bullying he endures at school, day after day.
But the murder is not the most important thing on his mind. A new girl has moved in next door—a girl who has never seen a Rubik's Cube before, but who can solve it at once. There is something wrong with her, though, something odd. And she only comes out at night....
69 total votes
More...
Topics Mentioning This Author
date
newest »
back to top