Books on Creativity
1

The Artist's Way: A Spiritual Path to Higher Creativity




by




2

Flow: The Psychology of Optimal Experience




by




3

Creativity: Flow and the Psychology of Discovery and Invention




by




4

The Creative Habit: Learn It and Use It for Life




by




5

Creativity, Inc.: Overcoming the Unseen Forces That Stand in the Way of True Inspiration




by




6

The War of Art: Winning the Inner Creative Battle




by




7

A Whack on the Side of the Head: How You Can Be More Creative




by




8

On Writing: A Memoir of the Craft




by




9

Big Magic: Creative Living Beyond Fear




by




10

Thinking, Fast and Slow




by




11

Thinkertoys: A Handbook of Creative-Thinking Techniques




by




12

Six Thinking Hats




by




13

Conscious Creativity Mindfulness Meditations (AoL Mindfulness #7)




by




14

Steal Like an Artist: 10 Things Nobody Told You About Being Creative




by




15

Outsmart the Unexpected: Grow Your Creativity the Edge-Of-Your-Seat Way




by




16

Whole Lotta Creativity Going On: 60 Fun and Unusual Exercises to Awaken and Strengthen Your Creativity




by




17

The Ten Faces of Innovation: Strategies for Heightened Creativity




by




17

Creativity Is Forever




by




19

The Mind Map Book: How to Use Radiant Thinking to Maximize Your Brain's Untapped Potential




by




20

Free Play: Improvisation in Life and Art




by




20

Out of Our Minds: Learning to Be Creative




by




22

Handbook of Creativity




by




23

The Accidental Creative: How to Be Brilliant at a Moment's Notice




by




24

Ignore Everybody: and 39 Other Keys to Creativity




by




24

The Soul of Creativity: Insights Into the Creative Process




by




26

Scribbling in the Sand




by




27

A Kick in the Seat of the Pants: using your explorer, artist, judge, & warrior to be more creative




by




28

Awakening Genius in the Classroom




by




29

The Creative Spirit




by




30

Mozart's Brain and the Fighter Pilot: Unleashing Your Brain's Potential




by




31

Genius Intelligence (The Underground Knowledge Series, #1)




by




32

The Zen of Creativity: Cultivating Your Artistic Life




by




33

Imagine: How Creativity Works




by




34

It's Never Too Late to Begin Again: Discovering Creativity and Meaning at Midlife and Beyond




by




35

The Rise: Creativity, the Gift of Failure, and the Search for Mastery




by




36

How to Think Like Leonardo da Vinci: Seven Steps to Genius Every Day




by




37

The Writer's Art




by




38

Why Didn't I Think of That?: A Guide to Better Ideas and Decision Making: A Fable




by




39

The Artist's Date Book




by




40

The Vein of Gold: A Journey to Your Creative Heart




by




41

The Runaway Species: How Human Creativity Remakes the World




by




42

Things Are What You Make of Them: Life Advice for Creatives




by




43

Touched with Fire: Manic-Depressive Illness and the Artistic Temperament




by




44

Control Switch On: The Untold Story Of The Most Powerful Man In The World-Ryan Moran-Who Shaped The Planet For Peace




by




44

Leading On The Creative Edge: Gaining Competitive Advantage Through The Power Of Creative Problem Solving




by




44

Intellectual Property




by




44

Negotiating with the Dead: A Writer on Writing




by




44

How to Set Up Photography Lighting for a Home Studio




by




44

Are the Androids Dreaming Yet? Amazing Brain. Human Communication, Creativity and Free Will




by




44

Uncommon Genius




by




44

The Good Creative: 18 ways to make better art




by




44

Ideas Like Shoes Take You Places




by




44

Creative Confidence: Unleashing the Creative Potential Within Us All




by




44

Choose Wonder Over Worry: Move Beyond Fear and Doubt to Unlock Your Full Potential




by




44

Daydreams at Work: Wake Up Your Creative Powers




by




44

Art and Visual Perception: A Psychology of the Creative Eye




by




44

Author for Life or for a Living?: How to Stay Sane & Alive when Everything & Everyone Brings you Down: Manifesto for Real Writers




by




44

Self-Publishing In the Eye of the Storm




by




44

The Scream Writer's Handbook: How to Write a Terrifying Screenplay in 10 Bloody Steps




by




44

Rethink Creativity: How to Innovate, Inspire, and Thrive at Work




by




44

Broken Daydreams: Otherwise Known as My Eclectic, Sometimes Random, Almost Optimistic, Unconventional Thoughts on How to Redeem a Fractured Generation




by




44

So You Want To Be A Writer: How to get started




by




44

The Eleven Yogic Arts of Creative Living: Looking at the Teachings of Yogi Bhajan through the Lens of Creativity




by




44

How to Think Like Shakespeare: Lessons from a Renaissance Education




by




44

The Listening Path: The Creative Art of Attention (An Artist's Way Book)




by




44

One Plus One Equals Three: A Masterclass in Creative Thinking




by




44

Life Finds a Way: What Evolution Teaches Us About Creativity




by




44

52 Weeks of Writing Author Journal and Planner: Get out of your own way and become the writer you're meant to be




by




44

The Explorer's Mindset: Unlock Health Happiness and Success the Fun Way




by




44

Parallel Mind, the Art of Creativity




by




71

A Technique for Producing Ideas




by




71

Applied Imagination: Principles and Procedures of Creative Thinking




by




71

Manage Your Day-to-Day: Build Your Routine, Find Your Focus, and Sharpen Your Creative Mind (The 99U Book Series)




by




71

Mindful Being (AoL Mindfulness, #4)




by




71

So You Want to Vlog?: How to start from scratch, find your voice & share your stories




by




71

Deep Work: Rules for Focused Success in a Distracted World




by




71

Brandscaping: Unleashing the Power of Partnerships




by




71

52 Weeks of Writing Author Journal and Planner, Vol. II




by




71

Seeking Wisdom: A Spiritual Path to Creative Connection




by




80

Making Ideas Happen: Overcoming the Obstacles Between Vision and Reality




by




80

Make Your Mark: The Creative's Guide to Building a Business With Impact




by




80

Conscious Parenting: Mindful Living Course for Parents (AoL Mindfulness #5)




by




80

The Creative Process: Reflections on Invention in the Arts and Sciences




by




80

How to Build Your Creative Career: ...Without Selling Your Soul (The Complete Creative Book 1)




by




80

The Artist's Way: A Spiritual Path to Higher Creativity




by




80

Where Good Ideas Come from: The Natural History of Innovation




by




80

Sketch by Sketch: A Creative Path to Emotional Healing and Transformation (A SketchPoetic Book)




by




88

Maximize Your Potential: Grow Your Expertise, Take Bold Risks & Build an Incredible Career (The 99U Book Series)




by




88

Time Management For Creative People




by




88

Write for Life: Creative Tools for Every Writer (A 6-Week Artist's Way Program)




by




91

Design Thinking (Basic Design #8)




by




91

The Midnight Disease: The Drive to Write, Writer's Block, and the Creative Brain




by




93

Collabetition: 3 Principles For The Creative Person In All Of Us




by




93

Hey, Whipple, Squeeze This: A Guide to Creating Great Ads




by




93

Fire Up Your Writing Brain: How to Use Proven Neuroscience to Become a More Creative, Productive, and Succes Sful Writer




by




96

The Creativity Book: A Year's Worth of Inspiration and Guidance




by




96

Think Like an Artist: and Lead a More Creative, Productive Life




by




98

Taming Your Gremlin: A Surprisingly Simple Method for Getting Out of Your Own Way




by




98

Discovering and Recovering Your Creative Self




by




98

The Book of Doing and Being: Rediscovering Creativity in Life, Love, and Work




by



160 books · 130 voters · list created December 24th, 2011 by deleted user.
No comments have been added yet.
Related News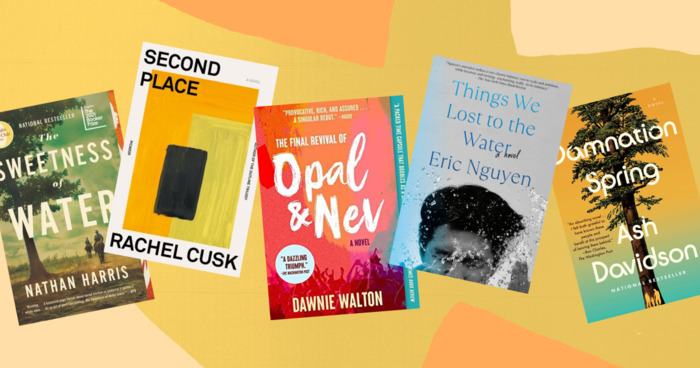 The book gods, in their infinite kindness, have built second chances into the very structure of the modern distribution business. If you miss...
Anyone can add books to this list.