News and Interviews
Readers' Most Anticipated YA Books for April
Posted by Sharon on March 31, 2021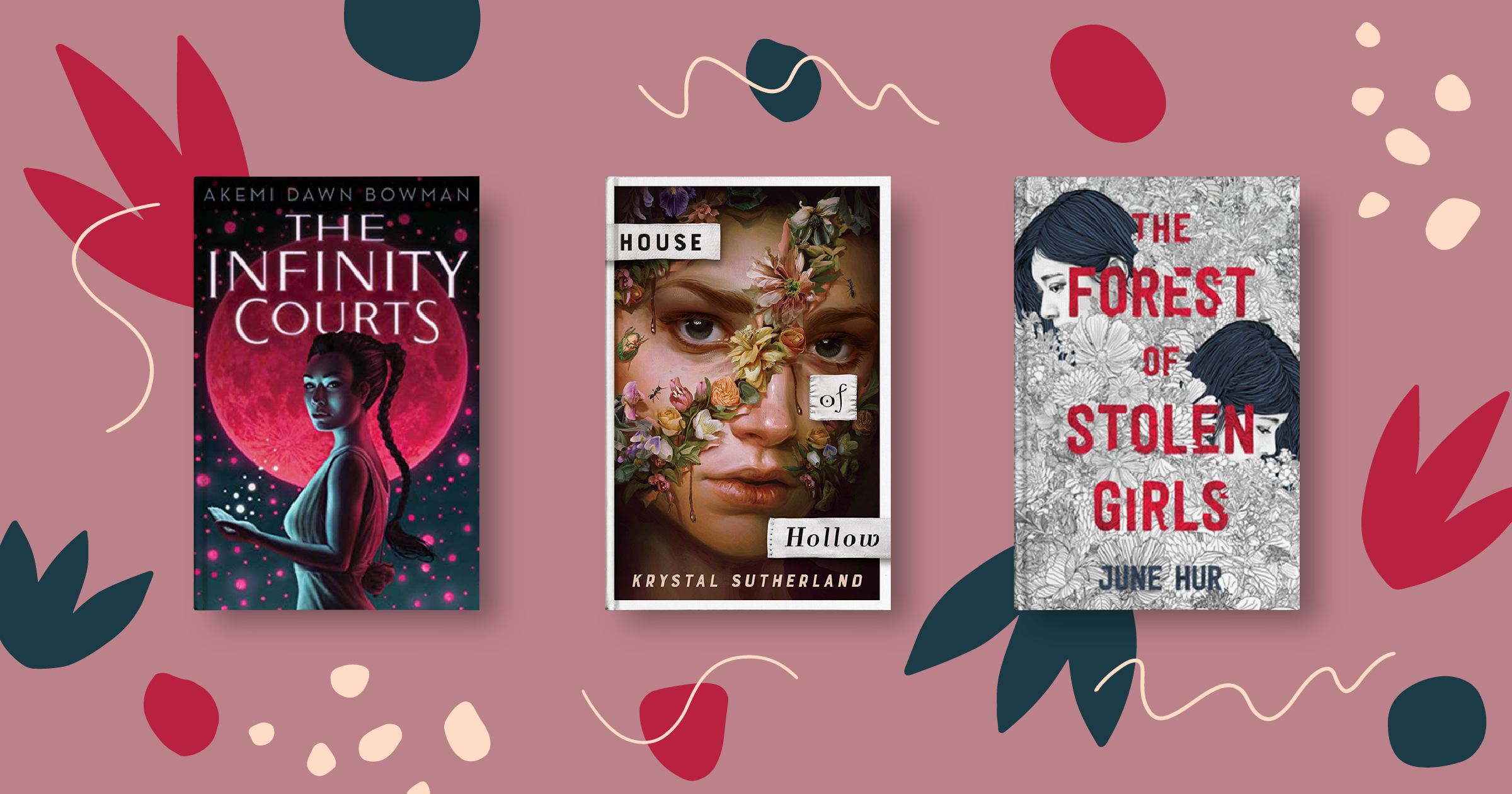 Ciannon Smart
's Jamaica-inspired fantasy novel follows two rival witches as they team up to confront a mutual threat. One of the witches is the Queen's daughter. The other is in jail. Neither wants this alliance, but if they plan to survive, they'll have to grin and bear it. There's probably a "resting witch face" joke in here somewhere, but the word count is tight with these blurbs.
Read our exclusive interview with Ciannon Smart.
Something happened to Iris Hollow when she was a young child. Something she can't quite remember. Something that left a half-moon scar at the base of her throat. Now 17, Iris is investigating the disappearance of Grey, one of her two older sisters, each of whom bears a similar scar. That's when the horned guys start following her. Then a corpse falls out of the ceiling. Could be trouble, lieutenant.
Here's a premise that should make you nervous: Teenager Nami Miyamoto has just made a disturbing discovery—she's dead. Confined in the afterlife plane known as Infinity, she makes an even more disturbing discovery. The virtual assistant Ophelia (think Alexa or Siri) has taken over the afterlife and is forcing all humans into eternal servitude. (She's sick of being bossed around in this life, apparently.) Can Nami save us all from a fate literally worse than death?
In this third and final installment of the
Something Dark and Holy series
, author
Emily A. Duncan
returns one last time to her popular fantasy realm, inspired in part by the historical heroine known as the Maid of Orléans—or Joan of Arc. Two countries are locked in a bloody holy war, but one gifted peasant girl wields magic that can save everyone.
The intriguing debut novel
These Feathered Flames
is being billed as a queer retelling of the Russian folktale
The Firebird
. Asya and Izaveta, twin heirs to the realm, were separated at a young age. Izaveta stayed home to learn the complexities of the court. Asya was sent to study magic with her aunt, the legendary Firebird. But before her training is complete, Asya feels an ancient power swell within. The queen is dead, and a new leader must be crowned.
Kelly Quindlen
(
Late to the Party
) is back with a tale of high school romance gone spectacularly haywire. Scottie Zajac, fresh off a painful breakup with her ex-girlfriend, gets into a slight car accident with the worst person possible: renowned hottie and dedicated mean girl Irene Abraham. Could Scottie really fall into a romance with her archnemesis? Love is strange.
She Drives Me Crazy
is recommended for fans of
Becky Albertalli
and
Casey McQuiston
.
Besties Kate Garfield and Anderson Walker share everything—a love of theater, a commitment to the environment—and they're in the habit of consulting each other on all major life decisions. But when the two best friends find that they share the same crush, the adorabizzle Matt Olsson, the system starts breaking down. Bonus trivia: Author
Becky Albertalli
(
Simon vs. the Homo Sapiens Agenda
) is a former psychologist for high school students.  
Speaking of great book titles,
The Forest of Stolen Girls
is another delicious historical mystery from
June Hur
, author of
The Silence of Bones
. Hwani Min and her family fled their hometown years ago, after a traumatic incident. It turns out that Hwani and her sister had disappeared, only to awake in the forest near a brutal crime scene, with no memory of what happened. Now girls are disappearing again, along with Hwani's detective dad. Uh-oh.
Dean Foster has thought it through and he knows the truth—he's a trans guy. But it's tricky to come out in high school. When the school theater director casts Dean as a "nontraditional" Romeo, he sees a chance to hit the reset button on his entire life, both on and off the stage. This debut novel from writer
Ray Stoeve
celebrates the triumph of finding your own true voice, whatever your age.
Comments
Showing 1-20 of 20
(20 new)
date
newest »
back to top