R.F. Kuang
Goodreads Author
Born
Guangzhou, China
Website
Twitter
Genre
Member Since
March 2014
Related News
Need another excuse to treat yourself to a new book this week? We've got you covered with the buzziest new releases of the day, according to early...
At the beginning of each calendar month, Goodreads' crack editorial squad assembles a list of the best, hottest, and most popular new...
Spring is the season of abundance: a time of lengthening days, flowering blossoms, and—for hopelessly devoted readers—giant stacks of...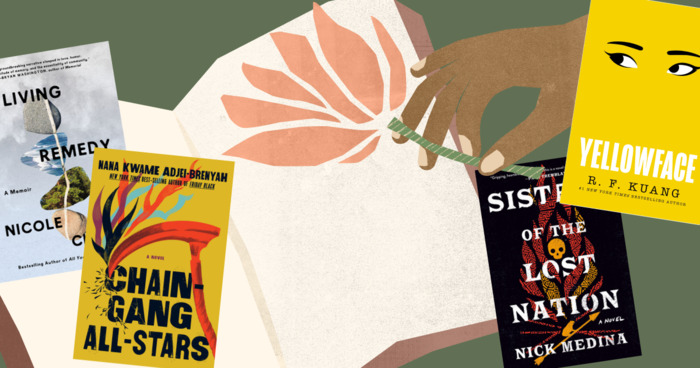 read this in one go on a plane and kept giggling throughout.

The weird thing about being in Asian American studies is that you always forget yours isn't the first radical generation.

What do you think? ...more

i find it impossible to squeeze in time for leisure reading during the semester and still i binged this whole quartet. just wonderful

Brilliant, beautiful, unflinching. I have spent a lot of my career wondering how to write about my family's traumatic history when I'm afraid staring at it in the face will shatter me. Cecile Pin has done it with grace.

...more

This is my book! My ridiculous, absurd, gremlin book. It's coming out in a month and I can't wait to share it with you all.

Yellowface could not be more different from my previous work. Since wrapping up the Poppy War trilogy I've enjoyed playing aro ...more

Perfect perfect perfect

I cannot wait for Banshees.

I'm afraid I'm on a John Banville bender and I will not stop until I've come a little bit closer to understanding how his prose is so relentlessly good.

...more

Gorgeous, gorgeous prose. Read this on a single train ride which was a feat because I wanted to slow down and savor every paragraph. I love the way Kitamura writes about language, closeness, and the impossibility (necessity?) of understanding the oth

...more
More of R.F.'s books…
Polls
July '18 "Underrated & Unappreciated" Book ?
July is fast approaching, and so it's time to vote for next's month Underrated & Unappreciated book. Originally the books set for July were said to be final. However, the book chosen for Underrated and Unappreciated, (The Poppy War - R.F Kuang) is still a new release. It came out last month, May 1st. And as the rules go, all books must have been on market for a whole tree months prior. This rule was to assure that everyone had an easy time going about acquiring the books. New releases can prove a struggle to find.
That said many of us, myself included, were looking forward to reading Poppy War.
So after some consideration, I've decided to put it in to vote. All in favor with continuing along and reading
The Poppy War
-
R.F Kuang
.
Or
Those who'd rather read a book a little more accessible. For which I picked two highly underrated books.
-
Forest of a Thousand Lanterns
-
Julie C. Dao
-
Morbito: The Guardian of the Spirit
-
Nahoko Uehashi
Poll will last a week. Book with the most votes win. Please vote considerable.
Note: Shall The Poppy War lose the vote, we will be having a group buddy read of the book. So no worries to those who've already went about retrieving the book.
Ara Out
More...
Topics Mentioning This Author
No comments have been added yet.