News and Interviews
Top 10 Cozy Mysteries on Goodreads
Posted by Cybil on April 30, 2017

Mystery & Thriller Week is sponsored by the psychological page-turner Good Me Bad Me.
As we celebrate Mystery Week here on Goodreads, we wanted to highlight the cheerier side of murder. If you're new to cozy mysteries, allow us explain: Cozy mysteries are a subgenre of mystery that keep things light. Usually, they feature an amateur detective in a small town and a whole cast of pleasant, quirky characters…who also happen to be murder suspects.
We rounded up the top cozy mysteries on Goodreads by taking a look at which books have been added the most to our members' shelves. Bursting with baked goods (some poisonous), clever pets, and puns, these are the most popular "happy" murder mysteries.
Murder at the Vicarage
by
Agatha Christie
You can't do cozy without Miss Marple. Christie's unforgettable amateur detective tackles her very first murder in the tiny English village of St. Mary Mead.
Catering to Nobody
by
Diane Mott Davidson
Accused of adding poison to her menu, professional caterer Goldy tries her hand at sleuthing, determined to prove she only makes yummy, non-lethal meals.
The Quiche of Death
by
M.C. Beaton
Meet Agatha, a cheater—but only when it comes to baking contests. When her store-bought entry comes laced with poison, Agatha becomes suspect number one.
Louisiana Longshot
by
Jana Deleon
A semi-retired CIA assassin (yes, really) lands in the middle of a bayou murder mystery when her dog digs up a human bone in her background.
Her Royal Spyness
by
Rhys Bowen
Historical mysteries can be cozy, too! In 1932, Lady Victoria, 34th in line to the throne, rethinks her priority list when a Frenchman turns up dead in her bathtub.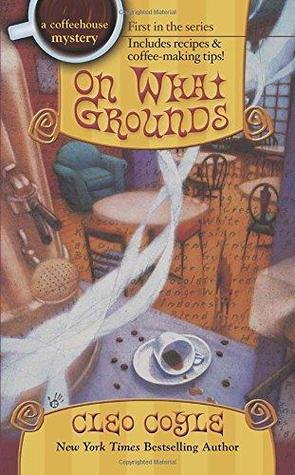 On What Grounds
by
Cleo Coyle
Love murder
and
coffee? Then follow along as coffeehouse manager Clare looks for barista Anabelle's killer. (Bonus: This book includes coffee-making tips!)
What's your favorite cozy mystery? Share it with us in the comments. And be sure to check out more of our Mystery & Thriller Week coverage here.
Comments
Showing 1-50 of 52
(52 new)
back to top