Goodreads Blog
Case Study: How Penguin Press Made 'Little Fires Everywhere' a Roaring Success
Posted by Suzanne on May 22, 2018
"The firemen said there were little fires everywhere," Lexie said. "Multiple points of origin. Possible use of accelerant. Not an accident."
[Little Fires Everywhere]
It's no accident
Celeste Ng
's second book,
Little Fires Everywhere
, has spent
35 weeks
on
The New York Times
' Hardcover Fiction list. The Penguin Press team strategically sparked and built interest with four critical audiences—readers, booksellers, librarians, and media—using multiple channels to drive awareness, anticipation, and early reviews. Along the way, they also benefited from some unexpected accelerants that further fueled the fire. Today,
Little Fires Everywhere
has an astounding 161,812 ratings, making it the number one most-rated book on Goodreads that was published in 2017. Even more impressive is that the book has an average rating of 4.16—it is significantly harder for a book to maintain such a high average rating across so many readers.
How this book became such a success story offers insights for publishers and authors preparing their own book marketing strategies, so we talked with Matt Boyd, associate publisher and marketing director at Penguin Press, to learn more.
"We were all huge fans of Celeste's debut novel,
Everything I Never Told You
," he said. "So we were excited—and a bit nervous, honestly—to read the new manuscript. Could it possibly be as good, or even better, than the first? But we all loved it from the first page, breathed a big sigh of relief, and then felt a different kind of stress: We realized we had a big opportunity—and responsibility—to help Ng reach even more readers with this new book."
For the Penguin Press team, a key part of their plan was Goodreads, where Ng had already won over so many fans. "We've found Goodreads is one of the best ways of building real, tangible buzz among readers, and reaching their community was a key part of our marketing campaign" said Boyd. "It's safe to say that the Goodreads community helped make
Little Fires Everywhere
such a big success."
Ng was one of the earliest members of the Goodreads community, joining in May 2007, just a few months after Goodreads launched. She started participating on Goodreads because of her own passion for reading. With the publication of her first novel in 2014,
Everything I've Never Told You
, she transitioned from a member profile to
an author profile
on Goodreads. Ng is an excellent example of an author who really understands what works well on Goodreads, continuing to
share reviews
of what's she reading (check out her
2017 Year in Books
), as well as
answering questions from readers
about her own books.
In an interview with Poets & Writers, Ng said, "I think the site has helped people discover the book. My sense is that it's an amplified version of friends recommending books to other friends."
Key Insights
With this case study, you'll learn about several strategies that worked well, including:
Getting copies of the book into the hands of as many readers as possible months before publication to generate reviews
Leveraging the power of social amplification on Goodreads
Building a fan base on Goodreads and targeting those fans with book marketing tools
Using the early Goodreads reviews to help fine-tune marketing copy
Adopting a snowball effect, where multiple activities in different channels combined to create a bigger impact
Social Amplification on Goodreads
You'll see the Goodreads social amplification effect throughout the case study. This is because social sharing is built into every activity on Goodreads. When people enter a giveaway, a story appears in the newsfeed of their friends, essentially creating a mini advertisement for the book. When someone posts a review, a story shows up in the newsfeed, helping more people discover books to read. And if someone hears about a great book in the media and adds it to their Want to Read shelf, their friends see this in their newsfeed, providing another wave of reminders about the book.
The Journey to the Bestseller Lists
In this case study, we'll be following a journey that runs from January 2017 to April 2018. As you can see from the visual below, it doesn't look like a lot was happening in the first six to seven months, but as we'll show you, some early activity was taking place that would combine over time into a bigger impact.

Building Pre-release Buzz (January - May 2017)


The Penguin Press marketing and publicity team plotted out a year-long campaign, with major milestones in nearly every month leading up to publication. They targeted four distinct audience groups: booksellers, readers, librarians, and media.
In
January 2017
, nine months before the book was due to come out in September 2017, the Penguin Press marketing team focused on
booksellers
—a crucial audience who had been very supportive of Ng's first book. They also brought Ng to
Winter Institute
, a conference of independent booksellers that takes place in January each year, and handed out galleys there. In addition, they sent galleys to influential booksellers across the country.
The next step was to focus on
readers
. Thanks to the success of
Everything I Never Told You
, Ng had built up a solid fan base on Goodreads. Getting this key audience excited and aware of the new book was the focus in
February 2017
. Ng's announcement on Goodreads and Twitter that
Little Fires Everywhere
was now available for pre-order helped kick-start some early Want to Read shelvings of the book on Goodreads and started the social amplification effect.
To reach more early readers, Penguin Press also made ARCs (Advance Reader Copies) available on NetGalley and Edelweiss. Meanwhile, the Penguin Press publicity team swung into action, sending early copies to media contacts. Soon they had secured an
exclusive cover reveal and excerpt
with EW.com.
March 2017
was when the Penguin Press sales team really kicked into gear, with sales reps sharing ARCs with booksellers and
librarians
. In addition to securing strong orders, they were hoping to land
Little Fires Everywhere
on the
IndieNext
list (based on nominations by independent booksellers), the
LibraryReads
list (based on nominations by librarians), and all the retailer "Best of the Month" lists.
On Goodreads, the first big spike in interest came from a pre-review by Goodreads member
Maxwell
, one of the top 100 reviewers on Goodreads. Maxwell had been a huge fan of Ng's first book, and, as a result of Maxwell sharing his excitement about the news that the second book would be coming out, Maxwell's friends and followers added the book to their Want to Read shelves and started another wave of social amplification.
In
April 2017
, Penguin Press ramped up their pre-marketing with Goodreads. The team ran the first of what would be six
Goodreads Giveaways
and mailed ARCs to some key Goodreads reviewers who were fans of Ng's first book.
As a result, the essential early buzz started to build with readers, and by the end of May 2017 (three months before publication), Little Fires Everywhere already had 4,888 Want to Read shelvings and 23 reviews.
Stoking the Fires in the Lead-up to Publication (June - August 2017)
To keep the momentum going, the Penguin Press team ran more giveaways on Goodreads in May, June, and July, which continued to build an audience of readers who had added
Little Fires Everywhere
to their Want to Read shelves.
At
BookExpo
at the end of
May/early June
, Penguin Press ran a major ad campaign to reinforce to booksellers that this was going to be one of Penguin Press' big books for the fall, and to further generate interest and awareness. Starred early reviews from
Kirkus Reviews, Publishers Weekly, LibraryJournal
, and
Booklist
came out, further building support and anticipation for the book.
In
late June
, Angela M, one of the top 25 reviewers on Goodreads, gave a
5-star review
of the book. This drove another spike in people adding the book to their Want to Read shelves and continued to drive more discovery of the book on Goodreads over several days.
As a result of the large number of fans the book had won in the librarian community,
Little Fires Everywhere
was also selected as the Favorite book in the
September LibraryReads
list. Billed as "the top 10 books published this month that librarians across the country love," the September LibraryReads list was announced in early August and drove another wave of Want to Read shelvings. The list is shared widely, and Goodreads has many librarians in its community who are friends with other librarians and readers.
Rave reviews continued to come out on Goodreads, and the Penguin Press team analyzed these to help shape their messaging with ad campaigns on Facebook, Instagram, and Amazon Marketing Services. "We look at the words people use to describe a book to understand how readers talk about it with their friends," said Boyd. "We're constantly tweaking ads and seeing what works."
Thanks to the number of Goodreads members adding
Little Fires Everywhere
to their Want to Read shelves, the book started trending on Goodreads and was selected for the Editorial team's data-driven blog post "
21 Big Books of Fall
" (which was also published in
Buzzfeed
).
By the end of August (12 days before publication), Little Fires Everywhere had 169 reviews, and 15,335 people had added it to their Want to Read shelves, a clear signal of the huge anticipation building for the book.
The Key 8 Weeks Around Publication (September - October 2017)

Publication Date: September 12, 2017
It was at this point—perfectly timed for the lead-up to publication on September 12, 2017—when things really caught fire.
September
kicked off with the news that
Little Fires Everywhere
had been selected as an IndieNext Pick and a selection of the Book of the Month Club. There was also high-profile print media coverage, in publications including
Real Simple, Elle, Cosmopolitan, Glamour
, and
Marie Claire
.
On September 1,
Little Fires Everywhere
was featured in the
Goodreads New Releases email
, which goes out to 36 million members. This influential email highlights some of the most popular trending new books published that month and is a significant driver of book discovery on Goodreads. The New Releases email drove thousands of Want to Read shelvings over Labor Day weekend and early September.
Thanks to the success of Ng's first novel and all of the giveaways they ran for
Little Fires Everywhere
, Penguin Press had now built up a sizeable audience to target with one of Goodreads' most popular book marketing products: a Personal Selection Mailer. This gives publishers the opportunity to send a warm, friendly, and personal message from an author to their fans, and includes links to retailers to convert these interested readers into buyers just as the book comes out. This email went out on September 6, helping drive another significant spike in people adding the book to their Want to Read shelves as well as pre-orders.
"Publishing around a holiday like Labor Day is a bit nerve-racking," said Boyd. "Things seemed relatively quiet in late August, but then everyone must have come back from vacation on the same day, and they all seemed to be looking for their next must-read book. In the first 11 days, the number of Want to Read shelvings on Goodreads doubled."
By the day before publication, 30,089 people had put the book on their Want to Read shelves, and there were 226 reviews, the majority of them sharing how much they loved the book.
Notable Readers
Remember the unexpected accelerants we mentioned at the beginning? September 12 was not only publication day, but also when actor, producer, and famous book lover Reese Witherspoon announced that she had chosen
Little Fires Everywhere
for her popular #RWBookClub. Later, in early October, Witherspoon held a Facebook Live discussion with Ng. As Witherspoon's team promoted the discussion on Instagram, more people discovered the book and added it to their Want to Read shelves.
"There's a new generation of book clubs springing up—from
Reese Witherspoon
to
Emma Roberts
, from
The New York Times
and PBS to Barnes & Noble—and it's fascinating to see how they're engaging readers in new ways," said Boyd.
Goodreads Influencers
Another accelerant on Goodreads came from some of the most influential reviewers on Goodreads. First,
Emily May
,
the most popular reviewer on Goodreads
—with more than 100,000 friends and followers—posted a positive review on September 14.
Meanwhile,
The Traveling Sisters
group on Goodreads, started by Canadian sisters
Brenda
and
Norma
, had picked
Little Fires Everywhere
as their "sister read." The invite-only group includes several of the most popular reviewers on Goodreads, and as their reviews came out, they fueled a series of spikes in Want to Read shelvings at a time when the book was already earning hundreds of Want to Read shelvings per day. Combined, these popular reviewers have thousands of followers, who saw their book reviews in their Goodreads newsfeeds. As they liked and commented on the reviews, they created more stories about the book in the newsfeeds of their friends, creating more awareness and buzz about the book.
As a signal of just how powerful this group of reviewers is, today 11 of the 30 most popular reviews for
Little Fires Everywhere
are by members of The Traveling Sisters group.
Brenda and Norma create discussion boards on The Traveling Sisters for each book, and
Susanne
, one of the group members and a top 50 most popular Goodreads reviewer, said that it led to "a very lively, extremely emotional discussion about the dynamics between mothers and daughters. It tore at all of us. Celeste Ng is masterful at this."
On
September 21
, an interview with Ng was featured in the Goodreads Newsletter (which goes out to 41 million members twice a month), which drove another major spike in interest. Ng was selected by the Goodreads Editorial team for an interview due to her popularity on Goodreads and the growing interest in
Little Fires Everywhere
among Goodreads members in the lead-up to publication.
Thanks to this reader buzz, fabulous media coverage, the book club picks, and a months-long tour, it was no surprise that
Little Fires Everywhere
debuted at No. 7 on
The New York Times'
Hardcover Fiction list.
The Goodreads Choice Effect (November - December 2017)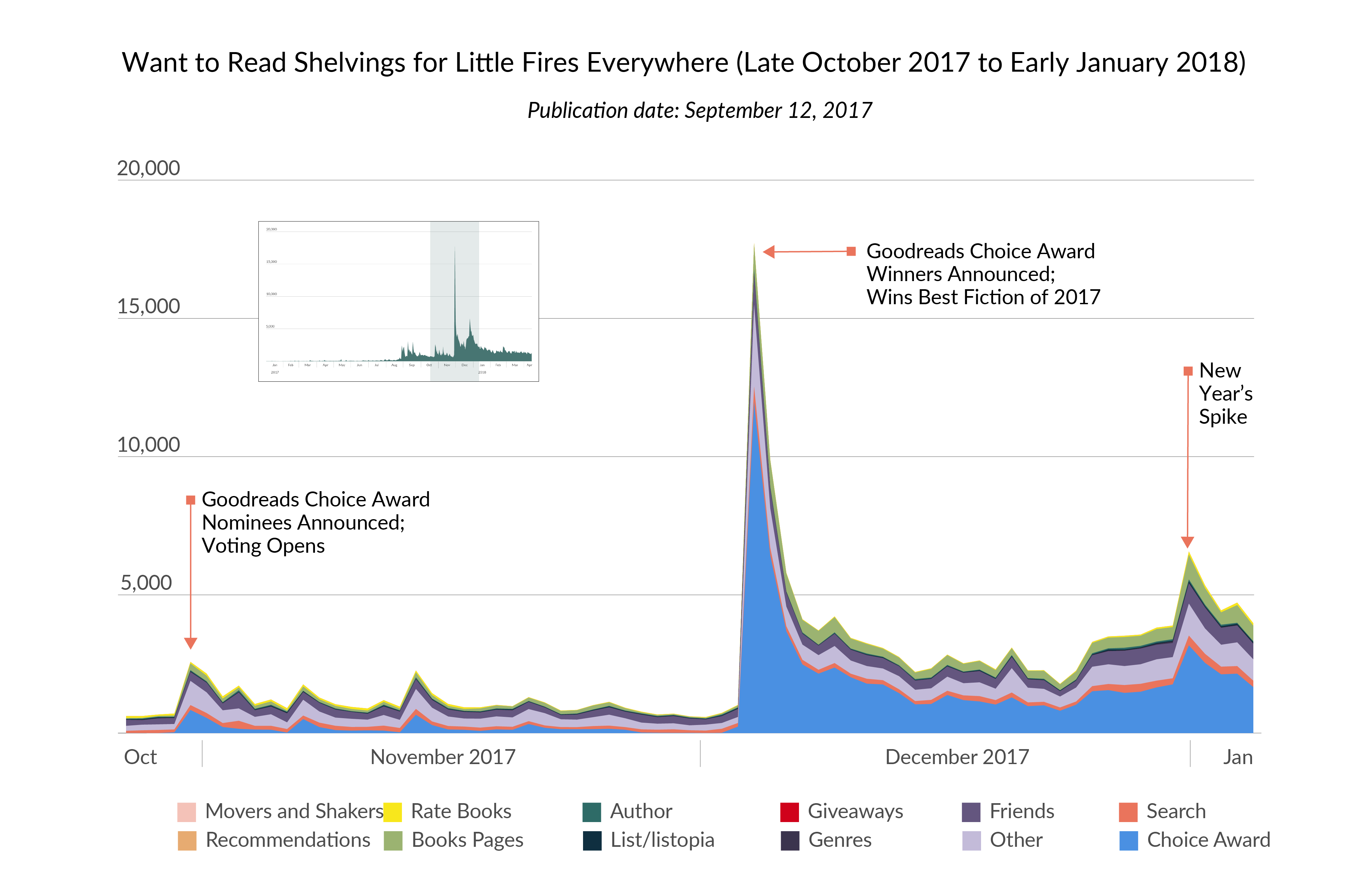 The book continued on the bestseller lists through the fall. Then at the
end of October
, due to rave reviews and the overall popularity of the book on Goodreads,
Little Fires Everywhere
was a nominee for the
2017 Goodreads Choice Awards
in the Fiction category. The Goodreads Choice Awards are the only major book awards decided by readers, and in 2017, there were 3.8 million votes to decide the winners across 20 categories.
On December 5, the winners were announced, and Little Fires Everywhere won Best Fiction of 2017. As you can see from the graph above, the impact on the book on Goodreads was dramatic! This was a book that had been on the bestseller lists for weeks and had already been discovered by 122,537 people. Such is the power of the Goodreads Choice Awards that another 17,709 members added it to their Want to Read shelves in a single day. The Goodreads Choice Awards also drive sales, and the Penguin Press team saw a spike in purchases as a result. Thanks to winning the award, the book saw a steep change in the number of people adding the book to their Want to Read shelves, which has continued to this day.

Now in Orbit (2018)


One of our favorite quotes about book marketing is from publishing industry consultant Michael Shatzkin: "Books have always been launched like rockets. The publisher commits maximum firepower to getting them off the ground. Most crash to earth. Some go into orbit." By the end of December 2017, Little Fires Everywhere was clearly one of those rare books that has made it into orbit. It was on the "best books of 2017" lists by Amazon, NPR, People, The Washington Post, Audible, and more. And as noted in the introduction of this case study, it's continued to stay on the bestseller lists.

And the power of the Goodreads Choice Awards effect continues! As you can see from the visual above, the Goodreads Choice Awards drive significant discovery and interest months beyond the announcement of winners.

Yet the story doesn't end here. In early March 2018, Witherspoon and Kerry Washington announced they are producing and starring in a TV series based on Little Fires Everywhere. This led to yet another spike in people adding the book to their Want to Read shelves, and we expect to see more people discovering and reading the book as we get closer to the TV series launch.


Around 800 Readers Are Marking Little Fires Everywhere As "Read" Every Day


Of course, while driving discovery is critical, publishers and authors want to see people buying and reading the book. Looking at the visual above, it's clear that people were eager to start reading the book as soon as it was published. The number of people marking the book as "read" on Goodreads quickly climbed within days of publication and continued through the end of the year. Thanks to the Goodreads Choice Awards and all of the "best of 2017" lists, it looks like the book made it to the top of many people's Want to Read lists at the beginning of the year as there's a steep climb in early January that continues through May. An average of 800 people are marking the book as "read" every day on Goodreads. As noted at the beginning of this case study, the book now has 161,812 ratings, making it the number one most-rated book on Goodreads that was published in 2017.

Ultimately, though, all the great book marketing tools in the world would not have worked without an amazing story. Goodreads can only help amplify the success of a good book. In the end, the story stands on its own. And in the case of Little Fires Everywhere, there's a reason why the book continues to be on the bestseller lists. It's a story that has clearly caught fire with readers.


Comments
Showing 1-23 of 23
(23 new)
date
newest »
back to top