News and Interviews
Interview with M.L. Stedman
Posted by Goodreads on December 5, 2012
The success of
M.L. Stedman
's first novel has outstripped most freshman attempts, especially considering its secluded and contemplative story. This best-selling historical novel,
The Light Between Oceans
, is set in the years following World War I and tells of a lighthouse keeper, Tom, and his wife, Isabel, who discover a dead man and a crying baby washed ashore on their island off the coast of Australia. In mourning for her own miscarried children and against her husband's wishes, Isabel nurses the child as her own. A native Australian, Stedman speaks to Goodreads from her current hometown, London, about her wish to stay "behind the curtain" and writing by the seat of her pants.
Note from the author: Massive Spoiler Alert! I strongly recommend that people read no further until they've read the book, so as not to spoil their experience. (Otherwise it's probably a bit like doing a crossword puzzle where someone's already filled in most of the spaces.)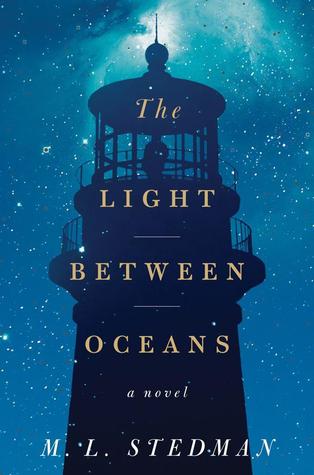 Goodreads: Your novel started off with a lot of momentum; nine international houses bid on the manuscript. That's amazing and extremely unusual for a first-time author. How did this happen?
M.L. Stedman
: How did this happen, indeed! I can only put it down to a combination of factors. My wonderful agent, Sue Armstrong from Conville and Walsh, sent the manuscript out to publishers, and it seemed to strike a chord with people, which led to an auction process in various countries around the world. The comment I heard a lot was that the story was universal—readers from pretty much any culture or country could engage with the issues it raised. Another vital factor was, in my view, just old-fashioned good luck, for which I'm very grateful.
GR: You're a lawyer and a writer based in London, far from your Australian homeland. Why write about Australia versus your current residence?
MS
: I've written stories based in contemporary London, too, but I suppose what I enjoy about writing is the chance to explore other worlds and other lives—so it's more than just geography. These days I'm a full-time writer.
GR: Instead of the usual blurb, your bio is a single line: "M.L. Stedman was born and raised in Western Australia and now lives in London." Please tell us more about your reticence toward sharing details from your personal background and the usage of your initials rather than your first name. Do you think sharing more from what's behind the curtain affects how people read your story?
MS
: I like the reader to be free to inhabit fully the world of the book. I think that's more difficult if the author is effectively standing between the reader and the story—a bit like making a movie and then standing in front of the screen. Promoting the author rather than the work is a fairly recent trend. As to using initials—there's a very long and respectable history of writers of both genders doing so:
T.S. Eliot
,
P.G. Wodehouse
,
C.S. Lewis
,
P.D. James
,
A.S. Byatt
,
J.D. Salinger
... Things from "behind the curtain" must surely affect readers' experience, and more importantly, take them out of the story. Details of my life won't shed any light on the book. Ultimately I think any novel should stand or fall on the words on the page. Every novel effectively begins with the appeal from the writer to the reader: "Imagine the following..." For me, the key is "imagine."
GR: What was it about lighthouses that inspired you to focus an entire novel around the people who inhabit such an unusual place?
MS
: To answer this, I have to say a word or two about my writing process. I write very instinctively, letting a picture or phrase or voice come into my mind and just following it. For this story the setting turned up first—I closed my eyes and saw a lighthouse, then gradually a woman, and I knew it was a long time ago, on an island off Western Australia. Then a man appeared—the lightkeeper. As I wrote, a boat washed up, with a dead body and a crying baby, so I had to keep writing to see what happened. I didn't consciously decide to write a book about lighthouses, but I found they provided an incredibly rich metaphor: They betoken binary opposites such as safety and danger, light and dark, movement and stasis, communication and isolation—they are intrinsically dynamic because they make our imaginations pivot between those opposites.
I researched as the story progressed, reading old logbooks in the Australian National Archives and visiting lighthouses in Western Australia. They're such iconic things and inspire affection and fascination in equal measure. It's sad that they're more or less functionally extinct. I can't say I come from a long line of lightkeepers, though since writing the book I've met many people who do!
GR: Speaking of lightkeepers, Goodreads member Thom Jones says, "My wife and I are volunteer lighthouse keepers. We don't know if the author is responsible for the cover, but we were curious why there is no fresnel lens depicted and why the light is not lit, since it seems to be a night scene.
MS
: I love the U.S. cover (designed by the amazingly talented Rex Bonomelli at Scribner). I think most people assume that the silhouette in the light tower is a man—presumably Tom [the lighthouse keeper]. But if you look at it very, very closely, it seems more likely that it's about a third or fourth order lens of some sort (possibly a bivalve?). What seems to be the head is just one of the astragals. There's something metaphorical about the light being in darkness, given what Tom goes through.
GR: Goodreads member German Rogers asks, "If you could, nowadays or in the past, would you have lived in a lighthouse? And why?"
MS
: I adore the ocean, and I find solitude very restorative, so I'd happily volunteer for a stint on Janus Rock. I suspect, however, that the reality would be daunting: Lightkeepers led incredibly tough lives. The job was poorly paid, physically demanding, and required keepers to sign up for years at a time without a break. The Commonwealth Lighthouse Service was incredibly mean with its money and was constantly taking keepers to task for breaking or losing equipment. In spite of all that, I'd still be willing to have a go, but maybe just as a relief keeper.
GR: Goodreads member Alamosa Books said, "Is your familiarity with child loss personal or from others? Because reading the account of her failed pregnancies was so forcefully real—and accurate—that I had to put the book aside several times and just deal with memories. And in a similar vein, my grandfather was in World War I. I did not know him well, but when I went through that 'fascinated with history phase,' having a grandfather who was part of the British Army in the Great War seemed really cool. But I couldn't get anything out of my mother or uncles other than 'He never would talk about that.' Did you create the psychology of the war experience from reading accounts of others, or did you know someone who would actually talk about it?"
MS
: I think a writer can ask for no greater reward than that something resonates with a reader in the way Alamosa Books describes. And as a reader myself, I love those moments when I read something and feel that someone I don't know has truthfully captured an experience that is deeply personal to me. I think the answer belongs "behind the curtain" mentioned above, but I'm curious as to how knowing one way or the other would enhance, diminish, or otherwise alter your view of the book. As for the psychology of war experience, your grandfather's response is typical of returned soldiers of that generation. One of the few places where Australian WWI veterans "spoke" was in the field diaries and battalion journals written during and shortly after the war. Essentially private records rather than anything to be published commercially, they are truly heartbreaking to read—stories told without self-pity, facts recounted without commentary, and all the more devastating for that. I frequently found myself not just in tears but actually sobbing as I read them, in the otherwise orderly silence of the British Library reading rooms.
GR: Goodreads member Linda asks, "Seems the conclusion that being moral is more critical than being happy. Do you feel this way?"
MS
: The key point about this is that it's how the ending seems to Linda. I find readers take very different things out of how the book ends—most find it uplifting, but some find it unbearably sad. These differences are natural given that we see everything in this world through the filter of our own experience—there's no "correct" response. I'm interested that Linda's question seems to see "being moral" and "being happy" as mutually exclusive. I wonder if anyone feels completely happy if they're going against their own personal sense of right and wrong? Perhaps, like
The Princess and the Pea
, it's not possible to sleep easy? Can that then rightly be called "happiness"?
GR: What is your writing process? Please describe a typical day.
MS
: There really isn't such a thing as a "typical" writing day for me, except insofar as I only write in the daytime—never at night. I'm rather allergic to rules about writing, and pronouncements such as "you must write at least an hour a day" or "you must plot everything in advance" or "do all your research before you write a single word." My philosophy is "find out what works for you, and do that: Everyone is different." So, for example, I wrote this book on my sofa, in the British Library, in a cottage by the beach in Western Australia, on Hampstead Heath, and anywhere else that felt right. I consider it a true privilege to have the opportunity to do what I love.
GR: What authors, books, or ideas have influenced you?
MS
: This is a Rather Big Question for this space, so the answer isn't exhaustive! I'm not entirely sure what it means to say that I've been influenced by a writer—I hesitate lest it seem I'm claiming to be in their league. Writers I admire include
Graham Greene
, because of his beautifully honed prose and fascination with moral struggles; anyone who turns a beautiful sentence—like
Cormac McCarthy
,
Marilynne Robinson
, and
Anne Michaels
; and writers who know what makes people tick:
Dickens
,
Eliot
,
Salinger
. For
The Light Between Oceans
I was also influenced by people who wouldn't call themselves writers at all but who communicated the facts of their lives through documents: the soldiers of the Great War I came across in battalion histories; those left behind fretting for them in letters; the Australian lightkeepers whose correspondence is in the National Archives. And as for ideas, one of the basic principles of natural justice is
audi alteram partem
—i.e. let the other side be heard. So in this book I was very aware of putting across each character's point of view as convincingly as I could, even though it may have been very different from my own way of seeing things.
GR: What are you reading now?
MS
: As usual, I have several books on the go at once. I've just started
The Map and the Territory
by
Michel Houellebecq
, and
Elijah's Mermaid
by
Essie Fox
. On my iPod I'm listening to
Jude the Obscure
by
Thomas Hardy
, and
Brighton Rock
by
Graham Greene
.
GR: What's next? Are you working on another book? If so, what's it about? Please give us a morsel about it! Goodreads member Brenda asks, "Will she have a follow-up to this brilliant book, one which will include the life of Tom, his now grown-up daughter, and her life?
MS
: At the moment I'm still very busy with the launch of this book. I'm looking forward to things quieting down so that I can close the door and let my imagination go roaming again. As to Brenda's question, I don't have any plans to revisit Tom's life after the end of the book, but as the saying goes, I never say never...
Showing 1-50 of 58
(58 new)