Suvi
Sign in to Goodreads to learn more about Suvi.
https://www.goodreads.com/orpheusbooks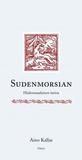 Suvi
said:
" The Wolf's Bride
The writing style took some time to get used to since its in a form of ballad and kind of old Finnish. I knew I would like it, though. Sad yet so fascinating. "
See all 4 books that Suvi is reading…