Magda
is currently reading
recommended to Magda by:
Joy
recommended for:
Miriam, and people who like cookery
Reading for the 3rd time
Magda
said:
" ***2009***
Even though I don't know French, do not cook, and have never watched Julia Child on television, I very much enjoyed this book. I love how chatty the book is, with asides and pet names about her husband Paul, showing but not telling how much ...more "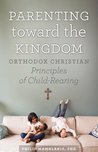 Magda
is currently reading
Magda
said:
" I love Dr. Mamalakis and his wife Georgia, who have such a lovely family. I'm so glad he wrote a parenting book at last. I remember being so frustrated at his talks at a retreat, though. I tried reading this book a couple of times and kept failing.

Af ...more "
progress:
(page 51 of 328)
""Responding does not stop children from misbehaving. It stops parents from misbehaving."

"Learning how to parent is not about learning how to get our children to behave; it's about learning how to get ouselves to behave.""
—
Jan 27, 2018 10:03PM
"The reason that the rich were so rich, Vimes reasoned, was because they managed to spend less money.

Take boots, for example. He earned thirty-eight dollars a month plus allowances. A really good pair of leather boots cost fifty dollars. But an affordable pair of boots, which were sort of OK for a season or two and then leaked like hell when the cardboard gave out, cost about ten dollars. Those were the kind of boots Vimes always bought, and wore until the soles were so thin that he could tell where he was in Ankh-Morpork on a foggy night by the feel of the cobbles.

But the thing was that good boots lasted for years and years. A man who could afford fifty dollars had a pair of boots that'd still be keeping his feet dry in ten years' time, while the poor man who could only afford cheap boots would have spent a hundred dollars on boots in the same time and would still have wet feet.

This was the Captain Samuel Vimes 'Boots' theory of socioeconomic unfairness."
Terry Pratchett

Magda

rated a book

it was amazing

This has become one of my comfort books, that I reread, it seems, once a year.
More of Magda's books…