recommended to Magda by:
Joy
recommended for:
Miriam, and people who like cookery
Reading for the 3rd time
Magda
said:
" ***2009***
Even though I don't know French, do not cook, and have never watched Julia Child on television, I very much enjoyed this book. I love how chatty the book is, with asides and pet names about her husband Paul, showing but not telling how much ...more "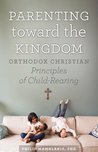 Magda
said:
" I love Dr. Mamalakis and his wife Georgia, who have such a lovely family. I'm so glad he wrote a parenting book at last. I remember being so frustrated at his talks at a retreat, though. I tried reading this book a couple of times and kept failing.

Af ...more "
progress:
(page 51 of 328)
""Responding does not stop children from misbehaving. It stops parents from misbehaving."

"Learning how to parent is not about learning how to get our children to behave; it's about learning how to get ouselves to behave.""
—
Jan 27, 2018 10:03PM
"True love is not so much a matter of romance as it is a matter of anxious concern for the well-being of one's companion."
―
Stand a Little Taller
"Virtues are formed by prayer.

Prayer preserves temperance. Prayer suppresses anger. Prayer prevents emotions of pride and envy.

Prayer draws into the soul the Holy Spirit, and raises man to Heaven."
―

"Everything can be taken from a man but one thing: the last of the human freedoms—to choose one's attitude in any given set of circumstances, to choose one's own way."
―
Man's Search for Meaning