Steve
Sign in to Goodreads to learn more about Steve.
http://russillosm.com
https://www.goodreads.com/russillosm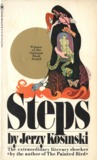 See all 6 books that Steve is reading…
David Foster Wallace
— 296 members — last activity Oct 15, 2016 07:21PM
A group for the amazing work of David Foster Wallace, now deceased. RIP 1962-2008 Feel free to add his books to the bookshelf for the group.
Women and Men
— 153 members — last activity Jun 04, 2018 11:10AM
Women and Men began as a reading group for Joseph McElroy's masterpiece. It has developed into All Things McElroy. We have chapter threads for discuss
...more