News and Interviews
Announcing the Winners of the 2014 Goodreads Choice Awards!
Posted by Jessica on December 2, 2014
The readers have spoken—with a record 3.3 million votes cast in the 6th annual Goodreads Choice Awards! From the moment Opening Round nominations were announced in November, it's been a nail-biting time for the authors and their fans. Now, finally, here are the winners that you have crowned the best books of the year! Congratulations to our winners! These awards reflect what people are actually reading and loving throughout the year—it is an enormous honor to win the votes of true book lovers.
View the winners & runners-up in 20 categories »
Fan favorite Rainbow Rowell won Best Fiction in a landslide with Landline, her bestselling novel about a troubled marriage. Runners-up include Big Little Lies and The Storied Life of A.J. Fikry. In Best Historical Fiction, the critically acclaimed World War II epic All the Light We Cannot See by Anthony Doerr won the top honor over offerings from heavyweights like Ken Follett and Philippa Gregory.
Best Nonfiction was a much tighter race, with Marina Keegan's The Opposite of Loneliness edging out Randall Munroe's What If? by just 137 votes. Keegan, who died at age 22 in 2012, is one of two posthumous winners, both young writers who have touched countless readers with their words. The late Esther Earl has won Best Memoir & Autobiography for This Star Won't Go Out. Before her death at age 16 in 2010, Earl was the inspiration for John Green's The Fault in Our Stars, a 2012 Choice Award winner.
In Best Mystery & Thriller, Stephen King and Robert Galbraith (a.k.a. J.K. Rowling) were neck and neck, but in the end King's Mr. Mercedes took the crown by a margin of 419 votes. Readers also rewarded long-time bestsellers in Best Romance and Best Horror, where Diana Gabaldon's Outlander novel Written in My Own Heart's Blood and Anne Rice's Vampire Chronicles novel Prince Lestat won the top spots.
If you're feeling interplanetary, we have two Choice winners set on Mars! Andy Weir's gritty and realistic story of a stranded astronaut, The Martian is the runaway winner in Best Science Fiction, and Pierce Brown's dystopian adventure Red Rising is the year's favorite in the Debut Goodreads Author category.
The winners of our Young Adult and Children's categories have proven to delight readers of all ages. We Were Liars, one of our "it" books of 2014, wins in Best Young Adult Fiction, and City of Heavenly Fire wins in Best Young Adult Fantasy. Perennial favorites Rick Riordan and Mo Willems both dominated in their genres, Best Middle Grade & Children's and Best Picture Books. In fact, Riordan was the top vote-getter across all categories!
Another big vote-getter was Deborah Harkness's The Book of Life in Best Fantasy, winning the category over runner-up Brandon Sanderson by more than 20,000 votes. In a surprise win, write-in nominee Ina Garten surged from behind to clinch the title in Best Food & Cookbooks for her latest collection of recipes, Make It Ahead. And never count out scrappy Amy Poehler, whose witty memoir Yes Please beat out Neil Patrick Harris and Lena Dunham in Best Humor>.
Other winners include The Romanov Sisters in Best History & Biography, #Girlboss in Best Business, Serenity: Leaves on the Wind in Best Graphic Novels & Comics, and Lullabies in Best Poetry.
How many of the year's best books have you read? You can check out the full vote breakdown for the top 400 nominees across 20 categories, and start building an award-winning to-read list!
Congratulations to our winners! »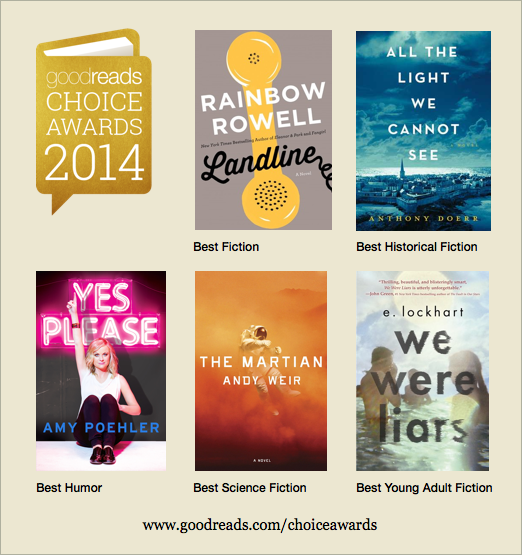 Comments
Showing 1-50 of 63
(63 new)
back to top