News and Interviews
The Art of Buying a Book for a Serious Reader
Posted by Cybil on November 14, 2018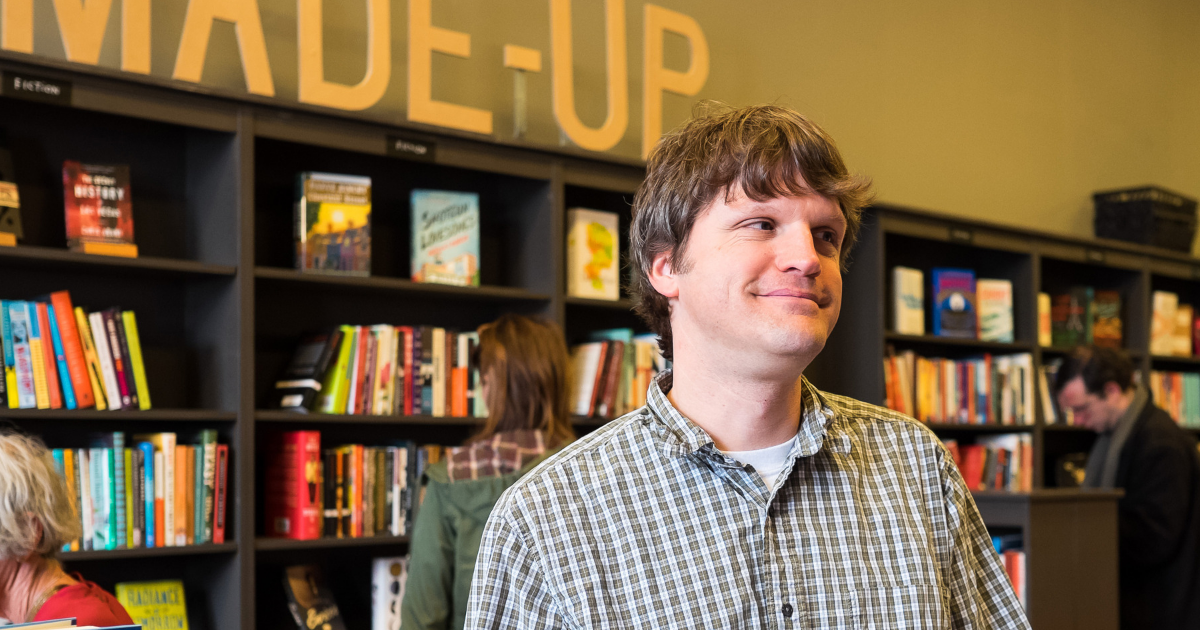 This post is sponsored by Simon and Schuster.
Buying a gift for a bookworm seems like it should be easy, but it proves to be a daunting task year after year. Before you drive yourself crazy sleuthing through your friends and families' reading habits, we thought we'd provide some expert advice to help out this holiday season.
We turned to
Tom Nissley
, who is not only the author of
A Reader's Book of Days: True Tales from the Lives and Works of Writers for Every Day of the Year
, but also the owner of
Phinney Books
, a neighborhood bookstore in Seattle (where he'll also be opening a second store, Madison Books).
Here are his tried-and-true tips for buying books as gifts:
So what to do if you have a troublesome person like me on your gift list? You could always give them a shirt. It's quite possible they could use a new one. But fear not: You could still get them what they really want, and here's how.
Let's get the easiest solution out of the way first.
Yes, it is perfectly fine to give a bookstore gift certificate!
It's hard to imagine a reader who would not be delighted to have carte blanche to browse around a store with free money and treat themselves to something they never would have bought otherwise. You could get a gift card from their favorite store, or perhaps since there are few things a bookworm likes more than discovering a new bookstore, you could give them a reason to try a store that's a little farther afield or in a place they might be visiting soon. (Or, if you want to be the most brilliant gift giver of all: May I suggest a gift card for a store in a place they don't plan to visit, accompanied by tickets for you to go there together. Along with the pleasure of the books and the shared trip, they'll appreciate that at least two hours of the trip are already earmarked for bookstore browsing.)
But what if you want to give an actual book?
You might start with one of my favorite genres: the witty, browsable reference book.
(It's a genre I love so much, I wrote one myself: a literary almanac called
A Reader's Book of Days
.) Books like that make for fun reading, but even better: They don't create a burden, because they are meant to be sampled, to be browsed in one spare moment and put down until another arises. They add to the books you can read without displacing any others!
There are wonderful books of this kind across all subjects (favorites of mine include
David Thomson
's
Biographical Dictionary of Film
,
Bill James
'
Historical Baseball Abstract
, and—to my surprise—
Luca Turin
and
Tania Sanchez
's
Perfumes: The Guide
), but, as you might expect, there are many with books as their subject, including some delicious new ones, including
James Mustich
's superbly chosen and beautifully printed
1,000 Books to Read Before You Die
and
Jane Mount
's brightly illustrated
Bibliophile: An Illustrated Miscellany
, as well as, on the more puckish side,
Paperback Crush
,
Gabrielle Moss'
celebration of the Sweet Valley High era of teen romances, a follow-up to the same publisher's deeply enjoyable
Paperbacks from Hell: The Twisted History of '70s and '80s Horror Fiction
.
Beyond that, my advice is to go either very new, or old.
If there's a very new book by an author, or on a subject, you know your bookworm loves, snap it up! I say "very new" because this can be a tricky operation: The more your person loves an author, the more likely they are to grab their new book themselves as soon as it goes on sale. But here's your safety net: If you buy the book from a place where it can be easily exchanged, the book is, in essence, a gift certificate, in which case, see above.
And then there is my preferred option: going old.
My favorite gift for my bookstore staff (and—hint, hint—for myself) is an old edition of a book I know they love.
In this connected world, it's not so hard to track down a first edition (better yet, a signed first edition) of a favorite book, and many of them are fairly affordable, just as long as your beloved's favorite book isn't, say,
Zora Neale Hurston
's
Their Eyes Were Watching God
(well-worn, unsigned first edition currently available for $5,500).
Or perhaps there's a picture book they loved as a kid that has fallen out of print.
I once, in less internet-y days, found a copy of
Jellybeans for Breakfast
at a library and presented my wife with a color-copied, hand-bound (well, stapled) edition of her childhood favorite, long out of print.
Similarly, especially if you are traveling, you might track down a foreign-language copy of a beloved book, just for the novelty of seeing those familiar words transformed. I doubt I'll ever read the copy of
Nathanael West
's
Un milione tondo tondo
my sister brought back from Italy, but I still love having it.
But going old is also a way of getting off the beaten path and finding a book that even your well-read recipient might not know about.
The books I most love to discover as a reader (and a bookseller) are ones that have been hiding in plain sight: "lost classics" that were once beloved but have since been forgotten, or ones that never made a splash but have been kept alive by a small band of rabid fans.
For more of these "lost classics,"
check out these 47 books recommended by Phinney Books.
You can unearth such treasures with your own research (on
Goodreads
, or on the wonderful website
Neglected Books
, or via my latest bookish obsession, the British podcast
Backlisted
), or you can rely on some of the excellent publishers who specialize in digging up (and making lovely books out of) such gems, including
NYRB Classics
,
Pushkin Press
, Australia's
Text Classics
, and the new
American Mystery Classics
imprint. More than once, I've given my book-loving mother-in-law a little stack of
NYRB Classics
. Even if I haven't read them myself, I can give them with confidence, because I trust NYRB's judgment. (And they're pretty.)
Or you could take advantage of the judgment of another expert: your local bookseller.
Walk into your local bookshop, if you're lucky enough to have one, and explain that you're looking for a gift for someone who has read everything. They might ask for a few details to help them steer you to a superb book that your reader might not know about. Or just ask the question they most like hearing: "What are your favorite books that nobody knows about?"
Because while a bookseller is very happy to sell you a new bestseller, a bookseller is very, very, very, very, very happy to sell you that underrated book they love and know everyone else would, too, if they just knew about it. (Some of my favorite answers to that question:
The Queen's Gambit
by
Walter Tevis
,
The Golden Age
by
Joan London
,
Gorilla, My Love
by
Toni Cade Bambara
for short-story lovers,
The Toaster Project
by
Thomas Thwaites
for engineering types,
Rogue Male
by
Geoffrey Household
for thriller fans, and
The Women in Black
by
Madeleine St. John
for anyone looking for a happy, but not stupid, book, which, based on my experience, is everyone.)
You could also rely on those experts by giving one of the most generous reader's gifts: a yearlong book subscription.
Many bookstores and publishers around the world have launched such services, in which they send out a well-chosen book every month, sometimes in a box with other goodies (although what "goodie" is worth the space that could be occupied by another book, I have no idea).
NYRB Classics
has one for their own books, as does the British publisher
Persephone
, which specializes in beautifully bound reprints of fiction, mainly by women. Many stores offer "first-edition clubs" or specialty subject subscriptions, and some, like
Brilliant Books
in Michigan, and
Heywood Hill
and the
Willoughby Book Club
in the U.K., promise individually chosen "bespoke" subscriptions. I should mention that at
Phinney Books
we have two subscription programs, one
for children's picture books
and one, called
Phinney by Post
, that, as you might expect from the above, specializes in those lost classics I love to find.
Finally, if all those choices still daunt you, the other thing a book lover values is time.
Reading books takes time, something we never have enough of, and if you can't give a book, or are terrified to choose the right one, you can always give the time to read one (or three). Give your favorite reader a gift of uninterrupted time, when they have no responsibilities or concerns but the pages in front of them (and perhaps someone to bring a snack and top off their drink), and they might be the most grateful of all.
What are your best tips for buying gifts for readers? Share them with us in the comments!
Comments
Showing 1-28 of 28
(28 new)
date
newest »
back to top