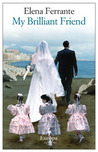 See all 5 books that Emily is reading…
Emily

rated a book

liked it

I really enjoyed this world - the characters, the weird eastern european feel, the magical elements, and I loved the development of the story - the pace, the twists, the resolutions. Everything felt fresh and original but somehow familiar. I didn't l

...more

Emily

rated a book

it was ok

Funny, but not as charming as the first book.

What a delightful little book! Very easy to read and so totally uplifting to someone who is freaking out about parenthood.

Updated: Re-read for my second pregnancy and loved it even more. There is so much good in raising these little kids to be remind ...more

Very funny, although given people's responses to it, I was surprised at how specific and personal the author was about her experience. Many people recommended it for expecting mothers but if I was a first time expectant mom, I probably would have fou

...more

This was bundled with the other audio book/collection of his that I listened too at the same time. Loved it.

David Sedaris is best enjoyed aloud and I devoured this collection of his readings in one day. Hilarious.
More of Emily's books…
Outlander Series
— 5576 members — last activity 56 minutes ago
For fans of Diana Gabaldon and the Outlander Series. Feel free to post, poll, invite, and discuss. Please take a moment to read the rules found in 'gr
...more