Lawrence
said:
"

It's like a greatest hits album of philosopher essays...looking forward to reading it!

"
Lawrence
said:
" Should I really be considering now how and when I first "give out the car keys"?

I was going to rant about how this book was rediculously obvious and included "what's a uterus" and "the definition of contractions" before the last 3/4 talks about fathe ...more "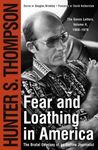 Lawrence
said:
"

I'm a big Hunter S. Thompson fan and hope to read this next week!

"
A very engaging mystery that captures your attention from the very beginning and, as long as you can keep track of the main characters, offers a great ending 40 hours later!

A very engaging story about primate research, inappropriate anthropomorphisms and, of course, diamonds!

An intense read, but an impressive force of creativity. Sounds cheesy, but an effective GPS through the mind of a depraved addict...

So far so good...

A gift that is atypical reading for me, but may offer some new insights!

Haven't cracked it yet, but hope to soon!

A quick and interesting read that sends lots of interesting and carefree characters through 1946 NYC with Seinfeldian regard for life, their friends and themselves. Then things go wrong...

Some slow moments, but you could finish it on the train...

"fiction" in the same way as Farenheit 451 is.

A story of past, present and future as long as we exist as a species.

This line was especially relevant around 9-11:

"He forgot his words, his hunger and thirst, and became fear; hopeless fear on flying fe ...more

In trying to learn more about the impact evolution has on philosophical thought, I found this book in the library and was thoroughly impressed. It's non-commital in a topic that is very difficult to be non-commital.

A great resource for teachers and even parents trying to improve science literacy, and literacy in general, in 6-12th grade students.
More of Lawrence's books…
Lawrence's 2017 Year in Books
Take a look at Lawrence's Year in Books. The good, the bad, the long, the short—it's all here.
Polls voted on by Lawrence
Lists liked by Lawrence