News and Interviews
Chevy Stevens's Favorite Books on Obsession and Revenge
Posted by Goodreads on March 6, 2017
Stalkers. There's just something about curling up on the couch, bowl of popcorn in hand, and watching in horror as the obsessive spins further and further out of control. Who can forget Alicia Silverstone's deranged portrayal in The Crush or Rebecca De Mornay as an unhinged nanny in The Hand that Rocks the Cradle? And what about Glenn Close, perhaps the be-all and end-all of stalkers, as a one night stand turned psychopath in Fatal Attraction? (That poor bunny.) But you know what's even better than curling up on the couch to watch a good old-fashioned stalker flick? Curling up on the couch with a heart-stopping thriller.

In Never Let You Go, Chevy Stevens—who's written five other novels, including her New York Times bestselling debut, Still Missing—explores the thin line between passion and obsession by introducing readers to Lindsey Nash. Eleven years ago, Lindsey escaped into the night with her young daughter, leaving behind an abusive, roller coaster relationship. Her ex-husband was sent to jail, and she started over with a new life. But when Lindsey's ex is finally released, she finds she's once again become someone's obsession. Is her ex doing the stalking—or someone new?

Here are a few of Stevens's favorite tales of twisted love and revenge.


The Girl on the Train by Paula Hawkins
"By now most people in the world have probably heard of this book, and for all the right reasons. This is a brilliant example of an unreliable narrator obsessed with a couple she watches on her train route. I loved that the main character is a mess in so many ways and keeps digging herself into one treacherous hole after another, but we still root for her."
Misery by Stephen King
"I've always been a huge Stephen King fan, and this is one of his finest. In this case it's an author who becomes the captive of an obsessed fan. I like books that feature a small cast of characters and where the hero has limited resources and must rely on his own wits to escape."
Our Little Secret by Roz Nay
"This clever debut won't be out in the United States until next year (and will first be available in Canada this June), but it's one to watch out for. I was lucky to read an advance copy and was enthralled with this dark and twisty story about high school friends caught up in a love triangle that goes back almost a decade."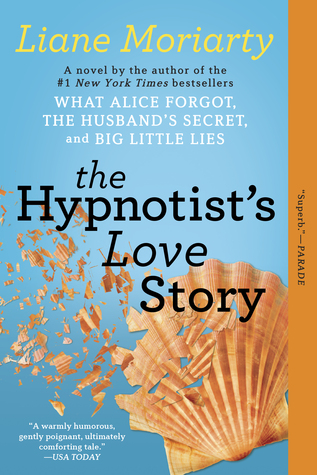 The Hypnotist's Love Story by Liane Moriarty
"Most people know Liane for The Husband's Secret, but I really enjoyed this one as well. It was the first time I'd read a book where we also hear from the stalker, and in the process of walking in her shoes, so to speak, we almost become sympathetic to her plight of being in love with someone who doesn't want her."
Silence of the Lambs by Thomas Harris
"This is the perfect example of an intense cat-and-mouse game played between Clarice, an FBI agent, and the sadistic Hannibal Lecter. We don't know who is more obsessed with whom, but they have a terrifying connection that will drive them both to the end."
Showing 1-15 of 15
(15 new)
date
newest »
back to top