News and Interviews
Good Minds Suggest: Gayle Forman's Favorite Books About Bad Moms
Posted by Goodreads on September 6, 2016
Last year bestselling young adult author Gayle Forman announced it was time she wrote "a novel starring people my own age." And so, after years of exploring the slings and arrows of teen life in titles such as I Was Here, Just One Day, and If I Stay, the Brooklyn-based writer plunged into the world of marriage and motherhood. At the heart of Leave Me, Forman's new book, lies a taboo, a maternal sin considered pretty unforgivable: A professional mother with a seemingly perfect life abandons her family. After Maribeth Klein suffers a heart attack, she finds it impossible to recuperate at home, such are the continuing demands of her husband and young twins. So she packs a bag and leaves. An act of survival or shocking selfishness? The novel delves into the balancing acts of modern mothers and what makes a "good" or "bad" mom.

"Nothing makes quite such juicy fodder in books as the bad mom," Forman tells Goodreads, "yet most of the self-described bad moms I know are not, in fact, bad but are honest about their limitations and faults, and in their way trying to upend the impossible expectations of what a mother should be. These 'bad moms' are my heroes."


Notorious RBG by Irin Carmon and Shana Knizhnik
"One of my favorite scenes from this delightful and inspiring ode to Supreme Court Justice and all-around badass Ruth Bader Ginsburg is one that describes her son's elementary school calling her at work to discuss disciplinary issues. 'The child has two parents,' she declared, asking them to alternate calls with her husband. I think it's difficult for working women now to take their professional selves seriously, to not feel like they must be all things to the family, and to demand partners step up to help. But Bader Ginsburg did this in the 1970s. And this, ladies and gentlemen, is why she's Notorious RBG!"
Bossypants by Tina Fey
"There are many, many things I love about Tina Fey's memoir. It is hilarious and also gleefully honest about everything from ambition to motherhood. But maybe what I love most is how upfront she is (as is Amy Poehler in her equally delightful Yes Please) about the fact that she does not 'balance' it all because juggling a job as demanding as hers, with marriage and motherhood, is about as possible as commuting to and from the moon…on a broom. Fey can be a good mother because she has help. At least at the time of writing the book, there was a third full-time other parent known as a babysitter or nanny—or, as Fey calls it, 'coordinator of toddlery.' Successful moms don't do it all, nor do they beat themselves up for not doing it all. They delegate, and then they take over the world."
Where'd You Go, Bernadette by Maria Semple
"Perhaps I have a soft spot for messy, messed-up, judgey mothers who imperfectly love their children—because I write about them, too. Or maybe because I am one. But for whatever reason, I adore Bernadette Fox and not just because her snarky observations about Seattle mothers—'There are two hairstyles here: short, gray hair and long, gray hair'—are so perfect. Bernadette is ambitious and resentful and petty and judgmental. Oh, and she also up and disappears, leaving her 15-year-old daughter, Bee, to wonder, Well, where'd she go? And yet Bernadette is still a wonderful mom, devoted, in her way, to Bee. The book understands that mothers, being human creatures, are flawed and that they can be flawed and also loving and devoted parents. These things are not mutually exclusive!"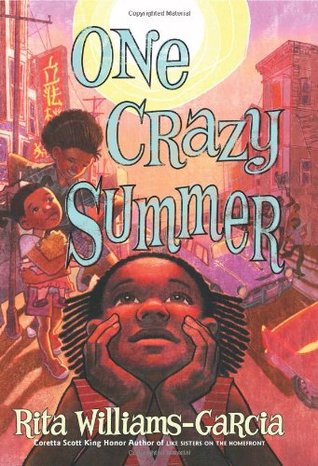 One Crazy Summer by Rita Williams-Garcia
"In middle-grade and young-adult novels, the mother is often dead or somehow out of commission (how else can the youngsters have agency and adventure?), but in her wonderful novel Rita Williams-Garcia reverses that trope by sending three sisters to Oakland, California, to live with the mother who abandoned them. Cecile (or Nzila, as she prefers to be called) is part of the radical Black Panther movement, and throughout the novel her dedication to the cause—positively portrayed through the eyes of the girls who are sent to spend their days at the movement's People's Center—doesn't waver. The wonder of this book is that it lets Cecile be Cecile and doesn't demonize her for choices or force her to become a more traditional (i.e. good) mom in service to a happy ending."
Fates and Furies by Lauren Groff
"Perhaps there is no worse 'bad mom' than the woman who intentionally opts to forgo motherhood. (For further evidence, read Selfish, Shallow and Self Absorbed: Sixteen Writers on the Decision Not to Have Kids, edited by Meghan Daum, who also wrote about this in her essay collection Unspeakable.) In Lauren Groff's mind-blowing novel, that is exactly what Mathilde does, for reasons that become clear in the second half of the he-says-she-says split narrative that tells a story of a long marriage. Mathilde's choice to not have children with her husband, Lotto (who wants them), is rooted in a secret past but also in a desire to not subvert her entire self to the needs of a child. (Or at least another child; Lotto is something of a child himself.) In one interview Groff said, 'It infuriates me that motherhood in America is supposed to be a form of martyrdom.' Me, too, sister. Which is why I love all of the mothers in these books. They are way, way too busy for martyrdom."
Do you have a question for Gayle Forman? She's taking your questions on Ask the Author! Ask her whatever you want here.
Showing 1-11 of 11
(11 new)
date
newest »
back to top