News and Interviews
Good Minds Suggest—Elizabeth Bear's Favorite Steampunk
Posted by Goodreads on February 3, 2015
From noir cyberpunk (Jenny Casey) to heroic fantasy (Eternal Sky) to surreal science fiction (Jacob's Ladder) and more, author Elizabeth Bear builds big, imaginative worlds bursting with detail. Her debut, Hammered, won the Locus Award for Best First Novel in 2006, and in the decade since, she's published more than 30 novels, novellas, and short story collections. The Massachusetts-based writer now takes on the steampunk genre with her new Gold Rush-inspired adventure, Karen Memory. Her fiery heroine is a brothel worker in a gritty, steam-powered Wild West mining town, where a serial killer has just murdered a fellow prostitute.

Bear tells Goodreads, "I came to steampunk sort of big-endian, with the card-based role-playing game Castle Falkenstein and the Call of Cthulhu role-playing supplement Cthulhu by Gaslight back in the 1990s. So those, childhood exposure to The Wild Wild West in reruns, Tim Powers, weird westerns, and the Gibson/Sterling foundational cornerstone The Difference Engine were my entrée to the oeuvre, as it were."

"Well, and of course I've read the vast majority of the original source material—Dr. Jekyll and Mr. Hyde, The Island of Dr. Moreau, The Invisible Man, 20,000 Leagues Under the Sea, The Time Machine, Frankenstein—the science fiction of the Industrial Revolution and the Victorian era. But in this list I'm going to concentrate on some more modern and less-cited works."


Boneshaker by Cherie Priest (Goodreads Author)
"This was a breakout novel for Priest, and it deserves the fuss. In addition to being fast-paced, witty, and featuring a brainy female protagonist of a certain age, this book single-handedly undermines the common argument that steampunk consists entirely of narratives focused on glorifying adventuring British nobles and rapacious industrialists. There are no Victorian Bruce Waynes to be found among the heroes of this novel—just a working-class single mom with a factory job and more guts than sense."
The Incorruptibles by John Hornor Jacobs (Goodreads Author)
"This is a weird, mad little book that transposes Roman legionaries carrying bound demons in shooting irons and cannibal elves into a landscape inspired by the American West. Blood everywhere."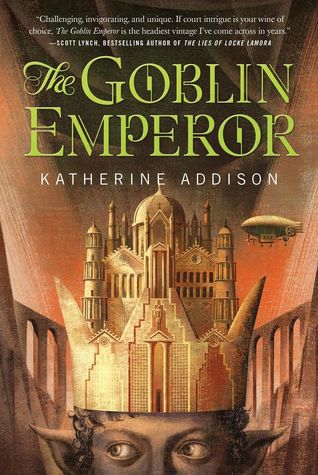 The Goblin Emperor by Katherine Addison (Goodreads Author)
"This book pushes every button I have. It's the story of the half-breed-Goblin son of the Elven emperor, child of a discarded minor wife, who is thrust upon the throne unexpectedly and unprepared when the terrorists (or perhaps freedom fighters, if you prefer) bring down the airship upon which the entire royal family is traveling, killing his father and older brothers. He's forced to survive the vicious politics of the imperial court with no training and less experience. Everything about this book is a delight."
Jonah Hex: Shadows West by Joe R. Lansdale & Timothy Truman "This is cheating a little because it's a comic book run collected in a graphic novel, but I would be absolutely remiss if I didn't mention the Joe Lansdale/Tim Truman run on DC's Jonah Hex, published entirely as Jonah Hex: Shadows West. This saga of a horribly disfigured Civil War veteran in a Wild West gone weird was 'grimdark' before grimdark was a thing, but it also manages to be satirical, darkly hilarious, and not take itself seriously at all. I came very close to sliding a Jonah Hex homage into Karen Memory. If there's ever a sequel, maybe I will."



Bonus: Everfair by Nisi Shawl
"As a Bonus Track, which is to say, a work that hasn't been published yet but that I'm dying to read, I'd like to add Nisi Shawl's Everfair, which is coming out this year from Tor. [It's] promised to be a steampunk novel set in the Belgian Congo. I love Nisi's short fiction. This is her first published novel. I can't wait."





Showing 1-10 of 10
(10 new)
date
newest »
back to top