News and Interviews
Good Minds Suggest—Kelly Link's Favorite Magic Realism
Posted by Goodreads on February 3, 2015
Fans of Kelly Link's rare brand of fantastical and wonderfully weird short fiction have waited ten years for a new book for adults. After two cult favorite story collections, Stranger Things Happen (2001) and Magic for Beginners (2005), Link delighted teens (and let's be honest, lots of adults, too) with a young adult collection, Pretty Monsters, while also coediting anthologies like Steampunk! and Monstrous Affections and running Small Beer Press, which she cofounded with her husband, Gavin J. Grant. Her new book is Get in Trouble, a collection of stories involving a "Demon Lover," ghost hunters reality TV, Ouija boards, some superheroes, and other concoctions. She shares some favorite "books of the uncanny and the strange" and offers, "If you want more recommendations, tweet me. I'm always trying to get my favorite books into the hands of people who might enjoy them."

Link tells Goodreads, "On another day I'd be suggesting Robert Shearman, Helen Oyeyemi, and Stephen Dobyns's The Wrestler's Cruel Study. Or the graphic novel Hicksville by Dylan Horrocks, Robert Aickman, and Karen Joy Fowler's collection Black Glass. Or anything by Elizabeth Knox, Margo Lanagan, and M.T. Anderson. Anyway! Here's another disclaimer: I haven't included in this list of suggested reading some of my very favorites, like Toni Morrison's Beloved or Shirley Jackson's The Haunting of Hill House or Angela Carter's The Bloody Chamber, because my guess is that someone else in your life has already recommended those writers."


Duplex by Kathryn Davis
"I've read this book three times now. And at the moment I'm rereading Davis's previous novel, The Thin Place. I love the peculiar and specific gravity of Davis's world, in which robots and sorcerers coexist with other kinds of suburban strangeness. This is a novel about adolescent girls, suburban neighborhoods, marriage, and the afterlife. Sentence by sentence there's no one like Davis. This isn't a book where my enjoyment comes from comprehension. It's more the kind of book in which you read on as if under a spell, and afterward you emerge as if from a dream in which you were given a key that opened a door you had never seen before. And what was behind that door? If only you could remember!"
The Truth About Celia by Kevin Brockmeier
"Now that I have a daughter of my own, I may not be able to read this novel-in-stories again. But how I love it. The daughter of the narrator, a writer, has disappeared (see my problem?), and his marriage has dissolved. In each section he imagines a resolution to the story of her disappearance. Some of these stories are more overtly fantastical than others. Some have happy resolutions. Some don't. It's an astonishing demonstration of the human desire to make something with shape and meaning even out of the worst moments of our lives."
Air by Geoff Ryman
"A book set in the near-future, in which every person in the world is suddenly and permanently online, wherever they are, using a new technology called Air. At the crucial moment the consciousness of a dying woman, Granny Tung, becomes permanently lodged in the mind of Mae, the village's fashion expert. Although Air was published more than ten years ago, everything about this book still feels charged with relevance to how we live and interact with our world today. The book follows Mae, who is one of my favorite protagonist-heroes ever, as she adjusts to the changes that Air brings."
Twin Spica by Kou Yaginuma
"A 12-book manga that follows a group of children training to become astronauts in a near-future Tokyo. The science fictional aspect is pretty overt: astronaut school! One of the girls turns out to be a clone! But grounding the series is the catastrophic failure of a previous mission, which killed the main character's mother and which (literally? metaphorically? psychologically?) haunts her in the form of a lion-headed ghost. There's a lot of emotional heft to the coming-of-age story of these would-be astronauts. When I give it to friends, I warn them that it will make them cry more than once."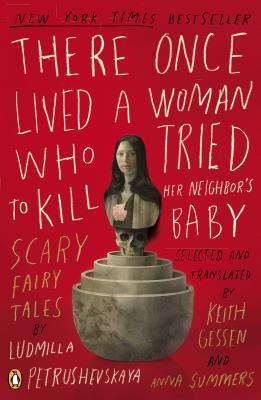 There Once Lived a Woman Who Tried to Kill Her Neighbor's Baby by Ludmilla Petrushevskaya
"Petrushevskaya is a Russian writer, playwright, visual artist, and cabaret singer. You can find performances on YouTube. There Once Lived a Woman is a collection of contemporary Russian fairy tales, or maybe better to describe her work as
contes cruels
. Her work is sly, funny, surprising, and often brutal. I loved the matter-of-fact slippage in this collection, between the world that we know and the kind of nighttime world in which we sometimes find ourselves, in which the consequences of our words and actions—sometimes the consequences of merely existing at all—are strange and terrible and yet also delightful within the constraints of a story. Petrushevskaya reminds me of other masters of the surreal short story form: Rachel Ingalls, Angela Carter, Robert Aickman."
Carmen Dog by Carol Emshwiller
"I'm going to sneak one more recommendation in here. A bit disingenuous, perhaps, since it's a book that Small Beer (which I corun) republished in 2004. But anyway! I mention it for the same reason that we republished it. I've loved it since the moment I first read it. And I've read it many times since then—even once out loud and including all of the punctuation marks (so that we could check our transcription from the previous edition). Carmen Dog was Carol Emshwiller's first novel, after publishing several acclaimed collections of very strange stories. It's a kind of fable about gender, sex, marriage, and science, in which animals begin turning into women and women begin turning into animals. Oh, and the main character, Pooch, is a dog who becomes a young woman who wishes to become an opera singer."
date
newest »
back to top