News and Interviews
Try The 'Reading Without Walls' Challenge This Month
Posted by Cybil on April 7, 2017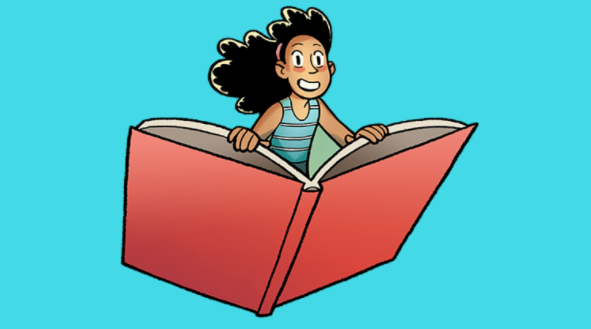 Books can take you anywhere and allow you to experience the world (or distant worlds, even) through new eyes. And that's why we're excited about a new event called
Reading Without Walls
, which challenges readers to explore beyond their usual literary comfort zones.
The rules of this challenge are simple. Just pick your next book using one of these suggestions:

1) Read a book about a character who doesn't look like you or live like you.

2) Read a book about a topic you don't know much about.

3) Read a book in a format that you don't normally read for fun (a graphic novel, a book in verse, or an audiobook).
Beginning this month,
Reading Without Walls
is planned as an annual event every April. It's meant to expand the range of books children read, but we think it's a great idea for readers of any age. You can check out the Reading Without Walls
website
more information, reading lists, kids' activity books, and more. And if you want to follow along on social media, check out the hashtag
#ReadingWithoutWalls
.
Reading Without Walls
began as a pilot program last year when author and comic book artist
Gene Luen Yang
was appointed
National Ambassador of Young People's Literature
(you can see Yang announcing the project in the video
here
). Yang is the author of
American Born Chinese
,
Avatar: The Last Airbender
, and many more
graphic novels
.
We'd love to know how you get out of your reading comfort zones and how that's helped you become a better reader. Share your thoughts in the comments below!
Check out more recent blogs:
The Top World War I Books on Goodreads
Atwood Expands The Handmaid's Tale in New Audiobook
The 2017 Hugo Award Finalists Are Here
Comments
Showing 1-50 of 114
(114 new)
back to top