News and Interviews
Announcing the Winners of the 2020 Goodreads Choice Awards!
Posted by Danny on December 7, 2020
More than 5.6 million votes were cast and counted in the
12th Annual Goodreads Choice Awards
honoring the year's best books decided by you, the readers!
This year, every vote counted: The Best Fiction category was narrowly won (BY FIVE VOTES) by Matt Haig with his whimsical book
The Midnight Library
, which just surpassed Goodreads readers' other favorite of the year, Fredrik Backman's
Anxious People
. In other news, Silvia Moreno-Garcia beat out reigning champion Stephen King in the Horror category, making Rick Riordan—who won again this year—our Goodreads Choice Award champion (Riordan now has ten wins, while King has nine). Another big winner this year was Ibram X. Kendi, who won two awards: Best Nonfiction (for
Stamped
) and Best Picture Book (for
Antiracist Baby
). Lastly, Margaret Atwood followed up last year's Best Fiction win (for
The Testaments
) with a win in the poetry category for her new collection,
Dearly
. 
Now comes our favorite part: revealing all of the incredible winners across 20 categories! Congratulations to all of the best books (and their fabulous authors) of the year in each of the 20 categories!
Best Fiction: The Midnight Library by Matt Haig
"I am overjoyed to get this. A year ago, I was still editing 
The Midnight Library
and had no idea how readers would respond. The reaction since publication has been overwhelming, and I want to thank everyone who voted for this book and who has spread the word. The great thing about the Goodreads Choice Awards is they are voted for by readers. It is a real honor. Thank you." —Matt Haig (photo credit: Kan Lailey)
"I'm completely over the moon to win—and the fact that this prize has been decided by you, the readers, makes it so incredibly special. I've been blown away by the way you've embraced my dark little book. Thank you for picking
The Guest List
for your book clubs, for talking about it with friends, and for all your brilliant reviews and comments! In a strange year, when we've all probably felt pretty isolated, it has been wonderful to connect with you all online." —Lucy Foley (photo credit: Lucy Foley) 
"It's such an honor to win a Goodreads award! Thanks to all the readers who loved and shared
The Vanishing Half
and to those who voted!" —Brit Bennett (photo credit: Miranda Barnes) 
Best Fantasy: Crescent City: House of Earth and Blood by Sarah J. Maas
"Thank you so much to my lovely readers for their incredible support and for making this win possible! There were so many phenomenal books nominated this year, written by truly brilliant authors, and I'm deeply honored to have
Crescent City: House of Earth and Blood
included alongside them." —Sarah J. Maas (photo credit: Beowulf Sheehan) 
"Such a huge honor to have been nominated alongside many of my favorite books of the year, and I'm awed by the response to
From Blood and Ash
! A huge thank you to Goodreads, to Blue Box Press, and to all the readers who voted. Casteel and Poppy send their love!" —Jennifer L. Armentrout (photo credit: Jennifer L. Armentrout) 
"A huge thank you to everyone on Goodreads who voted for 
To Sleep in a Sea of Stars
! I can't tell you how much it means to me. Here's to many more stories set in the Fractalverse! And remember: 'Eat the Path.' " —Christopher Paolini (photo credit: Lo Hunter) 
"This is the year that horror literature came roaring out of the grave like a super zombie, and I'm glad to be part of this ghoulish book parade. Stay spooky, everyone." —Silvia Moreno-Garcia (photo credit: Martin Dee) 
"Democracy at work! I know how discerning Goodreads members are, and I am over the moon that they came out for this book. How beautiful to hear straight from the readers—they are the ones who inspire me to write. In a year when people have been searching for answers, I am grateful that so many have found them in this book. Thank you to everyone!" —Isabel Wilkerson (photo credit: Noah Britton) 
"I truly believe that our planet is in real trouble. If this award suggests that my book has explained why this is so, and what can be done about it, then I am deeply grateful." —David Attenborough (photo credit: Conor McDonnell) 
"In
Modern Comfort Food
, I wanted to write easy recipes for the classic dishes that would satisfy your cravings and help you take care of the people around you. Thank you, Goodreads, for this great honor!" —Ina Garten (photo credit: Quentin Bacon)
Barack Obama (photo credit: Pari Dukovic)
"I'm shocked and amazed and so, so honored! Thank you so much to all my readers for your support for
Heartstopper—
I'm continually blown away by your love and enthusiasm for the series. I can't wait to share more of Nick and Charlie's story with you!" —Alice Oseman (photo credit: Alice Oseman) 
"To have
Dearly
voted by readers as the Best Poetry book for 2020 is very touching for me. The very first award I won was for poetry, back in 1961, when I was 21. Can that really be 60 years ago? Thank you, dear readers, for being readers. Without our belief that you exist, writers would be unlikely to write." —Margaret Atwood (photo credit: Luis Mora) 
"I want to give such a shout-out to all the readers who not only read and loved the novel, but took to the Goodreads streets to get their votes counted! In all seriousness,
Clap When You Land
is a book about loss and celebration, and this year more than any other, I'm so glad for this incredible community of readers who held space for all the big feelings in the novel." —Elizabeth Acevedo (photo credit: Denzel Golatt) 
"I cannot explain how thrilled I was to find out that
The Queen of Nothing
won the 2020 Goodreads Choice Award for Best Young Adult Science Fiction & Fantasy. Since its inception, I've thought of the Goodreads Choice Awards as indicative of reader passion—a thing more precious and meaningful than any other metric. I am so thankful that people liked the way the
Folk of the Air
series ended, that they stuck with me the whole way, and schemed great schemes." —Holly Black (photo credit: Holly Black) 
"I'm so thankful to the Goodreads community. I'm thrilled readers have voted for
Stamped
as Best Nonfiction Book and
Antiracist Baby
for Best Picture Book. It's encouraging that so many passionate caretakers are introducing young people to antiracist literature. The earlier we encourage young people to value equity and justice, the better for humanity." —Ibram X. Kendi (photo credit: Stephen Ross) 
Best Debut: Such a Fun Age by Kiley Reid
"This is incredible. I'm so honored and thrilled. To the Goodreads community and everyone who voted, thank you immensely for spending time with my novel." —Kiley Reid (photo credit: David Goddard) 
Best Middle Grade & Children's: The Tower of Nero by Rick Riordan
"I am humbled and honored to win a Goodreads Choice Award 2020 for
The Tower of Nero
! This has been such a difficult year for everyone, but one thing that always makes me feel better is discovering new favorite books. I am so glad
The Tower of Nero
was one of yours!" —Rick Riordan (photo credit: Becky Riordan) 
Best Nonfiction: Stamped by Jason Reynolds and Ibram X. Kendi
"I'm so honored and humbled that
Stamped
has received this award, especially since it's chosen by the most important people—the readers. Thank you to everyone who has read this book and has decided to join, or continue to wrestle and reckon with, the conversation around racism and antiracism in America. Means the world to me, and could very well mean the future to us all." —Jason Reynolds (photo credit: Dayo Kosoko)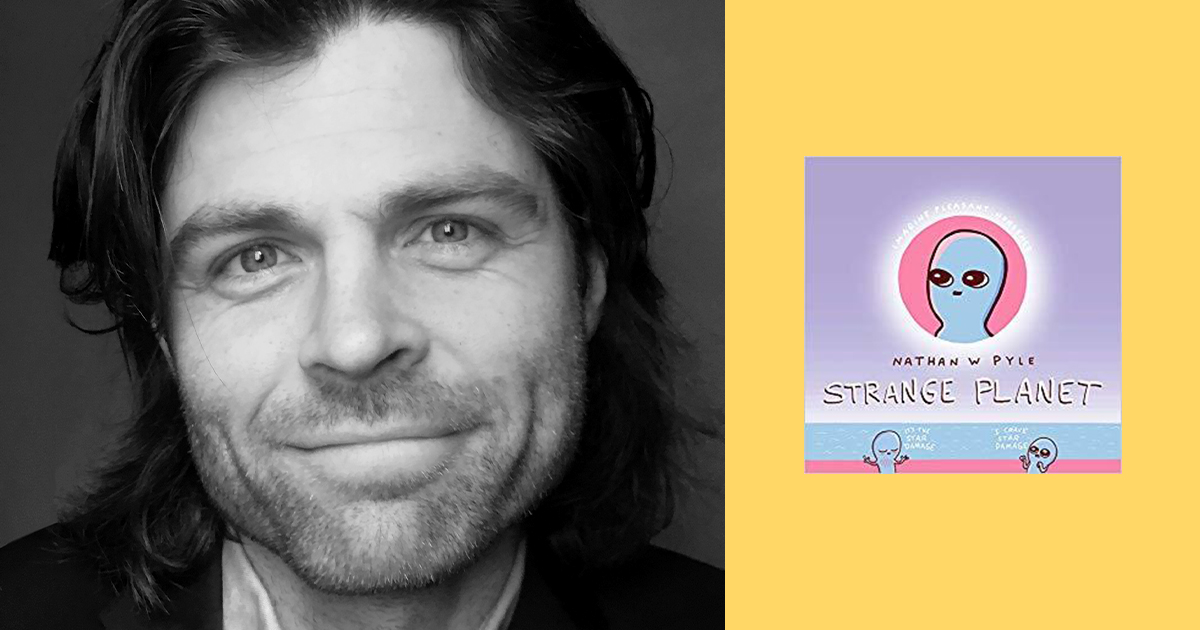 "Taylor and I send our * g r a t i t u d e * to every being who voted for
Strange Planet
for this Goodreads award! We love reading so many of your kind reviews for the book, and we have always loved sharing in the joy of the community of
Strange Planet
readers who create the most entertaining comment section we have ever seen!" —Nathan W. Pyle (photo credit: Nathan Pyle) 
Thank you to all of the readers who make the Goodreads Choice Awards such a success every year! Happy reading!
Check out more recent
articles
, including:
Goodreads Staffers Share Their Top Three Books of the Year
The Most Anticipated YA Books of December
Steamy Romances to Heat Up December
Comments
Showing 1-50 of 65
(65 new)
back to top