David Williams
Goodreads Author
Website
Twitter
Member Since
March 2012
Popular Answered Questions
bell hooks is...well. Something else. Her writing, bracingly sharp and fundamentally honest.

This short memoir is not easy reading. It isn't that it's clumsily or academically written. Precisely the opposite. Her prose is direct, compelling, and mora ...more

David

rated a book

it was ok

A library pickup, one with a fascinating premise...a young Tunisian man whose stories...scribbled into notebook after notebook...magically sustain the lives of those around him.

The prose is meticulously crafted, consistently poetic, and masterfully ...more

This one I read because it was referenced by Howard Thurman in Jesus and the Disinherited. Always cool to have one book connect you with another.

It ain't Disney. Written in the early 1920's in Austria, Salten's Bambi in it's original form is closer t ...more

I read this after the wife and I went to see the film adaptation. It's the fictionalization of a horrific series of events, in which the women of an ultra-orthodox Mennonite sect in Bolivia were tranquilized and systematically raped over years.

The bo ...more

I pored through this now-historic text in preparation for leading an Adult Ed class through it at my little church. I love Thurman's gracious spirit, and his quiet influence over the civil rights movement of the 20th century is undeniable.

The book i ...more

Another of the teeny tiny little books I snagged from the Small Books display at the library. This one, a succinct guide to landing a large aircraft. You know, if you're the only one who doesn't get the fish.

The book itself is an easy read, and Vanho ...more

At my local library, a display: Short Books. As a believer in the grace of the novella as a form, I picked a couple up. This...at 92 pages...was one of them. The first page was bafflingly opaque. By five pages, I was hooked.

An utterly original narrat ...more

David

rated a book

liked it

Hmm. This one was peculiar. A slight book, really more of a novella, it's the story of Dax, a young person of no gender. Dax is a "tea monk," meaning, they serve people tea when they need a little tea. They live on a world that is not Earth, where th

...more

The second in a two volume manga set that I received for Christmas, this is simply excellent.

The dynamism of the inking, the equally energetic paneling? Excellent. The vibrant, organic character of Matsumoto's style, which is both technically sophist ...more

The first in a two volume manga set that I received for Christmas, this is simply excellent.

The dynamism of the inking, the equally energetic paneling? Excellent. The vibrant, organic character of Matsumoto's style, which is both technically sophisti ...more
More of David's books…
Polls
Vote on a book to discuss in December. As always, read as soon as you want, and we'll begin discussing on the first of December. I'd recommend putting a library hold now on any books that appeal to you. Please vote only if you'll return to discuss if your choice wins. Happy voting!
The Book of M by Peng Shepherd
2018, 485 pages, 3.76 stars
$10.99 Kindle, used hardcover around $6, at library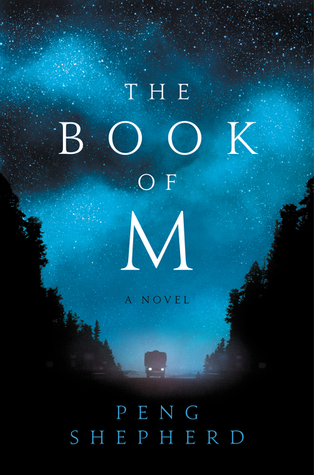 "One afternoon at an outdoor market in India, a man's shadow disappears—an occurrence science cannot explain. He is only the first. The phenomenon spreads like a plague, and while those afflicted gain a strange new power, it comes at a horrible price: the loss of all their memories.

Ory and his wife Max have escaped the Forgetting so far by hiding in an abandoned hotel deep in the woods. Their new life feels almost normal, until one day Max's shadow disappears too.

Knowing that the more she forgets, the more dangerous she will become to Ory, Max runs away. But Ory refuses to give up the time they have left together. Desperate to find Max before her memory disappears completely, he follows her trail across a perilous, unrecognizable world, braving the threat of roaming bandits, the call to a new war being waged on the ruins of the capital, and the rise of a sinister cult that worships the shadowless.

As they journey, each searches for answers: for Ory, about love, about survival, about hope; and for Max, about a new force growing in the south that may hold the cure."
Ashfall by Mike Mullin
YA, supervolcano
2011, 476 pages, 3.97 rating
$7.99 Kindle, used paperback from $7.68
"Under the bubbling hot springs and geysers of Yellowstone National Park is a supervolcano. Most people don't know it's there. The caldera is so large that it can only be seen from a plane or satellite. It just could be overdue for an eruption, which would change the landscape and climate of our planet.

For Alex, being left alone for the weekend means having the freedom to play computer games and hang out with his friends without hassle from his mother. Then the Yellowstone supervolcano erupts, plunging his hometown into a nightmare of darkness, ash, and violence. Alex begins a harrowing trek to search for his family and finds help in Darla, a travel partner he meets along the way. Together they must find the strength and skills to survive and outlast an epic disaster."
The Calculating Stars by Mary Robinette Kowal
2018, 431 pages, 4.33 stars
$9.99 Kindle, paper from $7.77, *may* be at library (it's fairly new)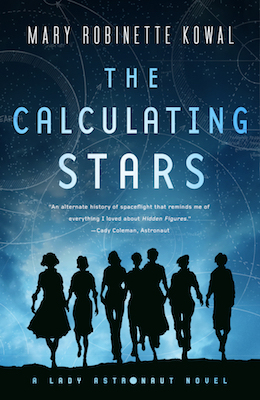 "On a cold spring night in 1952, a huge meteorite fell to earth and obliterated much of the east coast of the United States, including Washington D.C. The ensuing climate cataclysm will soon render the earth inhospitable for humanity, as the last such meteorite did for the dinosaurs. This looming threat calls for a radically accelerated effort to colonize space, and requires a much larger share of humanity to take part in the process.

Elma York's experience as a WASP pilot and mathematician earns her a place in the International Aerospace Coalition's attempts to put man on the moon, as a calculator. But with so many skilled and experienced women pilots and scientists involved with the program, it doesn't take long before Elma begins to wonder why they can't go into space, too.

Elma's drive to become the first Lady Astronaut is so strong that even the most dearly held conventions of society may not stand a chance against her."
When the English Fall by David Williams
2017, 242 pages, 3.71 stars
$9.04 Kindle, cheap used paperback, at library
"When a catastrophic solar storm brings about the collapse of modern civilization, an Amish community in Pennsylvania is caught up in the devastating aftermath. Once-bright skies are now dark. Planes have plummeted to the ground. The systems of modern life have crumbled. With their stocked larders and stores of supplies, the Amish are unaffected at first. But as the English (the Amish name for all non-Amish people) become more and more desperate, they begin to invade Amish farms, taking whatever they want and unleashing unthinkable violence on the peaceable community.

Seen through the diary of an Amish farmer named Jacob as he tries to protect his family and his way of life, When the English Fall examines the idea of peace in the face of deadly chaos: Should members of a nonviolent society defy their beliefs and take up arms to defend themselves? And if they don't, can they survive?

David Williams's debut novel is a thoroughly engrossing look into the closed world of the Amish, as well as a thought-provoking examination of "civilization" and what remains if the center cannot hold."
Feed by M.T. Anderson
2004, 308 pages, 3.54 stars
$7.99 Kindle, cheap used, at some libraries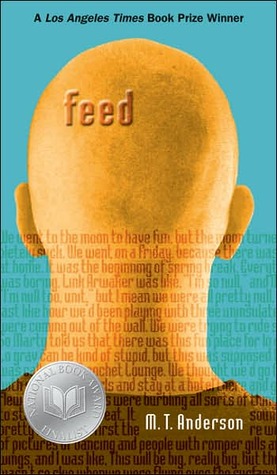 "Identity crises, consumerism, and star-crossed teenage love in a futuristic society where people connect to the Internet via feeds implanted in their brains.

For Titus and his friends, it started out like any ordinary trip to the moon - a chance to party during spring break and play with some stupid low-grav at the Ricochet Lounge. But that was before the crazy hacker caused all their feeds to malfunction, sending them to the hospital to lie around with nothing inside their heads for days. And it was before Titus met Violet, a beautiful, brainy teenage girl who has decided to fight the feed and its omnipresent ability to categorize human thoughts and desires. Following in the footsteps of George Orwell, Anthony Burgess, and Kurt Vonnegut Jr., M. T. Anderson has created a not-so-brave new world — and a smart, savage satire that has captivated readers with its view of an imagined future that veers unnervingly close to the here and now."
More...
Topics Mentioning This Author
No comments have been added yet.