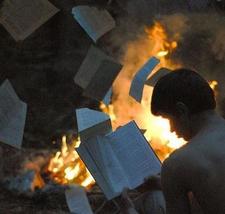 Joshua Nomen-Mutatio
Sign in to Goodreads to learn more about Joshua Nomen-Mutatio.
https://cutt.ly/Vx40FBn
https://www.goodreads.com/joshuanomenmutatio
See all 5 books that Joshua Nomen-Mutatio is reading…
"The rest of us, not chosen for enlightenment, left on the outside of Earth, at the mercy of a Gravity we have only begun to learn how to detect and measure, must go on blundering inside our front-brain faith in Kute Korrespondences, hoping that for each psi-synthetic taken from Earth's soul there is a molecule, secular, more or less ordinary and named, over here - kicking endlessly among the plastic trivia, finding in each Deeper Significance and trying to string them all together like terms of a power series hoping to zero in on the tremendous and secret Function whose name, like the permuted names of God, cannot be spoken... plastic saxophone reed sounds of unnatural timbre, shampoo bottle ego-image, Cracker Jack prize one-shot amusement, home appliance casing fairing for winds of cognition, baby bottles tranquilization, meat packages disguise of slaughter, dry-cleaning bags infant strangulation, garden hoses feeding endlessly the desert... but to bring them together, in their slick persistence and our preterition... to make sense out of, to find the meanest sharp sliver of truth in so much replication, so much waste... [Gravity's Rainbow, p. 590]"
―
"Do not believe in anything simply because you have heard it. Do not believe in anything simply because it is spoken and rumored by many. Do not believe in anything simply because it is found written in your religious books. Do not believe in anything merely on the authority of your teachers and elders. Do not believe in traditions because they have been handed down for many generations. But after observation and analysis, when you find that anything agrees with reason and is conducive to the good and benefit of one and all, then accept it and live up to it."
―
"The truth about the world, he said, is that anything is possible. Had you not seen it all from birth and thereby bled it of its strangeness it would appear to you for what it is, a hat trick in a medicine show, a fevered dream, a trance bepopulate with chimeras having neither analogue nor precedent, an itinerant carnival, a migratory tentshow whose ultimate destination after many a pitch in many a mudded field is unspeakable and calamitous beyond reckoning.
The universe is no narrow thing and the order within it is not constrained by any latitude in its conception to repeat what exists in one part in any other part. Even in this world more things exist without our knowledge than with it and the order in creation which you see is that which you have put there, like a string in a maze, so that you shall not lose your way. For existence has its own order and that no man's mind can compass, that mind itself being but a fact among others."
―
Blood Meridian, or the Evening Redness in the West