News and Interviews
Debut Author Snapshot: Brian McClellan
Posted by Goodreads on April 2, 2013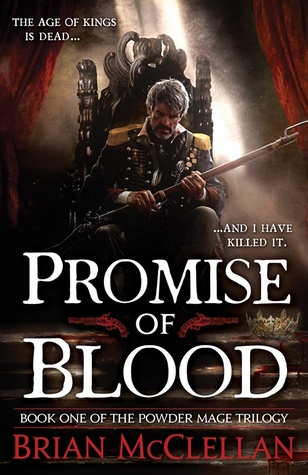 Imagine the carnage that Robespierre's Reign of Terror could have wrought if those guillotines had been augmented by magic. Inspired by the French Revolution, debut author
Brian McClellan
has created a brutal world all his own in the new epic fantasy
Promise of Blood
, the first in a planned
Powder Mage trilogy
. The book launches with a military coup: Field Marshal Tamas and his powder mages—those who can control gunpowder, guiding bullets and explosions with magic—have usurped the corrupt king and his cabal of powerful sorcerers, the Privileged. Tamas struggles to unite the fractured kingdom while under siege from royalist attacks and the threat of a mysterious prophecy.
Aspiring author McClellan sought guidance from best-sellers in the fantasy business, studying creative writing under
Brandon Sanderson
at Brigham Young University and attending
Orson Scott Card
's Literary Bootcamp. The Cleveland native shares some of the visual antecedents of the
Powder Mage
fantasy world.
A fan-made trailer for the TV series
Sharpe's Rifles
, a primary inspiration for
Promise of Blood
.
Goodreads: Guns in fantasy! Not unheard of but certainly more rare in the sword and sorcery zone. How did you decide what level of technology to mix with the magic in your world?
Brian McClellan
: I grew up reading traditional fantasy—the likes of
Terry Brooks
,
Tolkien
,
David Eddings
, and the rest, and a lot of my earliest writing had a medieval feel to it. I wanted to write something new. I'd already decided to have gunpowder feature prominently in my next book, and my wife brought home the first episode of the Napoleonic drama
Sharpe's Rifles
[based on the
Bernard Cornwell novel
of the same name]. It only took about 15 minutes of watching it before I knew that was the technology level I wanted to use.
Colonel Mustang from the TV series
Fullmetal Alchemist: Brotherhood
, created by
Hiromu Arakawa
GR: What are some of your favorite magic systems used in epic fantasy?
BM
: The rune magic in
Tracy Hickman
and
Margaret Weis
's
Death Gate Cycle
was very cool and was based on quantum and chaos theories, which is stuff that's way above my head. It was probably the first magic system that I actually paid attention to. I love
Brandon Sanderson
's Allomancy [Allomancers must ingest metals to access various mental or physical powers] in the
Mistborn novels
. The magic of the Aes Sedai in
Robert Jordan
's
Wheel of Time
was similarly very well developed and enjoyable.
I've always liked the idea of manipulating sorcery with your hands in a way that almost becomes art, and
Fullmetal Alchemist
portrayed this fantastically. It was an inspiration behind the Privileged sorcerers and their magic system in the book.
GR: How did you develop your three main characters who tell the story from different perspectives?
BM
: Each one of my characters developed differently. Taniel Two-shot is a composite of characters from the earliest drafts of the book, so you could say that he's the original main character whose story I had set out to tell.
The bare-knuckle boxing match from Guy Ritchie's Sherlock Holmes (2009). "I love the world portrayed in this scene. The dirt and grime in the underbelly of an industrial city is just so well portrayed."
Inspector Adamat came about from the need to tell the story from a workingman's perspective. I watched Guy Ritchie's
Sherlock Holmes
, and by the end of the movie I had developed Inspector Adamat—not as a Holmes clone by any means, but as the type of person you'd find in that same world.
Field Marshal Tamas is someone I envisioned originally as a side character or even just a minor viewpoint. He is one of those instances you hear about from time to time where the story just "wrote itself." His character took command of my imagination, and within a few chapters I realized that he was the catalyst behind this entire story.
GR: What can we expect from the rest of the Powder Mage series?
BM
: Revolution, conquest, war, stolen vengeance, love. All the good stuff.
date
newest »
back to top