News and Interviews
Good Minds Suggest: B.A. Paris's Favorite Books About Marriages Gone Wrong
Posted by Goodreads on August 1, 2016
It's hard to imagine a marriage more toxic than the one depicted in B.A. Paris's chilling debut, Behind Closed Doors. The heart-pounding thriller focuses on Jack and Grace Angel, an ostensibly perfect couple with the perfect-seeming life, house, and marriage. Jack is the good-looking, charming, wealthy lawyer who represents battered women and has never lost a case. Grace is the elegant, demure wife and caring older sister; her teenage sibling Millie, who has Down syndrome, is set to come and live with them when she finishes school, a plan Jack heartily supports. But something doesn't seem right. Grace is never seen without Jack. She never answers the phone or has time for coffee dates, despite not having a job. And there are what look like bars on one of the bedroom windows…. Paris's dark, claustrophobic novel has already won legions of fans with its electrifying plotting and gaslighting themes of psychological control, fear, and manipulation (the book's Twitter hashtag is #StaySingle). Now the film rights have sold, and Paris has a new thriller coming out next year. The author, who lives with her husband and five daughters in Paris, where she teaches English, shares five of her favorite books with marriages gone wrong.


Sleeping with the Enemy by Nancy Price
"This was the first 'modern' novel I read about a marriage gone wrong—my only other experiences of such novels were Madame Bovary, which I read when I first arrived in France, and Lady Chatterley's Lover, which I read at school. In Sleeping with the Enemy, Laura fakes her own death to get away from her abusive husband. But what makes this book especially chilling is the ends Martin goes to in order to track her down—brilliantly brought to life in the 1991 film of the same name."
Revolutionary Road by Richard Yates
"Set in the 1950s, this novel portrays the disintegration of the marriage of a seemingly perfect couple, Frank and April Wheeler. I love the way Yates uses Frank's imaginary conversations between himself and April to emphasize how far they have grown apart—the difference between what Frank expects to hear or, indeed, to say is vastly different to what actually plays out. Increasingly dissatisfied with her stifling life in suburbia, and hoping to inject a bit of vigor into their marriage, April suggests they move to Paris. But it is a road that eventually leads to nowhere."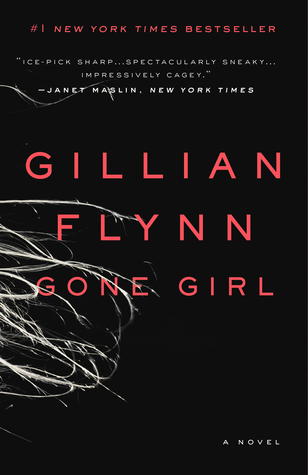 Gone Girl by Gillian Flynn
"It would be impossible not to include the brilliant Gone Girl in this list, as it takes stories about bad marriages to another level. What is especially clever about this book is that the two protagonists, Nick and Amy Dunne, are both unreliable narrators. They both tell conflicting stories—Nick in the present after Amy goes missing, and Amy in the past, through the diary she kept of their marriage. The book's strength is that not only do they lie to each other, they also lie to the reader, so that in the end no one really knows who or what to believe."
Double Fault by Lionel Shriver
"I absolutely loved We Need to Talk About Kevin, so I was delighted to learn there were other books out there by Shriver. I also enjoy tennis, so Double Fault was the perfect book for me. Wilhelmina and Eric fall in love over a game of tennis, but their marriage begins to disintegrate when Willy, who until then has been the better player, loses to Eric on their first anniversary. Willy is defined by tennis—she is a hugely successful player—so not only does she lose the match but also her sense of identity. When resentment toward Eric sets in, their young marriage is doomed. Another brilliant book by a phenomenal writer."
The Husband's Secret by Liane Moriarty
"I like the basis for this novel: Cecilia finds a letter that her husband, John-Paul, has written to her in the event of his death. She doesn't open it—what willpower!—until she realizes that John-Paul wants to destroy it. When she discovers his terrible secret, she decides to stand by him for the sake of their children, but she feels that he has got off lightly…. There is much more to the book than this, though; John-Paul's dark secret links the lives of three women, which makes for an intriguing and intense read."
date
newest »
back to top