News and Interviews
Good Minds Suggest: Elizabeth Strout's Favorite Character Studies
Posted by Goodreads on January 4, 2016
With each book, Pulitzer Prize-winner Elizabeth Strout puts us under the spell of indelible characters, imbuing them with emotion that is messy and raw and true. She transported us to the little town of Crosby, Maine, in Oliver Kitteridge, offering us a window into the complex life of one retired schoolteacher. In The Burgess Boys she explored the evolving relationships within a trio of siblings; in Amy and Isabelle, the love and loathing between a mother and daughter. Her new book, My Name Is Lucy Barton, keeps things in the family once again. Lucy is a writer, a mother, and a wife, but she has never quite escaped the shadow of her troubled childhood. When her estranged mother unexpectedly drops into her hospital recovery room, Lucy is confronted with a past—and a present—she had long given up on accepting. Strout shares her favorite books about characters who stay with you even after their stories are over.


Tender Is the Night by F. Scott Fitzgerald
"The character of Dick Diver is an all-time favorite of mine. I love his inherent decency, his drunkenness, his desperation. At the end of the book, when he is on a bicycle riding through Upstate New York—I weep every time."
Freedom by Jonathan Franzen
"Patty Berglund is a wonderful character. From the moment we see her walking with that stroller, she is real. And she remains real throughout her troubles—her marriage, her affair, and her striking out on her own."
For Whom the Bell Tolls by Ernest Hemingway
"The character of Pilar in this book has always stayed with me. She is scary and tough. I was always afraid of her; she really rules the roost in that hideout."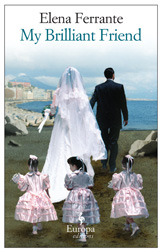 My Brilliant Friend by Elena Ferrante
"The brilliant friend referred to, Lila, is an unforgettable character. She is also tough, but I love her. She's amazing in her tenacity and her forthrightness; what a character she is!"
Sons and Lovers by D.H. Lawrence
"The mother in this book has always stayed with me: Her urgency in keeping hold of her sons is rather horrifying (to me). And the way they both try to get free, and cannot escape—well, that is some mother!"
Showing 1-18 of 18
(18 new)
date
newest »
back to top