Born
in Los Angeles, California, The United States
March 04, 1948
Genre
Influences
James Ellroy
isn't a Goodreads Author (
yet
), but they do have a blog, so here are some recent posts imported from their feed.
Related News
His Favorite Historical Ripsnorters: Try some history that will blow your hair back in these picks from the noir stylist, whose new novel,...
To me, there's nothing on earth other than women. It's why I get out of bed every morning. You have the opportunity to have a cup of coffee, write,...
  Summer Reading is sponsored by Lifetime's Book to Screen Movies. Who better to suggest a perfect summer read than some of the biggest...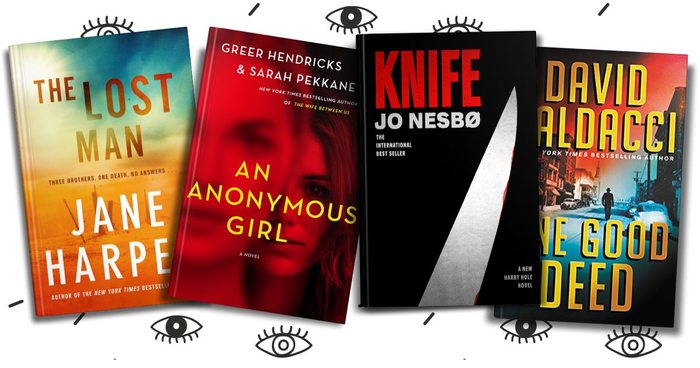 Polls
Vote For One Book For May
The Queen of Hearts
by
Kimmery Martin
A debut novel set against a background of hospital rounds and life-or-death decisions that pulses with humor and empathy and explores the heart's capacity for forgiveness...
Salt Houses
by
Hala Alyan
On the eve of her daughter Alia's wedding, Salma reads the girl's future in a cup of coffee dregs. She sees an unsettled life for Alia and her children; she also sees travel, and luck. While she chooses to keep her predictions to herself that day, they will all soon come to pass when the family is uprooted in the wake of the Six-Day War of 1967.
Lyrical and heartbreaking, Salt Houses is a remarkable debut novel that challenges and humanizes an age-old conflict we might think we understand—one that asks us to confront that most devastating of all truths: you can't go home again.
If Today Be Sweet
by
Thrity Umrigar
Tehmina Sethna's beloved husband has died this past year and she is visiting her son, Sorab, in his suburban Ohio home. Now Tehmina is being asked to choose between her old, familiar life in India and a new one in Ohio with her son, his American wife, and their child. She must decide whether to leave the comforting landscape of her native India for the strange rituals of life in a new country.
This is a journey Tehmina, a middle-aged Parsi woman, must travel alone.
Somewhere Out There
by
Amy Hatvany
What happens when two sisters who were torn apart when their young mother abandoned them—and grew up in tragically different circumstances—reunite thirty-five years later to find her? For readers who love Jodi Picoult, acclaimed author Amy Hatvany fearlessly explores complex family issues in her gripping, provocative new novel.
How do our early experiences—the subtle and the traumatic—define us as adults? How do we build relationships when we've been deprived of real connection? Critically acclaimed author Amy Hatvany considers controversial and complicated questions about childhood through the lens of her finely crafted characters in this astute novel about mending wounds by diving into the truth of what first tore us apart.
The Black Dahlia
by
James Ellroy
On January 15, 1947, the torture-ravished body of a beautiful young woman is found in a Los Angeles vacant lot. The victim makes headlines as the Black Dahlia-and so begins the greatest manhunt in California history.Caught up in the investigation are Bucky Bleichert and Lee Blanchard: Warrants Squad cops, friends, and rivals in love with the same woman. But both are obsessed with the Dahlia-driven by dark needs to know everything about her past, to capture her killer, to possess the woman even in death. Their quest will take them on a hellish journey through the underbelly of postwar Hollywood, to the core of the dead girl's twisted life, past the extremes of their own psyches-into a region of total madness.
Wish You Were Here
by
Renee Carlino
Charlotte has spent her twenties adrift, floating from interest to interest, job to job, and guy to guy, searching for a spark but never quite finding it. All she knows is that she won't discover it working as a waitress at a pies-and-fries joint in Los Angeles or living with her fun but aimless best friend in a tiny apartment in the Arts District.
9 total votes
More...
Topics Mentioning This Author
Is this you?
Let us know.
If not, help out and
invite James to Goodreads.