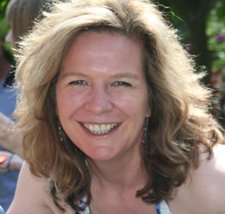 Suzanne
Sign in to Goodreads to learn more about Suzanne.
https://www.goodreads.com/suzanneskyvara
progress:
(page 96 of 400)
"Ever had to put down a book for a breather because you're absolutely terrified about what a character is going to attempt next? That's me, right now."
—
Dec 01, 2019 10:13AM
progress:
(page 244 of 355)
"This is one of those books where you can't wait to get back to it! Loving the astute insights into motherhood, being an immigrant, and marriage that are scattered throughout this story."
—
May 20, 2019 08:44AM
See all 11 books that Suzanne is reading…
"Kindness changes everything," Grace says. "You can't worry about the rest of the world, never mind the rest of the universe. All you can do is look to your left and your right and try to be kind to whoever is there. When I stopped thinking
...more
Suzanne

rated a book

it was amazing

If I lived in the Czech Republic, my name would be Zuzana Škývarová. While I'm actually English/Irish, I fell in love with my husband, Zdeněk, and, after getting married in Prague, I have happily adopted some of his Czech traditions and culture. I've

...more

"The author, Matthew Walker, makes a compelling case for sleep that frankly even after having read many articles about the importance of sleep, and even watching his TED talk, changed my perspective. It has convinced me that I have likely been unde..." Read more of this review »

Within 2,000 years of the Sapiens arrival, most of these unique species were gone. According to current estimates, within that short interval, North America lost thirty-four out of its forty-seven genera of large mammals. South America lost fifty out of sixty. The sabre-tooth cats, after

I personally believe that Scottish Terriers wiped out the sabre-tooth tigers, but it is an evolving theory.

By contrast, ancient foragers regularly ate dozens of different foodstuffs. The peasant's ancient ancestor, the forager, may have eaten berries and mushrooms for breakfast; fruits, snails and turtle for lunch; and rabbit steak with wild onions for dinner. Tomorrow's menu might have been completely different. This variety ensured that the ancient foragers received all the necessary nutrients.

Think of the calories and carbs that were burned up just foraging for food. There was no obesity crisis among ancient foragers.

The human collective knows far more today than did the ancient bands. But at the individual level, ancient foragers were the most knowledgeable and skilful people in history.

I often think about the skill set that my father has that I don't. Through necessity, growing up on a farm, he had to learn how to fix nearly everything. Something breaks for me, I call a specialist.

This review has been hidden because it contains spoilers. To view it,

click here.

"It's the summer of 1976, and while the rest of the country is getting ready to celebrate the bicentennial, young Boady Sanden is finishing up a forgettable year at St. Ignatius High School. When he's not being chased by bullies like Jarvis Halcomb..." Read more of this review »

Suzanne

is on page 96 of 400 of

American Dirt

: Ever had to put down a book for a breather because you're absolutely terrified about what a character is going to attempt next? That's me, right now.

Suzanne

commented on

Nir's update

"

I've shared Axios with others. They frequently suggest it as they build their audience. But as others state above, I associate my personal brand with

...more

"

Nir Eyal

shared a note and highlight from

Viral Cycle Time is the amount of time it takes a user to invite another user, and it can have a massive impact.

With all the talk of people wanting their products or services to "go viral," this is an under-appreciated factor in what really drives exponential growth. Frequent use is very important! Have you used any products or services you liked so much you shared it with others?
More of Suzanne's books…