VMom
Sign in to Goodreads to learn more about VMom.
http://bookhorde.org
https://www.goodreads.com/votermom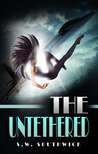 See all 9 books that VMom is reading…
"An enjoyable short story about Theda Bara and her former makeup artist, years after her retirement from movie making. They are asked to see if they can recover a copy of a rare, and failed, old silent film starring a new actress who only made this..." Read more of this review »

April

started reading

Standing in the Storm (The Last Brigade, #2)

"

cool breeze wrote: "The back of my paperback copy has a detailed 6-page dramatis personae list, as well as a 13-page glossary, primarily of military t ...more

"

Beregond

has read

Betrayals (Jack Del Rio, #2)

" Daniella wrote: "I don't know how the prayer got copied into my comment, but it is Memorial Day..."

God works in mysterious ways. :) "
More of VMom's books…