Goodreads helps you keep track of books you want to read.
Start by marking "نساء يركضن مع الذئاب: الاتصال بقوى المرأة الوحشية" as Want to Read: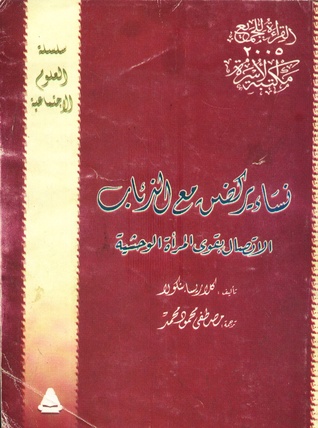 نساء يركضن مع الذئاب: الاتصال بقوى المرأة الوحشية
إن هذا الكتاب لمؤلفته الدكتورة كلاريسا بنكولا الباحثة "اليونجية" والقصاصة البارزة هو المعجم السيكولوجي للأنوثة الغزيرة والمبتهجة والمتفردة، تستدعي فيه الطبيعة الوحشية للحياة، وتسترجع المناطق المنسية والمهملة في النفس الأنثوية الحقيقية، ونبتهج بها ابتهاجاً أصيلاً وعارفاً. وعن طريق توصيل الرسائل التي تحملها القصص الخالدة -مثل "بلوبيرد" و "الحذاء الأحمر" و "العذراء بلا يدين"-
...more
Published 2005 by مكتبة الأسرة (first published 1992)

An American poet, psychoanalyst and post-trauma specialist who was raised in now nearly vanished oral and ethnic traditions. She is a first-generation American who grew up in a rural village, population 600, near the Great Lakes. Of Mexican mestiza and majority Magyar and minority Swabian tribal heritages, she comes from immigrant and refugee families who could not read or write, or who did so hal
...more
More about Clarissa Pinkola Estés...
"There is probably no better or more reliable measure of whether a woman has spent time in ugly duckling status at some point or all throughout her life than her inability to digest a sincere compliment. Although it could be a matter of modesty, or could be attributed to shyness- although too many serious wounds are carelessly written off as "nothing but shyness"- more often a compliment is stuttered around about because it sets up an automatic and unpleasant dialogue in the woman's mind.

If you say how lovely she is, or how beautiful her art is, or compliment anything else her soul took part in, inspired, or suffused, something in her mind says she is undeserving and you, the complimentor, are an idiot for thinking such a thing to begin with. Rather than understand that the beauty of her soul shines through when she is being herself, the woman changes the subject and effectively snatches nourishment away from the soul-self, which thrives on being acknowledged."

"I must admit, I sometimes find it useful in my practice to delineate the various typologies of personality as cats and hens and ducks and swans and so forth. If warranted, I might ask my client to assume for a moment that she is a swan who does not realzie it. Assume also for a moment that she has been brought up by or is currently surrounded by ducks.

There is nothing wrong with ducks, I assure them, or with swans. But ducks are ducks and swans are swans. Sometimes to make the point I have to move to other animal metaphors. I like to use mice. What if you were raised by the mice people? But what if you're, say, a swan. Swans and mice hate each other's food for the most part. They each think the other smells funny. They are not interested in spending time together, and if they did, one would be constantly harassing the other.

But what if you, being a swan, had to pretend you were a mouse? What if you had to pretend to be gray and furry and tiny? What you had no long snaky tail to carry in the air on tail-carrying day? What if wherever you went you tried to walk like a mouse, but you waddled instead? What if you tried to talk like a mouse, but insteade out came a honk every time? Wouldn't you be the most miserable creature in the world?

The answer is an inequivocal yes. So why, if this is all so and too true, do women keep trying to bend and fold themselves into shapes that are not theirs? I must say, from years of clinical observation of this problem, that most of the time it is not because of deep-seated masochism or a malignant dedication to self-destruction or anything of that nature. More often it is because the woman simply doesn't know any better. She is unmothered."
— 428 likes
"It is worse to stay where one does not belong at all than to wander about lost for a while and looking for the psychic and soulful kinship one requires"
— 364 likes
More quotes…