Goodreads helps you keep track of books you want to read.
Start by marking "Witch House" as Want to Read: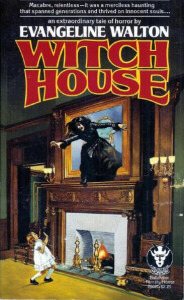 Witch House
Macabre, relentless - it was a merciless haunting that spanned generations and thrived on innocent souls.. The little girl saw it, saw the evil that had been bequeathed her by the house that had bedeviled her ancestors. And there was no escaping it. It lived at the lonely mansion off the New England coast.. it followed her.. possessed her.. and it would not
Mass Market Paperback
,
196 pages
Published February 12th 1979 by Del Rey (first published 1945)
Evangeline Walton was the pen name of Evangeline Wilna Ensley, an American author of fantasy fiction. She remains popular in North America and Europe because of her "ability to humanize historical and mythological subjects with eloquence, humor and compassion".
More about Evangeline Walton...
"Also another time she had wakened in dead of night, thinking that something touched her, and when she looked she saw that a black scaly tail, tufted with flame at the end, like a fiend's, had switched across her and lay there burning the covers. And when she turned shrieking, to see what manner of thing lay beside her in the bed, she was at first reassured by sight of her husband's face, then saw, to her horror, that horns had risen, black and pointed, from his forehead. After that she screamed again and remembered nothing until Joseph was shaking her awake, and there were neither horns nor tail to be seen. Nor were the bedclothes scorched."
— 6 likes
"Outside the drizzling rain had begun again. It pattered around the house, and on the roofs and eaves, like a million, tiny, stealthy feet: softly, as though the night were teeming with a host of minute, dark beings."
— 5 likes
More quotes…