Goodreads helps you keep track of books you want to read.
Start by marking "Count Zero (Sprawl, #2)" as Want to Read: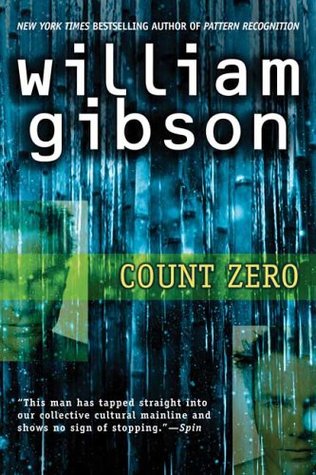 Count Zero
A corporate mercenary wakes in a reconstructed body, a beautiful woman by his side. Then Hosaka Corporation reactivates him, for a mission more dangerous than the one he's recovering from: to get a defecting chief of R&D—and the biochip he's perfected—out intact. But this proves to be of supreme interest to certain other parties—some of whom aren't remotely human...
Published March 7th 2006 by Ace Books (first published 1986)
Librarian Note: There is more than one author in the Goodreads database with this name. See this thread for more information.

William Ford Gibson is an American-Canadian writer who has been called the father of the cyberpunk subgenre of science fiction, having coined the term cyberspace in 1982 and popularized it in his first novel, Neuromancer(1984), which has sold more than 6.5 million copies wor
...more
Other books in the series
"And, for an instant, she stared directly into those soft blue eyes and knew, with an instinctive mammalian certainty, that the exceedingly rich were no longer even remotely human."
— 100 likes
"Voodou isn't like that. It isn't concerned with notions of salvation and transcendence. What it's about is getting things done. You follow me? In out system, there are many gods, spirits. Part of one big family, with all the virtues, all the vices. There's a ritual tradition of communal manifestation, understand? Voodou says, there's a God, sure, Gran Met, but He's big, too big and too far away to worry Himself if your ass is poor, or you can't get laid. Come on, man, you know how this works, it's street religion, came out of dirt poor places a million years ago. Voodou's like the street. Some duster chops out your sister, you don't go camp on the Yakuza's doorstep, do you? No way. You go to somebody, though, who can get the thing done. Right?"
— 13 likes
More quotes…