Goodreads helps you keep track of books you want to read.
Start by marking "الباب المفتوح" as Want to Read:
الباب المفتوح
رواية "الباب المفتوح" للكاتبة لطيفة الزيات والصادرة عام 1960 هي البداية الفعلية التي فتحت الطريق أمام الرواية الواقعية للكاتبات المصريات. وتعتبر لطيفة الزيات أحد أهم رواد التيار الواقعي في الرواية المصرية في الخمسينات من القرن العشرين. تعكس الرواية الفترة من 1946 إلى 1956 ومقاومة الشعب المصري للاستعمار الإنجليزي ومعركة بورسعيد، وتؤكد على أهمية الالتحام الشعبي والترابط بين
...more
Published 2003 by الهيئة المصرية العامة للكتاب - مكتبة الأسرة - إبداع المرأة (first published 1960)
Latifa Zayyat (Arabic: لطيفة الزيات; variant English spelling: Latifa al-Zayyat) was an Egyptian feminist writer and academic.
As a student attending Cairo University in the 1940s, where she was part of left-wing and feminist movements on campus. She was later imprisoned for her political view (during the presidency of Anwar Sadat
Zayyat was Professor of English at Ain Shams University. She publish
...more
Related Articles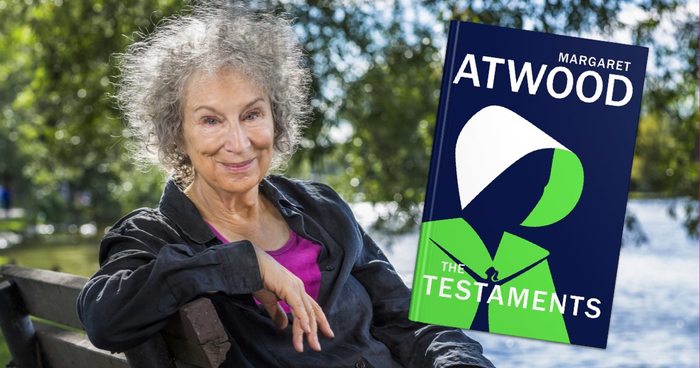 Thirty-four years after the publication of her dystopian classic, The Handmaid's Tale, Atwood returns to continue the story of Offred. We talked...
"ثم ان الحب لا يستجدى. هو إما موجود أو غير موجود."
— 438 likes
"عزيزتى ليلى

لم أكن أريد أن أستعمل كلمة "عزيزتى" بل أردتُ أن أستعمل كلمة أخرى، كلمة أقرب إلى الحقيقة وإلى شعورى نحوكِ ولكنّي خفتُ أن أخيفكِ وأنا أعرف أن من السهل إخافتك. من السهل بشكل مؤلم، مؤلم لي على الأقل.

وهذا أيضًا هو سبب ترددي فى الكتابة إليكِ ولكن حنيني الجارف إلى الوطن لم يترك لى الاختيار فقد أصبحتِ أنتِ رمزًا لكل ما أحبه في وطني وعندما أفكر فى مصر أفكر فيك وعندما أحن إلى مصر أحن إليكِ وبصراحة أنا لا أنقطع عن الحنين إلى مصر.

أكاد أراك تبتسمين، فأنت لا تصدقينى. أليس كذلك؟ أنتِ لا تثقين بي. أنت تقيمين بيني وبينك الحواجز، أنت لا تريدين أن تنطلقي وأن تتركي نفسكِ على سجيتها، لأنك تخشين أن تتعلقي بي، أن تفني كيانك في كياني، أن تستمدي ثقتك فى نفسك وفي الحياة مني، ثم تكتشفي كيانك مدلوقًا -كالقهوة- فى غرفتي.

وأنا أحبكِ وأريد منكِ أن تحبيني، ولكنّي لا أريد منكِ أن تفني كيانك فى كيانى ولا فى كيان أي إنسان. ولا أريد لك أن تستمدى ثقتك فى نفسك وفى الحياة مني أو من أي أنسان. أريد لك كيانك الخاص المستقل، والثقة التى تنبعث من النفس لا من الآخرين.
وإذ ذاك –عندما يتحقق لكِ هذا- لن يستطيع أحد أن يحطمك، لا أنا ولا أي مخلوق. إذ ذاك فقط، تستطيعين أن تلطمي من يلطمك وتستأنفى المسير. وإذ ذاك فقط تستطيعين أن تربطي كيانك بكيان الآخرين، فيزدهر كيانك وينمو ويتجدد، وإذ ذاك فقط تحققين السعادة فأنتِ تعيسة يا حبيبتي، وقد حاولتِ، ولم تستطيعي، أن تخفى عنى تعاستك.

لقد انحبست فى الدائرة التى ينحبس فيها أغلب أفراد طبقتنا، دائرة الأنا، دائرة التوجس والركود، دائرة الأصول، نفس الأصول التى جعلت عصام يخونك، وجعلت محمود يشعر بالعزلة فى معركة القناة. وجعلت طبقتنا، كطبقة، تقف طويلا موقف المتفرج من الحركة الوطنية، نفس الأصول التى تكرهينها وأكرها، ويكرها كل من يتطلع الى مستقبل أفضل لشعبنا ووطننا.

وفى دائرة الأنا، عشت تعيسة، لأنك فى أعماقك تؤمنين بالتحرر، بالانطلاق، بالفناء فى المجموع، بالحب، بالحياة الخصبة المتجددة.

عشت تعيسة لأن تيار الحياة فيك لم يمت بل بقى حيًا يصارع من أجل الانطلاق.
فلا تنحبسى فى الدائرة الضيقة، إنها ستضيق عليك حتى تخنقك أو تحولك إلى مخلوقة بليدة معدومة الحس والتفكير.
انطلقي يا حبيبتي، صِلِي كيانك بالآخرين، بالملايين من الآخرين، بالأرض الطيبة أرضنا، بالشعب الطيب شعبنا.

وستجدين حبًا، أكبر منِّى ومنكِ، حبًا كبيرًا، حبًا جميلًا، حبًا لا يستطيع أحد أن يسلبك إياه، حبًا تجدين دائمًا صداه يتردد فى الأذن، وينعكس فى القلب، ويكبر به الإنسان ويشتد: حب الوطن وحب الشعب.

فانطلقي يا حبيبتي، افتحى الباب عريضًا على مصراعيه، واتركيه مفتوحًا..
وفى الطريق المفتوح ستجدينني يا حبيبتي، أنتظرك، لأنى أثق بك، وأثق في قدرتك على الانطلاق، ولأنى لا أملك سوى الانتظار ..انتظارك."
— 408 likes
More quotes…