Audrey is on page 201 of 592
A quote:
Bolting forward, he sent himself flying and locked onto one of the lessers, catching the bastard around the neck with his arm and Pop-Tarting him into the air with a yank.
"POP-TARTING"...?!?!? When I read that, I was like "this is a joke, right? It's got to be a joke. You have GOT to be effin' kidding me here."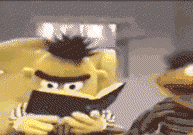 — Apr 17, 2012 05:17PM
20 likes

· Like
flag
Audrey's Previous Updates
(showing 1-13 of 13)
(13 new)
date
newest »
back to top