Jessica Noreault
said:
" I loved it!

Overall this was a really good book. Wit was well written, had really good characters, and flowed well. There were similarities to other books, but that did not alter the love for it that I have. I need more! "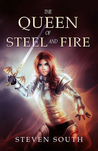 I really truly enjoyed the time spent reading this book. Hounsom writing is elegant and easy to envision, something that as an avid reader, I admire greatly. Kyndra is easy to like, and remains fairly realistic through the book. The secondary charact

...more

The Thorn and the Sinking Stone was overall, an elegant and imaginative read. The world, the people, were all unique and believable. The powers of the cursed ranged and were well thought out. Dushinski left me craving the next book, armed with dozens

...more

This started out kind of...not cheesy, but I don't know...cliched? New girl going to a boarding school, getting bullied, hating life, wanting something different, falling into a new world, meeting a hot guy, and then meeting more hot guys. However, s

...more

Why in the heck is the rating for this only at 3 stars? Personally I really enjoyed it. The only thing keeping it from getting 5 stars is that in some areas of my ecopy (I am aware this is an e-arc and thus not fully edited and such) it got confusing

...more
More of Jessica's books…
"I'm not going to wear a red dress," she said.
"It would look stunning, My Lady," she called.
She spoke to the bubbles gathered on the surface of the water. "If there's anyone I wish to stun at dinner, I'll hit him in the face."
―
Graceling
"When a monster stopped behaving like a monster, did it stop being a monster? Did it become something else?"
―
Graceling
"How absurd it was that in all seven kingdoms, the weakest and most vulnerable of people - girls, women - went unarmed and were taught nothing of fighting, while the strong were trained to the highest reaches of their skill."
―
Graceling