Adictos A Libros RD
Sign in to Goodreads to learn more about Adictos A Libros RD.
http://www.adictosalibros.com
https://www.goodreads.com/adictosalibrosrd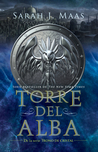 progress:
(page 105 of 760)
"Me está gustando pero a ma vez me desespera. Quiero información acerca de Aelin a pesar de que los hechos de este libro van justamente a la par del quinto."
—
Apr 11, 2019 05:24PM
—El valor del corazón es algo muy infrecuente —dijo con una calma repentina—. Deja que te guíe.