Alexandra
Sign in to Goodreads to learn more about Alexandra.
https://www.goodreads.com/LadyAlexandraSnowHouseofStark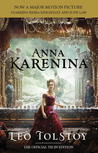 progress:
(2%)
"So far I find it hard to believe I am suppose to sympathize with Sepan. Granted the marriage was dead but how can he be shocked Darya Alexandrovna would be as upset as she was."
—
May 23, 2015 04:16PM
See all 4 books that Alexandra is reading…
"Alas, poor Yorick! I knew him, Horatio: a fellow
of infinite jest, of most excellent fancy: he hath
borne me on his back a thousand times; and now, how
abhorred in my imagination it is! my gorge rims at
it. Here hung those lips that I have kissed I know
not how oft. Where be your gibes now? your
gambols? your songs? your flashes of merriment,
that were wont to set the table on a roar? Not one
now, to mock your own grinning? quite chap-fallen?"
―
Hamlet

"I suppose sooner or later in the life of everyone comes a moment of trial. We all of us have our particular devil who rides us and torments us, and we must give battle in the end."
―
Rebecca
summer reading group
— 18 members — last activity Oct 15, 2008 02:36PM
what ever you want to read, as long as you read in a reading group right? this is the reading group for kids who want to read whatever, when ever. as
...more
A Song of Ice & Fire Fans
— 5458 members — last activity Sep 26, 2018 11:13AM
For fan discussion of George R.R. Martin's A Song of Ice & Fire series. Occasionally referred to by the first book of the series, A Game of Thrones.
HOGWARTS SCHOOL of WITCHCRAFT and WIZARDRY
— 1285 members — last activity Aug 17, 2018 05:06PM
We are pleased to announce that you have been accepted to Hogwarts School of Witchcraft and Wizardry. It has been two or three generations after Harry
...more