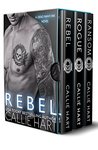 Team Remy
— 210 members — last activity Jul 18, 2013 02:05PM
Help us make Remington Tate the winner of the first ever NA Crush Tournament. We need Remy lovers willing to spread the word and vote like crazy!
Shantel's Sinners
— 127 members — last activity Jul 21, 2017 10:21PM
This group is for fans of Shantel Tessier! We all love her stories and this is where we can share our love and obsession for her books and characters.
Shh… [Smut, Heroes & HEAs…]
— 11405 members — last activity 4 minutes ago
Shh… [Smut, heroes & HEAs…] is a worldwide All-Author Fan group dedicated to contemporary Romance & Erotica. Join Shh… to celebrate our love for read
...more