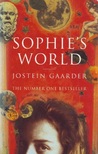 "Have you ever been in love? Horrible isn't it? It makes you so vulnerable. It opens your chest and it opens up your heart and it means that someone can get inside you and mess you up."
―
Neil Gaiman
,
The Kindly Ones
"I'm selfish, impatient and a little insecure. I make mistakes, I am out of control and at times hard to handle. But if you can't handle me at my worst, then you sure as hell don't deserve me at my best."
―
Marilyn Monroe
Katy's 2017 Year in Books
Take a look at Katy's Year in Books. The good, the bad, the long, the short—it's all here.
Polls voted on by Katy
Lists liked by Katy