Brahm
Sign in to Goodreads to learn more about Brahm.
https://www.goodreads.com/neufeld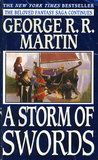 Brahm
said:
" Probably the best of the three Song of Ice and Fire books that I've read so far.

I am blown away by the captivating plotlines that stretch (so far) across three novels. They are just as engaging in the third instalment - if not moreso - than the firs ...more "