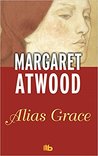 progress:
(page 159 of 559)
"Me tiene enganchada la historia y la manera en que retrata ese Montevideo en vías de poblarse. Si bien se nota que la autora está muy versada en la historia del país, en ningún momento se vuelve una clase de historia, siempre es una herramienta para lo que le interesa contar: la perspectiva de estas mujeres."
—
Feb 21, 2019 06:29AM
Lucia M

rated a book

really liked it

Sabiendo que era un libro "histórico" contando en tercera persona el linaje Targaryen lo disfruté muchísimo. El reinado de Jaehaerys mi favorito y la danza de dragones mención especial. Algunos datos estuvieron de más e inflaron las páginas sin ser r

...more

Lucia M

rated a book

it was amazing

Impresionante novela. El tema es la libertad, abordada desde varios puntos de vista y personajes que se entrecruzan; también aborda el feminismo, la identidad, el idealismo, etc.
La profundidad, la honestidad y la sensibilidad para construir esta nar ...more

Lucia M

rated a book

it was amazing

Esta novela indaga sobre conceptos muy interesantes, tratados en otras novelas, pero con mayor profundidad: la identidad, la pertenencia, el ser extranjero, el "yo", la mentira o la verdad, entre otros.

Además de estos tópicos me gustó el desarrollo d ...more
More of Lucia's books…

"Hay algo en el generoso y abnegado amor de un animal que llega directamente al corazón de aquel que con frecuencia a probado la falsa amistad y la frágil fidelidad del hombre"."
―
The Black Cat

Hijas de Mary Wollstonecraft
— 2712 members — last activity May 18, 2019 01:35PM
Grupo de habla hispana, inspirado en el grupo original creado por Emma Watson, en el que leeremos libros escritos por mujeres de todos los géneros (fa
...more
Ciencia Ficción en Español
— 1517 members — last activity 13 hours, 38 min ago
Grupo abierto a todos los hispano hablantes del mundo para charlar sobre libros de Ciencia Ficción.