Yvette Karns
said:
" 2nd Time Reading it. Still Love It.

Comments From The first time reading:

I just love this book. This is the second time I have read it. I am now reading book 2 "HADES". It is a great story of keeping evil at bay. Gabriel, Ivy and Bethany are angels s ...more "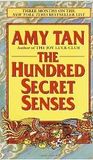 See all 5 books that Yvette is reading…
"I sometimes marvel that a third-rate writer like me has been able to palm himself off as a second-rate writer."
―
John Collier