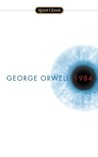 "Beauty, the world seemed to say. And as if to prove it (scientifically) wherever he looked at the houses, at the railings, at the antelopes stretching over the palings, beauty sprang instantly. To watch a leaf quivering in the rush of air was an exquisite joy. Up in the sky swallows swooping, swerving, flinging themselves in and out, round and round, yet always with perfect control as if elastics held them; and the flies rising and falling; and the sun spotting now this leaf, now that, in mockery, dazzling it with soft gold in pure good temper; and now again some chime (it might be a motor horn) tinkling divinely on the grass stalks—all of this, calm and reasonable as it was, made out of ordinary things as it was, was the truth now; beauty, that was the truth now. Beauty was everywhere."
Virginia Woolf

This book broke my heart :(

This was just mediocre. Blehh.

This book was a lovely, quaint little thing. Lovely!

A lovely, sweetly obsessive portrait of the workings of a music nerd's mind.

"In spite of everything I loved you, and will go on loving you―on my knees, with my shoulders drawn back, showing my heels to the headsman and straining my goose neck―even then. And afterwards―perhaps most of all afterwards―I shall love you, and one day we shall have a real, all-embracing explanation, and then perhaps we shall somehow fit together, you and I, and turn ourselves in such a way that we form one pattern, and solve the puzzle: draw a line from point A to point B... without looking, or, without lifting the pencil... or in some other way... we shall connect the points, draw the line, and you and I shall form that unique design for which I yearn. If they do this kind of thing to me every morning, they will get me trained and I shall become quite wooden."
Vladimir Nabokov

This book felt monumental to me, and it remained with me for a very long time.
More of Katherine's books…
Irish Readers
— 598 members — last activity Apr 01, 2017 01:30AM
A group for the Irish members of Goodreads! Every month we nominate and vote for a book which we read and discuss the following month. If you are just
...more
Katherine's 2017 Year in Books
Take a look at Katherine's Year in Books. The good, the bad, the long, the short—it's all here.
Polls voted on by Katherine
Lists liked by Katherine